Back to

News & Events
Feedlot drinking water gets the all clear
17 September 2019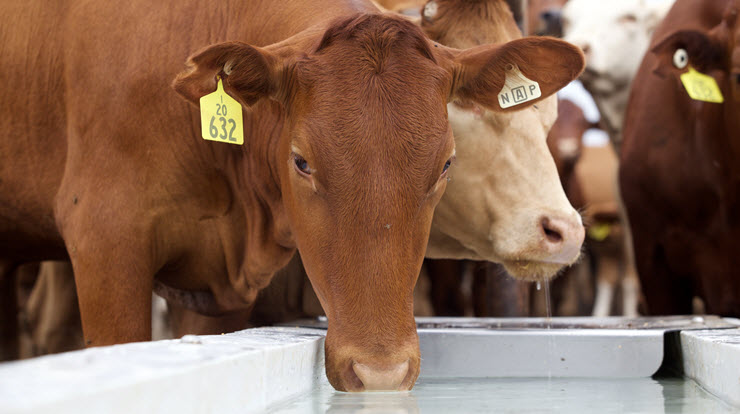 Drinking water quality at most Australian feedlots is considered suitable for cattle consumption and would not impact animal performance, according to new, Australian-first research.
The results of a project examining the quality of feedlot drinking water across Australia to determine potential impacts on cattle health and production have just been released, following water surveys at 68 feedlots, representing licensed capacity of approximately 620,000 head.
Water sources
According to one of the project leaders, University of New England's Dr Janelle Wilkes, the surveys provided a comprehensive understanding of the current sources and quality of feedlot drinking water.
"The feedlots surveyed ranged from under 500 head, all the way through to feedlots with more than 10,000 head, from varying climate zones throughout Australia," Dr Wilkes said.
"It was interesting to see the range of different water sources being used. We found 65% of water used based on a per head basis was sourced from groundwater; 13% from rivers; 9% from dams and 12% other sources, such as tank water or irrigation water."
Investigating quality
Dr Wilkes said the project investigated water quality parameters including Total Dissolved Solids (TDS) and salts – sodium, calcium, magnesium, potassium, aluminium, zinc, iron, manganese, carbonate, bicarbonate, sulphate, nitrate and nitrite.
"We used these parameters because high concentrations of TDS and salts in drinking water, often exacerbated by drought conditions, have been reported to have a detrimental impact on cattle health and performance," Dr Wilkes said.
"For surface drinking water sources, we identified and quantified if any cyanobacteria species (blue-green algae) was present.
"Among trough water samples analysed for TDS, the majority were considered satisfactory for cattle consumption and would not be expected to impact animal performance."
Dr Wilkes said where there were isolated incidents of high TDS in groundwater, the water was shandied with other water sources.
"The majority of feedlots were not aware of any issues with their drinking water quality. Of those that indicated if they had concerns about their water quality, the key concerns were around turbidity (cloudiness), blue-green algae, and heat from groundwater that they were using a range of treatment methods to address.
"For example, placing groundwater into dams to cool the water temperature before being pumped to troughs; and some feedlots using filters, aerators and reverse-osmosis."