Back to

News & Events
First goat PGS group underway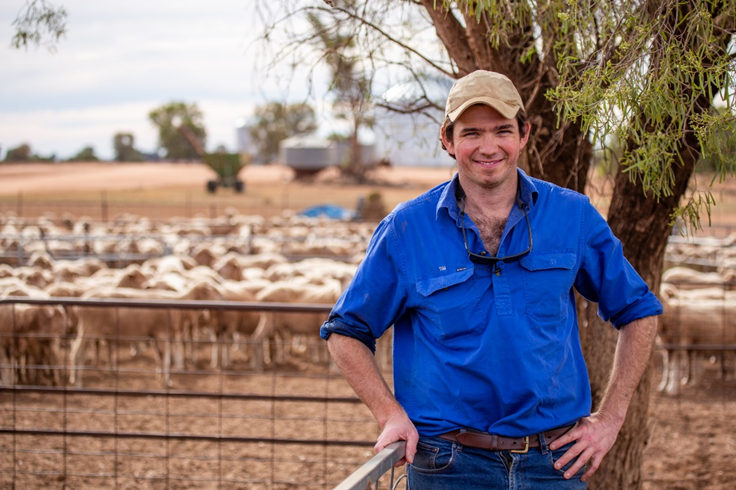 Dr Tim Gole is delivering the 'Getting Goats to Market' PGS package to goat producers in NSW.
The first goat producer group to undertake MLA's new 'Getting Goats to Market' supported learning package is now underway in New South Wales.
The package is being delivered to the group through MLA's Profitable Grazing Systems (PGS) program by Dubbo-based veterinarian, Dr Tim Gole, who owns and manages consultancy firm, For Flocks Sake.
Developed by Dubbo-based Schuster Consulting, the 'Getting Goats to Market' package is designed to help rangeland goat producers who are looking to better understand and respond to the key profit drivers within their businesses.
It is delivered to small groups of producers through group and one-on-one coaching over a 12 to 18-month period, and in a variety of formats including hands-on, demonstrations, repeated practice and group discussions.
Dr Gole said while COVID-19 and the impacts of a wet autumn had prevented the group from gathering in-person to date, they had pivoted to utilising Zoom meetings in the interim.
"The group comprises seven business and 16 producers from throughout the Central West and Western NSW," Dr Gole said.
"The businesses are a mix of rangeland goat producers, and producers with goats in mixed farming operations, stretching from Dubbo up to Coonamble and Collarenebri, down to south of Brewarrina, Nymagee, and west of Tottenham.
"So far, we have had presentations from Gordon Refshauge from the NSW Department of Primary Industries on reproduction data, and the Mosley family of Etiwanda stud, Cobar, discussing their purchase of the top priced bucks from the annual Red and Black Goat sale at Cobar and buck selection.
"We're also using our Zoom meetings to chat about what's happening on everyone's farms, condition scores, and how we're using doe pregnancy scanning results.
"Some of my producers are scanning and we've had some good scanning results within the group.
"One producer is implementing rotational grazing management which is really exciting and also doing faecal egg counts to manage parasites and they're getting good results.
"The big question everyone in the group is asking is, 'what's possible?', and 'how do we turn a goat enterprise from rangeland harvesting into a semi-managed operation?'
"A lot of people appreciate their goat enterprises are really profitable with low input but are wondering what's the easiest way to make the biggest impact, and how do genetics fit into it.
"We're providing course content, but it's also important that different goat producers are connecting with each other through the group.
"Everyone is keen to look at how they can do things better and that's exciting for the industry," Dr Gole said.
The Getting Goats to Market program is run as a co-funded supported learning package with a participating fee, MLA subsidy for red meat producers and the opportunity to partner with other co-funders or sponsors.