Back to

News & Events
Gabbs' gift for autumn sub‑clover action
15 April 2021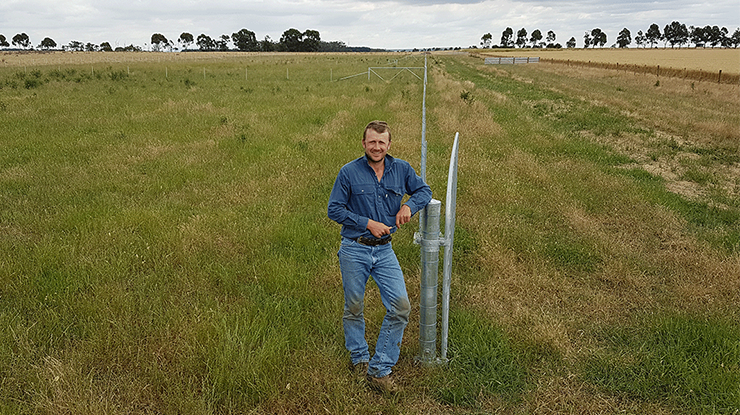 Simon Gabb with containment areas the family has developed for ewes, to create a food‑on‑offer wedge in paddocks for lambing. Image: Jess Brogden
The Gabb family's Victorian property, 'Blacks Creek' has evolved in recent years, returning to a mixed farming operation after being leased out for 12 years under the guidance of brothers Simon and Alistair.
Their focus on feedbase productivity has allowed them to nearly double stocking rates.
Simon and Alistair both completed degrees in agribusiness and worked on farming enterprises domestically and overseas before they came home to manage 3,500 composite ewes and 650ha of cropping in the state's western district.
On their return, they set their sights on developing the feedbase which, last year, powered their turn-off of 2,515 trade lambs as well as finishing all ewe lambs (800 replacements and 1,359 culls).
The Gabbs have focused on increasing the feed on offer going into winter and turning-off more kilograms/hectare in the spring from green feed. They aim for 1,700kg dry matter per hectare (DM/ha) two weeks before lambing (or on June 10).
Understanding whether grasses or clovers would best achieve their goal was a critical decision in their pasture management.
"Early on, there was a lot of effort in producing more kilograms per hectare from grasses, finishing lambs off the spring flush, not fully understanding the real potential of sub-clover or how that complements the breed of sheep that we run," Simon said.
One source of information was Southern Farming Systems' research into perennial pasture systems, which has been supported by MLA.
In the first year, even at a low stocking rate of 4.5 ewes/ha, the Gabbs still struggled to finish lambs to a saleable live weight of above 42kg before the spring cut out. Lambs grazing these grass-dominant pastures had an average daily gain of 200–250g.
Fast forward five years, and the Gabbs have increased their stocking rate to 8.5 ewes/ha and consistently achieve lamb growth of more than 350g/day on 70% sub-clover dominant pastures.
Autumn strategies
At this time of year, Simon said the focus of their autumn management was to kickstart clover pastures.
"The big challenge for us with our pastures is, given we run a high stocking rate per hectare, when the season breaks we need to grow as much biomass as possible before winter comes," he said.
"Come March, our paddocks have had excess litter removed so sub‑clover can germinate when it starts to rain.
"Ewes go into containment yards to create a feed on offer wedge for lambing. We work on a minimum of 1,500kg feed on offer at the time of lambing, so hopefully they go into the paddock with about 1700kg DM/ha a couple of weeks before lambing starts in late June."
If the Gabbs receive a good, early break they can reach their food‑on‑offer targets sooner and take stock out of containment.
"We do plant early winter wheats which becomes a release valve so we can graze our wheats and can keep our pasture growing."
A positive flow‑on effect from putting ewes into containment or grazing them on wheat crops is that the sub‑clover stands have an opportunity to develop their true leaves so that by winter, they are well established and not being damaged by early grazing.
"This gives strong sub‑clover performance in winter when we need it. If we have a strong healthy plant established, it's going to perform far better than one that has had to struggle to establish in the winter and supressed for the rest of the year," Simon said.
Pasture renovation is now a key event in the Gabbs' calendar of operations.
Perennial ryegrass/ sub‑clover and phalaris/ sub‑clover stands are the dominant perennial pastures now with the stoney country remaining relatively unimproved.
For the renovated pastures at Blacks Creek, 6kg/ha of sub‑clover was sown with either ryegrass or phalaris. Three different sub‑clover cultivars are used in their mix: Rouse , Yanco and Antas.
"In year one of pasture establishment we didn't apply a huge amount of stocking pressure but we made sure we applied it at the right time to try to keep grazing the pasture down with the aim of getting more seed set in spring," Simon said.
"We only did this to the phalaris/ sub‑clover pastures because phalaris is slow to establish. The ryegrass/ sub‑clover pastures can be grazed at full stocking rate from year one.
"The phalaris pasture was challenging as it was very slow to establish.
We had to make sure the phalaris established but also make sure we had enough grazing pressure to keep the sub‑clover semi‑grazed down to get light into it and promote leaf growth.
"Sub‑clover choice was about trying to spread flowering dates and maximise production across spring."
*This case study was written by Jess Brogden, Southern Farming Systems, for a project supported by MLA.
Lessons learned
Sub‑clover drives animal and pasture production.
Creating a feed wedge over autumn allows sub‑clover to get well established to maximise winter growth.
Grazing pressure at the right time in a new pasture is important to get good establishment and growth of sub‑clovers.