Back to

News & Events
Global wrap with Michael Finucan, MLA General Manager – International Markets
29 May 2019
April saw the continuation of strong export volumes, with beef exports hitting almost 99,000 tonnes shipped weight (swt), up 12% year-on-year, on the back of heightened slaughter and elevated cattle finished on feed. Lamb exports recorded the second highest April on record, at just over 27,500 tonnes swt, up 22% year-on-year. While sheepmeat exports have remained elevated through the first four months, conditions remain challenging for producers and supply will hinge on winter and spring rainfall – look out for MLA's Sheep Industry Projections update next week for in-depth analysis.
The China market remains very strong, with April beef exports up 62% year-on-year and sheepmeat shipments double year-ago levels. The strength of the market was highlighted by the positive atmosphere at the recent SIAL tradeshow in Shanghai, where 26 Australian exporters participated in partnership with the MLA True Aussie stand.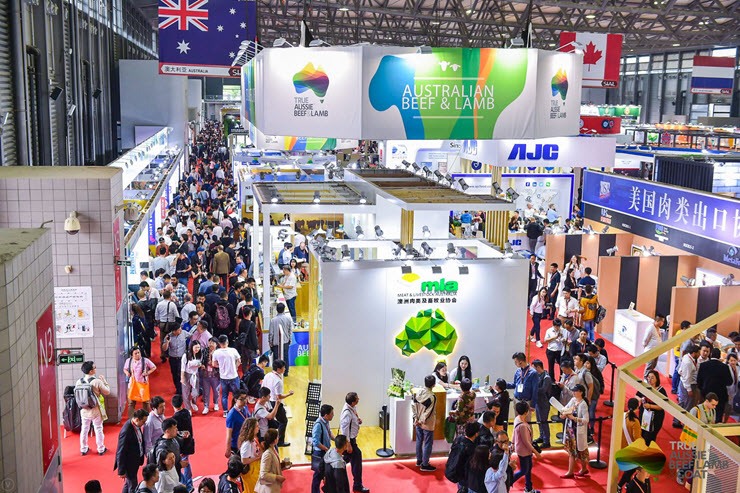 All participants commented on the strength of the market and, while there was a consistent flow of customer inquiry, attendees observed an improvement in the quality of inquiries. The increasing sophistication of the market highlights the maturing of business relationships and supply channels. Another indicator of this maturation was the many key importers now hosting their own booths, whereby promoting imported brands in partnership with suppliers.
While Australia's strong export performance has been on the back of heightened turnoff, due to ongoing tough seasonal conditions, international markets remain becoming increasingly competitive. While South America is expanding its export footprint, particularly into China, the US remains Australia's principal beef competitor in global markets. The US is the world's largest beef producer, has the greatest overlap with Australia's high value export markets and can produce large quantities of high quality chilled product. This is something explored further in this edition.
As the US-China trade dispute continues to unfold, it is a clear reminder of the importance of Australia's ongoing trade relationships with key international markets, our existing free trade agreements (FTA's) and continued market access priorities. However, understanding the tariff rates can be a challenge, but the Department of Foreign Affairs and Trade (DFAT) has recently launched an online portal to help industry understand the opportunities from the free trade agreements and to assist industry in assessing different tariff rates for key products. The portal allows industry to look up and compare current and future tariff rates based on the FTA implementations. In addition, you can keep track of Australia's usage of various beef and sheepmeat safeguards across key markets with MLA's Global Quota Tracker report.
This month, we also look at the changing dynamics of the Middle East sheepmeat market and how shifting global flight paths have supported a boom in chilled carcase exports to the region. We also look at how MLA is tackling the Southern Asia region, using data and insights to target key customers and consumers in Vietnam, Singapore and the Philippines.