Back to

News & Events
Global wrap with Michael Finucan, MLA General Manager – International Markets
04 September 2019
The Economist's "Feeding the Future Asia" forum
Last month, Meat & Livestock Australia (MLA) had the opportunity to participate at The Economist's "Feeding the Future Asia" forum in Singapore. MLA participated in the "quality or quantity" session, providing a unique opportunity to share with regional leaders what the Australian red meat industry is doing around meeting changing consumer needs, providing a safe, natural and nutritious product and how the industry continues to focus on meeting sustainability targets.
MLA also shared key insights about the Australian red meat industry, including how we are positioned for the future global meat trade. Australia currently produces less than 3 per cent of the global beef supply and 5 per cent of the global sheepmeat supply, and we alone are not able to meet all the projected global demand for protein. However, MLA and the Australian red meat industry, remains focused on producing high quality, safe and sustainable red meat products. As wealth continues to increase across the Asia region, the opportunities for Australian red meat lie in targeting consumers with higher disposable incomes. Our ongoing consumer insights and data show that these consumer want to know that the product they consume is natural and meets the nutritional needs of their family – all natural attributes of Australian red meat products.
The forum brought leaders from across the Asia region to look at the challenge of feeding a global population that is predicted to reach 9.7 billion in 2050. Adequately feeding such a large number of people demands a huge boost in food production. Changes in diet, climate and demography will pose challenges to food security. The United Nations Food and Agriculture Organisation projects that most of the increase in demand for animal protein by 2030 and beyond will come from developing Asia. The forum opened up debate around the economic and geopolitical risks involved in food production, and explored ways science and technology can tackle them now and in the future.
Global trade dynamics
Ongoing trade disputes continue to dominate global commentary and discussions, with the threat of a global slowdown increasing. While the tariff ongoing dispute between the US and China doesn't directly impact the red meat trade it has the potential slow down these important economies.
At the same time the Japan and US negotiations appear to be progressing. We are yet to see any substantive details of any agreement, however, it is likely to see a reduction to US beef tariffs. Australia currently has an 11.9% advantage over the US following the JAPEA and CPTPP agreements. MLA and the Australian red meat industry continues to monitor the situation and we await specific details when an announcement is made. Regardless of any agreements between the US and Japan, Australian beef continues to focus on building its brand and maintaining the high level of loyalty it enjoys with consumers in Japan – one of our largest and most established export markets for Australian beef. MLA and our industry will continue to build consumer loyalty by communicating the health and taste qualities of Australian beef to Japanese customers. Our consumer research shows that Australian beef is highly trusted - and considered the highest quality compared to other importing nations. We will continue to focus on what's important to Japanese consumers and highlight Australian beef's natural strengths and qualities.
Despite these ongoing disruptions to global trade, the value of Australian Red meat industry exports broke a new record in 2018-19. On the back of elevated turnoff of cattle and sheep caused by ongoing drought conditions in Australia, strong global demand and a weak Australian dollar, red meat and livestock exports reached $16.188 billion in 2018-19, up 18% on 2017-18.
Based on the 2018-19 export value figures:
US remains Australia's overall largest value market at just over $3.034 billion dollars
China remains in 2nd place at $2.999 billion for now, catching up to the US on the back of very strong beef exports (up 74%) in 2018-19
Japan is the third largest overall market and remains the largest beef markets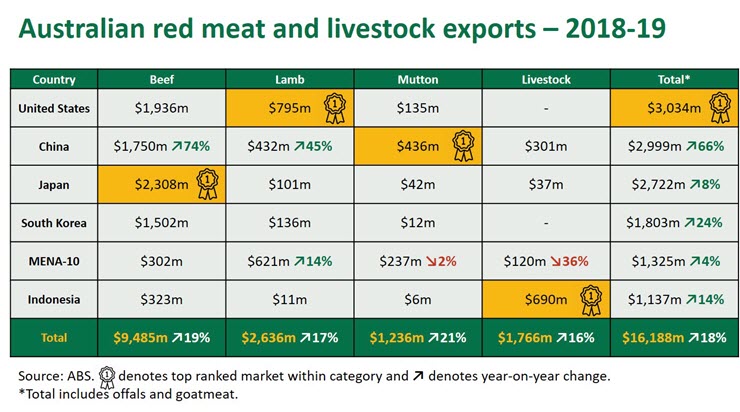 In other trade news, beef exports to China have triggered the China-Australia Free Trade Agreement (CHAFTA) safeguard of 174,454 tonnes. Under CHAFTA, tariffs on Australian chilled and frozen beef products are reducing from 12% to zero over a 10 year period (starting for entry into force on December 2014). As part of the agreement China has retained the right to apply a discretionary safeguard on beef (not including offal) if imports exceed a set annual "safeguard" trigger volume. In 2018, the trigger started at 170,000 tonnes — 10 per cent above Australia's historic calendar year peak export levels to China — and grows over time. With this trigger occurring the tariff will go from the current 6% back to 12% until the end of the calendar year.
Negotiations concerning the Australia-European Union Free Trade Agreement (A-EU FTA) continue to build momentum, as shown by the recent launch of public consultations on the use of Geographic Indications (GIs)*[JM1] . The announcement by the Australian Government regarding consultations on GIs is a positive sign that negotiations were progressing in a constructive manner.
Finally, red meat was at the forefront of a recent north Asian visit by Australia's Minister for Agriculture, Bridget McKenzie, designed to promote trade between Australia and key trading partners in the region. MLA's regional offices in Japan, South Korea and Vietnam helped facilitate activities highlighting Australian red meat in-market, including at the retail level.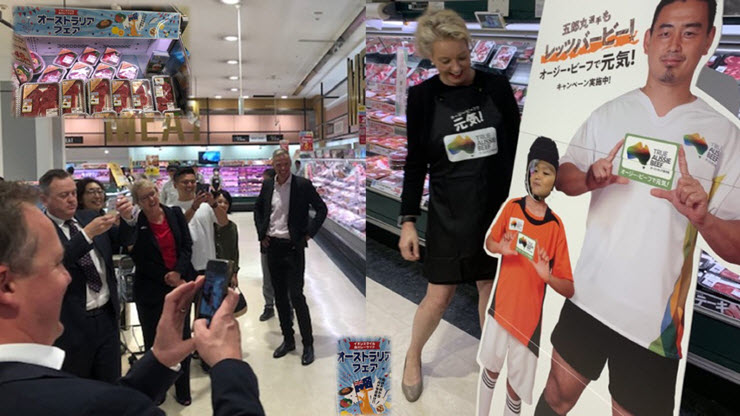 Caption: Minister McKenzie with a True Aussie promotion in Japan.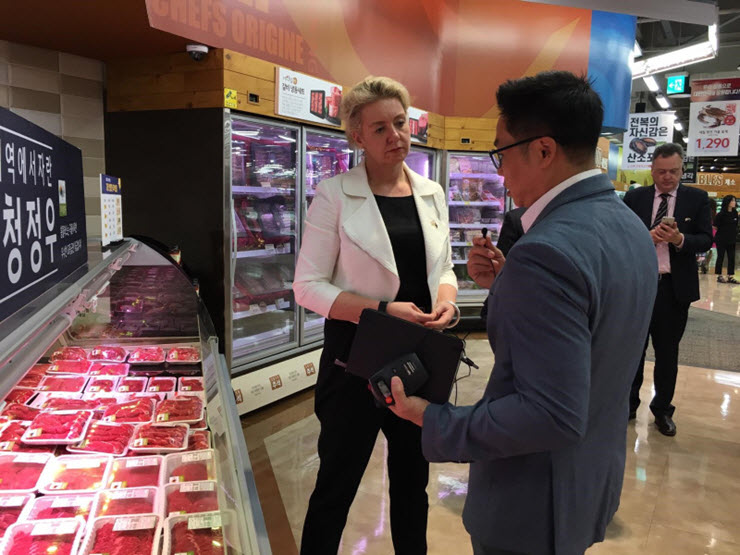 Caption: Minister McKenzie with MLA's Country Manager – South Korea, Charlie Ko, viewing Australian red meat displays in Homeplus Retail in South Korea.