Back to

News & Events
Heavy lambs dominate NSW saleyards
01 July 2021
Key points:
Current heavy lambs in NSW dominate throughout, at their highest volumes as a percentage of total yardings in two years
Winter price peak is forecast to be softer than traditional levels
Heavy lamb supply expected to remain buoyant throughout winter into early spring.
Current market situation
Heavy lamb yardings in NSW are dominating current throughput as a percentage of total volume across the state. This is the direct result of two key factors: the seasonal conditions providing excellent weight gain and growth, and the strong heavy lamb market incentivising producers to put on more kilos for increased returns.
In the past week, 75% of lambs yarded were classified as heavy weights. At the same time in 2020, this figure sat at 57%, and in 2019 numbers dropped to 48% during the drought.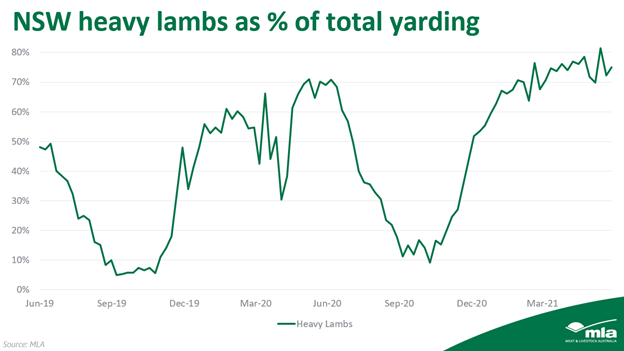 With heavy lambs dominating saleyards, prices have not been overtly affected. The NSW Heavy Lamb Indicator has had an operating range of 87¢ in 2021. The market strength has negated the increase in supply, with heavy lambs yarded for the year-to-date 21% higher than 2020 volumes, accounting for 269,000 more head.
Currently, the NSW Heavy Lamb Indicator is operating at 837¢, appreciating 44¢ week-on-week and 54¢/kg cwt higher than 2020. Victorian heavy lamb prices have a 22¢ premium over NSW, currently operating at 857¢/kg cwt. Softer supply has increased demand and lifted prices across Victoria recently, with heavy lamb yardings falling 21% compared to a month ago.
Looking ahead
With favourable weather forecasts providing optimism for the critical winter lambing period in key sheep regions, the early drop of 2021 lambs may deliver a higher-than-average volume of heavy lamb supply during the spring flush. An uptick in supply will have impacts on the price of heavy lambs – this will be an important factor for producers to consider when turning off lambs.
With the heavy lamb price significantly stronger than 2020 levels, it is evident that the 21% uptick in supply has not dampened demand. The market strength will dictate producer selling decisions and expected turnoff weights dependent on prices for each weight category. With heavy weight lambs continuing to perform strongly in 2021 compared to year-ago prices and with higher volumes, a resilient heavy lamb market moving forwards is expected to continue.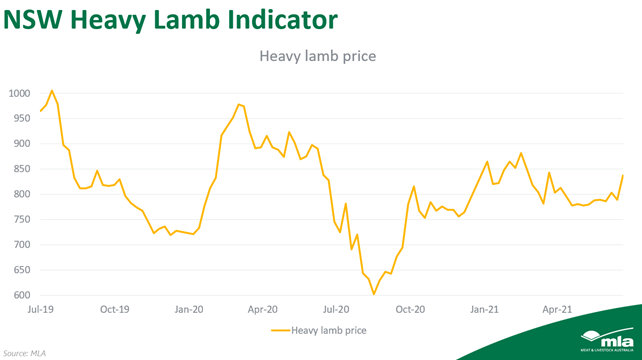 © Meat & Livestock Australia Limited, 2021