Back to

News & Events
Identifying profitable performers
03 October 2019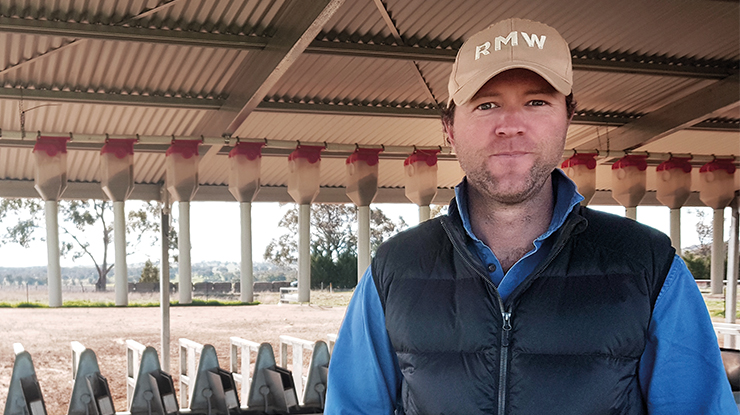 Will MacSmith finishes lambs in the feedlot so he can leave the pasture for Merino ewes and ewe lambs. Photo courtesy of Crown Agriculture
Key points:
Use individual animal performance to guide decision-making.
Provide sufficient trough space so all sheep can feed at the same time.
Identify a profitable turn-off target.
By understanding feed efficiency, the MacSmith family is using an on-farm feedlot to not only relieve grazing pressure but also increase profitability across their grazing business.
Will and his father Lachie started finishing Merino wether lambs on their central NSW mixed farming enterprise to free up pastures for ewes and ewe lambs over summer.
With feed being their biggest input cost, they wanted to find out where it went, to determine if growth rate was a good indicator of profitability.
"From a profitability point of view, we had no idea of good and bad performers," Will said.
"All we had to work with was individual live weight gain through electronic identification (eID).
"The data available to me was so limited compared to the cropping side of our business."
Feeding success
Working with agricultural consultant and business partner Hamish Dickson, the MacSmiths designed and built a feedlot – separate to their main facility – so they could capture data for a feed-efficiency trial funded by MLA Donor Company.
They backed this up with further trials focusing on feed rations, environmental effects and genetics.
"Trial data has enabled us to see where the profitability is," Will said.
"The cross-over in terms of cost of gain seems to be 55–60kg; beyond this they just seem to be eating too much for their growth rate."
Based on this, he doesn't keep lambs in the feedlot past 60kg. Lambs are ideally at least 35kg on entry and are fed from 30 to 60 days.
Will has also adjusted how sheep are managed in the feedlot.
He believes that, with the right ration for the target performance and tight weight ranges (within 5kg), sheep don't need to be weighed too frequently.
"It seems they don't gain weight for three or four days after being weighed but their intake remains constant," Will said.
"If they're weighed every week, it's going to have a significant impact on performance.
"Combined with changing the social structure every week, that isn't a good thing."
The MacSmiths weigh lambs after 21 days in the feedlot to identify shy feeders and sheep that just don't perform in the feedlot.
"After that, we can quite confidently predict when they'll hit their target weight."
Shy feeders
In their feedlot trials, Will and Hamish found sheep had strong diurnal (i.e. more active during the day than night) patterns when it came to feeding time.
If shy feeders didn't get a chance to feed at the peak feeding time, they didn't feed at all, even though the feeding stall was empty for the other 18 hours of the day.
In response, they increased head space in the commercial feedlot to provide at least 30cm per sheep so every animal could feed at the same time.
The additional trough space, combined with a changed ration, allowed induction times in the MacSmiths' feedlot to be reduced from 18 days to 5 days.
The MacSmiths now use their commercial feedlot as part of a whole-farm approach, and have been able to run more ewes and take pressure off grass quickly, especially in the warmer months.