Back to

News & Events
Jalna Feedlot claims another MSA win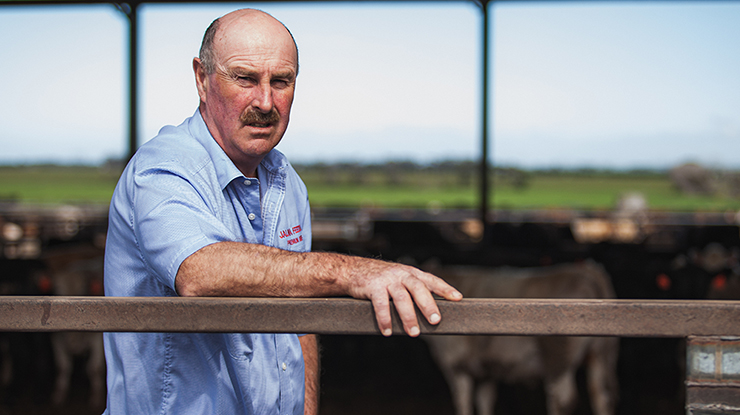 David Gillett of Jalna Feedlot, Anakie, near Geelong.
A 'never stop learning' mentality for Victorian lot feeder, David Gillett, has been the key to his success in producing superior eating quality beef for Australian consumers.
David runs his family's 10,000-head Jalna Feedlot at Anakie, near Geelong, and delivers 70-day trade cattle that are a combination of British breeds and crosses, and 100-day custom fed Angus steers for the Coles Finest brand.
Jalna Feedlot won the 2019 MSA Excellence in Eating Quality Award for Most Outstanding MSA Feedlot in Victoria, having achieved an MSA compliance rate across 2017-2019 of 98.4% and average MSA Index of 62.10.
It's the second time Jalna Feedlot has won the Award, having previously won the title in 2017.
Low stress stock handling is just one of the factors David considers in the commitment to the MSA program, introduced to his business 10 years ago.
"We manage all our stock by horseback, and the cattle quieten down very quickly with calm handling," he said.
"It's also a case of being aware of the impact of stress - for example, choosing the coolest time of the day to load out in summer."
But he said handling is just one link in a whole circle of factors that contribute to the overall end product.
"MSA grading is also about acclimation, nutrition, transport, staff and facilities, and simple things like making sure that water troughs are clean and feed is sufficient," David said.
David's a firm believer in building relationships with every company in the feedlot supply chain.
"We have two or three companies that supply grain and supplements and we have a nutritionist, Dr John Doyle from Toowoomba who visits monthly to design rations, and a consulting vet from Southern Cross Vet Services at Cohuna," David said.
"Both men do a lot of training with our staff – we have 18 staff between the farm and the feedlot – and we are continually upgrading our knowledge of animal welfare and pen riding techniques with Dr Kevin Sullivan, an expert on low stress and acclimation."
The latest innovation for the feedlot has been the construction of a roof that covers 8500 square metres of Anakie Feedlot, housing 1500 head of cattle.
"Industry standards are extremely high right now, but we don't want to just be meeting these standards, we want to be staying 10 steps ahead," David said.
He said the roof has made a big difference to production, particularly during winter.
"In southern climates where there is a cooler, wetter climate, one of our biggest challenges is keeping the cattle warm," David said.
"Cattle spend the last 30 days under the roof on woodchip bedding floors, and when they come out they are a lot cleaner, which saves a lot of work in washing cattle at abattoirs during the winter.
"The cattle eat more during winter to keep themselves warm, but in a warmer environment, feed consumption decreases, which saves costs on feed. Other benefits include improved weight gain, calm cattle and we're able to harvest the water off the roof and use in other areas of the farm."
David encourages other producers to get on board with MSA and make the most of the valuable information and feedback data that's provided to producers as part of the process.
"It certainly helps to constantly review your practices and I encourage everyone in the industry to get involved," David said.
"We use myMSA and this helps us see what cattle are meeting contract, allowing us to achieve performance targets."