Back to

News & Events
Keep it simple for year-round grazing
30 May 2019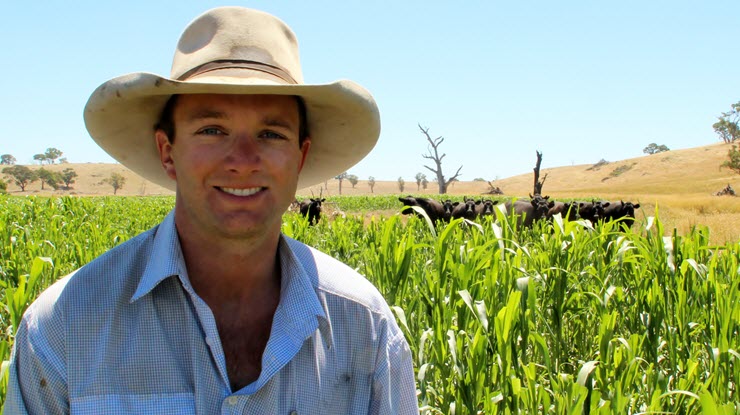 Designing a profitable, resilient, forage-based grazing system suitable for beef production has been the key focus for MLA's 2017 Nuffield Scholar Stuart Tait.
Based at Mandurama on the NSW central tablelands, Stuart and his parents John and Joanna run 600 Angus breeders and, depending on seasonal conditions, trade between 200 and 800 head of cattle annually, as well as cropping around 450ha of winter crop.
Filling feed gaps
After experiencing the challenges and costs associated with supplementary feeding of cattle in drought, Stuart wanted to examine farming systems using dual-purpose crops to fill feed gaps.
His Nuffield Scholarship saw Stuart travel through the mid-west of the US, including to Oklahoma and Kansas. He then travelled to the UK, Ireland, Canada, South America and New Zealand to examine which crops producers had chosen as the centrepiece of their grazing systems.
"Taking a step back, I realised that we were running a business that wasn't very flexible and we were generally unable to adapt to seasonal conditions. We weren't necessarily capitalising on good seasons and we found dry seasons particularly challenging," Stuart said.
"This led to the development of my Nuffield topic, which revolved in one sense around the cost of supplementary feed and how we ensure we have in situ feed 12 months of the year.
"I was never expecting to find a silver bullet on my Nuffield travels but, everywhere I went, I found pieces of the puzzle that I could bring together to create the overall system.
"The solution mirrors an old saying, 'don't take the mountain to the man; take the man to the mountain'. Animals have legs for a reason – the cheapest feed is that which is in situ."
The forgotten forage
While in Alberta, Canada, Stuart found producers using sainfoin (known as the 'forgotten forage'), which is a legume identical to lucerne and palatable to cattle, but with the key difference that it's non-bloating.
Stuart is working on importing sainfoin seed from Canada, and has also found a small quantity of sainfoin seed at the Australian Pastures Genebank in SA, which he's going to trial on the family farm.
"We also have a trial of perennial wheat – which isn't genetically modified – on our farm," Stuart said.
"My three take-home messages from my Nuffield Scholarship are that:
We need to treat pastures like crops; it's really about understanding numbers and breaking them down, allowing us to really fine-tune our systems. You can't manage what you don't measure.
Subdivision and rotation are both critical in terms of rotating those cropping and pasture cycles, but also in terms of animals. Rotational grazing and breaking down paddocks into smaller areas is critical.
We need to find that centrepiece plant species and keep it simple."
Stuart said his Nuffield Scholarship also showed how virtual fencing and new technology – such as the development of sensors to measure both mass and pasture quality (underway at Noble Research Institute, Oklahoma) – could be harnessed to improve productivity.

More information:
Apply now for a 2020 Nuffield Scholarship. Applications are open until Friday 14 June.
Click here for more details.