Back to

News & Events
Keeping red meat on the menu
17 October 2019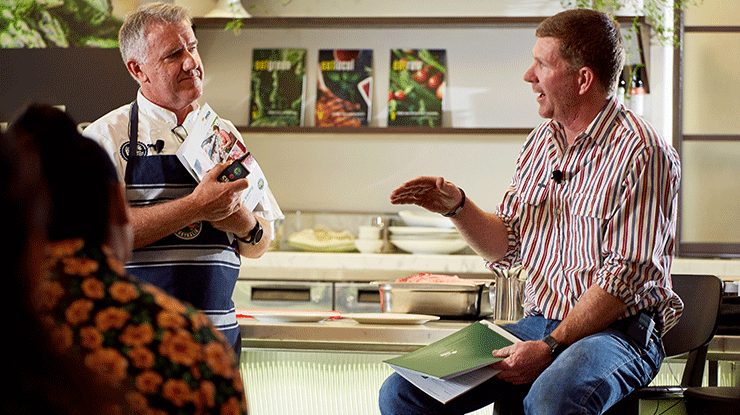 Queensland beef producer Andrew O'Shea chats with MLA master butcher Kelly Payne at the Brisbane masterclass for Spotless Group's chefs and foodservice operators.
MLA is working on behalf of producers to keep red meat on the menus of Taronga Zoo, the Melbourne Cricket Ground and other major venues, by partnering with foodservice companies to build their skills and knowledge.
Last month, MLA's corporate chefs Sam Burke and Julie Ballard and master butcher Kelly Payne crossed the country, delivering five masterclasses with a paddock-to-plate focus to the Spotless Group, one of the largest catering company in the Southern Hemisphere.
Local sheep and cattle producers in each state joined in to answer questions about Australia's red meat production systems, and the audience tried out the Australian Good Meat Paddock to Plate virtual reality headsets for an interactive look at red meat production systems.
Nearly 400 chefs and food outlet managers involved in the masterclasses were interested in learning new ways of using beef and lamb to meet the diverse needs of their hospitality clients, which include sporting venues, education and aged care facilities and airports
Sam said this was an opportunity to share how producers care for their animals and natural resources to deliver a premium product as well as give participants information about Meat Standards Australia (MSA) and healthy menu preparation.
"We have the best beef and lamb in the world and MLA works with organisations such as Spotless to further secure red meat's rightful place on Australian plates and menus," Sam said.
"This type of event is an opportunity to both inform and educate those involved in using red meat, allowing them to understand exactly where their red meat comes from and how it is produced to the highest standards."