Back to

News & Events
Long-term gains from grazing training
27 June 2019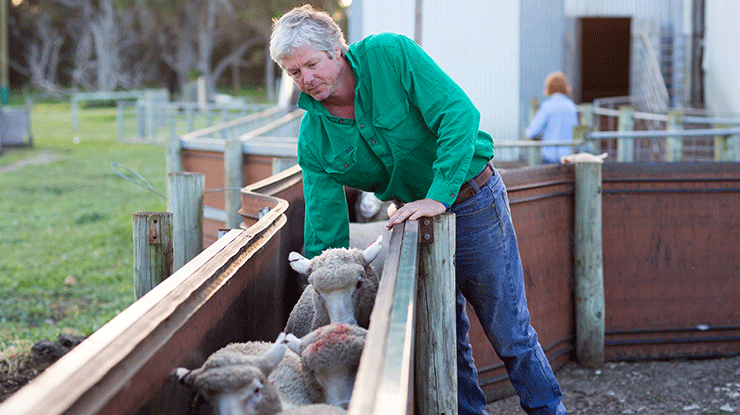 Improved lamb sale weights and more grass later in the season are two key benefits WA producers Matt Nield and Emma Pinnick saw as a result of Profitable Grazing Systems (PGS) training – but they don't stop there, according to Matt.
Matt firmly believes if producers aren't always learning, they're not going forward. He said one of the best ways to learn is to take advantage of the experience and knowledge of others.
This way of thinking came from completing the PGS Grazing Matcher™ package, and subsequently putting his hand up for the Benchmarking for Profit™ package, which he and Emma are now part-way through.
PGS takes small groups of like-minded producers – who want to improve their whole-farm performance – and matches them with coaches who share their knowledge, skills and experience.
Strategic grazing management
Matt and Emma run a self-replacing flock of 6,500 winter-grazed Merinos on 570ha at 'Blackwood Grazing' near Augusta. Medium micron wool is the primary game, with the balance of ewes mated to terminal sire Poll Dorsets for lamb production.
The operation is 100% leased – quite unusual for such a large farming enterprise in this region – and as such, has been run very strategically as a business since the couple set it up five years ago.
The decision was recently made to carry Merino wether lambs through to 2.5 years of age to increase stocking rates, and therefore productivity, and to build in a buffer for tough seasons in the way of having dry sheep to offload first. That was a key driver for taking part in a grazing management program.
"What we came away with was that it's all about the management of the grass – not changing what we grow (ryegrass and clover) but strategic rotational grazing," Matt said.
"Before, we were hit and miss – we'd shift sheep in a haphazard fashion with no science behind those decisions. Now we look at plant growth, rather than food on offer, to make decisions.
"Plant growth is measured through leaf stage – we graze at three leaf, then let it return back to that stage before grazing again."
Learning from other industries
Matt said the collaborative nature of the PGS program was exceptionally valuable.
"Two deliverers in the group are heavily involved in milk production. Dairy farmers are the best at growing grass and grass utilisation," he said.
"The way the training was structured – going to everyone's farm and discussing what you see and what has worked for others – was also a big benefit because that allowed me to get the most value for the investment and time I was putting in.
"When you spend money to go and do something like this, you want to get the best return so you listen and react."
PGS State Coordinator for WA Rebecca Wallis said collaboration was one of the highest valued aspects among participants.
"To embed skills requires not only knowing what to do but how to do it.
"The best way to do this is a supported learning model where there is opportunity to learn, practice and apply new skills over time with other producers, supported by a coach who is an expert in that particular field," she said.
Benefits beyond one season
Matt said after implementing changes as a result of the program, the wool cut was up, lamb sale weights were 2kg better at weaning and there was visibly far more grass later in the season.
"All this was achieved in a year where we were feeding at lambing, which is usually unheard of. Last year's break came seven weeks post average," he said.
"While we consider that a very good result, we take the view this isn't something you do in just one year, but rather is gradually implemented over time as there is capital expenditure involved. So the benefits will be ongoing."
Rebecca said it was a common thread to see the benefits from the PGS program as a long-term process, extending far beyond one season.
Matt said he is once again approaching the PGS Benchmarking for Profit™ training with a long-term perspective.
"We're looking to find out what we are doing well, what we can do better and basically where the holes in our system might be," he said.
"It's not so much about comparing ourselves with others but finding where we have scope to improve, based on years of information collected.
"We don't want to be chasing the 'one percenters'. We want to be putting effort, time and money into what will actually make more money."