Back to

News & Events
Longreach to host goat and sheep industry update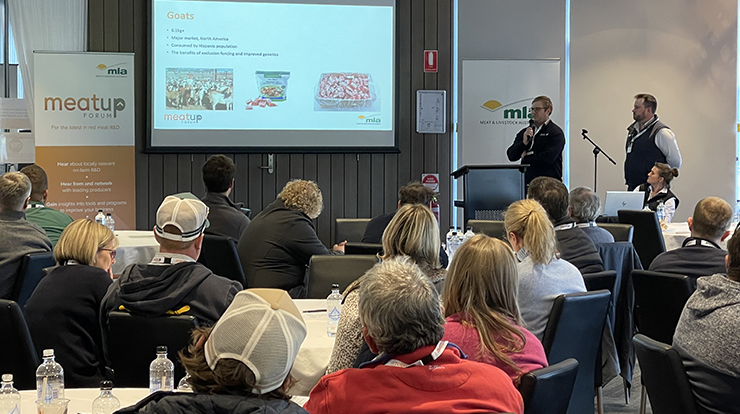 Goat producers are encouraged to register for the Leading Sheep MeatUp Forum to be held at Longreach, Queensland, on Friday, 25 March, with a range of guest speakers set to address goat specific topics at the forum.
MLA's MeatUp Forums provide an opportunity for red meat producers to learn something new, stay up to date with the latest on-farm research and technologies and meet with others working in the red meat industry.
The Leading Sheep MeatUp Forum at Longreach is targeted at goat producers as well as sheep and wool producers.
Among the guest speakers will be John Francis of Agrista, who will provide insights into the MLA goat benchmarking project and discuss both quantitative and qualitative costs to be aware of for infrastructure projects.
Lester Pahl from the Queensland Department of Agriculture and Fisheries will explore the equivalency of sheep and goats from an intake/DSE perspective, how quickly goats reproduce and the subsequent impact on grazing pressure.
Gordon Refshauge from the NSW Department of Primary Industries will address why maiden does may be the weak link in reaching greater weaning rates for goats.
Emma Fessey from AuctionsPlus will discuss goat and sheep market trends, risks and opportunities.
The collaborative event features a red meat market update from MLA General Manager Research, Development & Adoption, Michael Crowley, and a wool industry update from Emily King, AWI Program Manager, Research & Extension.
Mr Crowley said there's something at the Leading Sheep MeatUp Forum for all goat and sheep producers.
"In addition to production-oriented topics, there is also a business management focus. Recruitment and retention of team members and diversification into tourism are also explored," Mr Crowley said.
The Leading Sheep MeatUp Forum Dinner will follow the Forum.
Pip Gilmore from Leading Sheep said the Leading Sheep MeatUp Forum and Dinner is a great opportunity to catch up with fellow producers and industry representatives.
"Producers will also enjoy hearing from guest speaker, Denis Hoiberg, with his unique insights into emotional wellbeing, resilience and thriving through change," Ms Gilmore said.
Registration is essential for catering purposes and to meet COVID-safe requirements. Visit www.mla.com.au/meatup or phone 1300 746 466 to register.
Tickets to the MeatUp Forum are $25 for MLA Members and $50 for non-members are $50, and Leading Sheep MeatUp Forum Dinner tickets are $50. All ticket prices are GST inclusive.
Goat producers interested in past presentations from previously held MeatUp Forums delivered at Charleville, Cobar and Broken Hill can access a suite of online resources here.