Back to

News & Events
Making more from cull cows
25 September 2018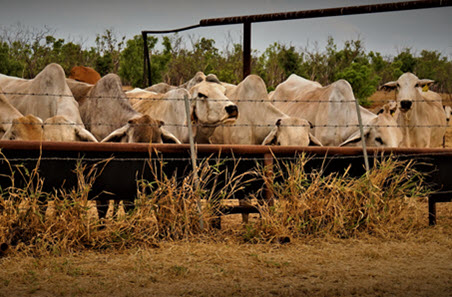 How to increase weight and, hence, the profitability of cull cows has long been a vexed question in the Northern Territory.
Challenging dry seasons, high grain and transport costs and lack of market options have often seen producers left with no choice but to retain surplus breeders. In turn, stocking rates and mortalities can increase, reproductive performance fall and land condition deteriorate.
Previous research has shown that cull cows could generate up to 50% of a northern enterprise's total annual cash flow – but how to capture that opportunity has been the conundrum.
Increasing cull cow value
A project, led by NT Department of Primary Industries and Resources Beef Officer Kieren McCosker, has conducted a study to provide objective information on three short-term feeding strategies to increase the value of cull cows prior to slaughter or market. These included:
grazing on the floodplain (high value, abundant pasture) throughout the dry season
short-term (60–70 days) lot feeding at the Katherine Research Station with two ration options –
a) high value corn-based ration sourced from Queensland ($750/t delivered from Queensland)
b) an NT-produced live export (shipper) pellet ($435/t).
This one-year project was funded by MLA with the University of Queensland, Queensland Department of Agriculture and Fisheries and NT Department of Primary Industries and Resources.
Kieren said while the research was initially designed to generate some information and demonstrate potential ways of improving the quality and value of cattle supplied to the Livingstone Beef Processing facility (currently closed), the outcomes can still be applied to take advantage of other market opportunities.
The project involved 156 head of commercial cattle which were less than 420kg, under body condition score 3 and dry.
"The most cost-effective option for improving value of cull cows for the years and cattle we observed, and at the cost of feed we were able source, was the floodplain option," Kieren said.
"It provided the lowest cost of gain, assuming a $4/week adjustment rate; however, this is not an option for everyone."
Floodplains = opportunity
The Territory's sub-coastal floodplain regions play a significant role in the live export trade, covering roughly 6,800km2, with a carrying capacity of about 170,000 head (depending on wet season rainfall).
Kieren said the floodplains provide a window of opportunity during the dry season to value-add most stock classes and are most suited to trading and short-term agistment.
During this study, the project team measured the performance of two cohorts of cows grazing the floodplain during 2016 and 2017. Cows were drafted into three weight ranges and observations were taken at the time of being introduced to the pasture, about two weeks later and just prior to the point of sale. There were differences between years.
"While grazing the floodplains in 2016, cows continually increased in weight, gaining an average of 32.4kg from day one to day 35 with their average daily gain decreasing over time," Kieren said.
"However, in 2017 we observed a 3% reduction in weight at two weeks after introduction, but had regained this weight loss by day 31."
Kieren said despite these fluctuations in weight, there were no changes in eye muscle or fat depth and only a minimal increase in body condition score.
"A potential explanation is that changes in stomach contents were having a large and confounding effect on live weight, even though we took some measures to control this," he said.
Nestled within this study was a sampling program to investigate rumen microbial population changes during the cows' initial adjustment period on the floodplains and how these were potentially associated with performance. These analyses are ongoing.
Kieren said the floodplains were not an option for all enterprises and were not suitable for all animal classes.
Information: