Back to

News & Events
MeatUp 2021 to tackle branded lamb and beyond
25 February 2021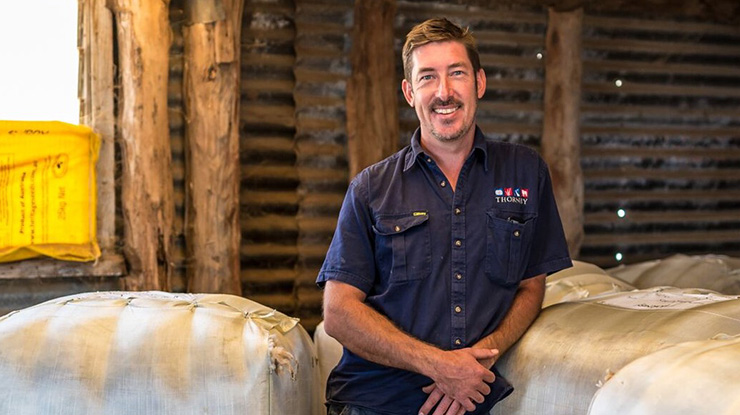 Ballintapper Farms' Managing Director, Paul McGorman
The MeatUp forums are a series of events held throughout southern Australia that provide beef, sheep and goat producers with access to practical information and tools to boost productivity and profitability on-farm.
A Meat & Livestock Australia (MLA) initiative, the forums provide producers with an update on the latest regionally relevant insights from MLA's research, development and adoption (RD&A) programs, as well as featuring presentations from a range of industry experts.
One of the highlights of the MeatUp forum to be hosted next month in Gawler, South Australia, is a presentation from Ballintapper Farms' Managing Director, Paul McGorman.
Until recently, Paul and his family jointly ran the family farming business, 'Thornby'. Spanning across two properties at Sanderston and Kangaroo Island, South Australia, Thornby was run as a mixed farming operation consisting of broadacre cereal grain and hay production, prime lamb breeding and a large-scale lamb feedlot.
In 2010, Paul and his family decided to create their own brand of lamb, Thornby Premium Lamb, after receiving consistently positive feedback on their lamb products.
"Like most farmers, you always think your product's pretty good compared to the rest of the market," Paul said.
The brand had humble beginnings but soon developed into a sought-after product.
"Initially we started off with online sales," Paul said.
"(We) built an online platform, selling it with home delivery. That evolved into then running a store every Saturday morning at the Barossa Farmer's Market."
From there, interest in the product only continued to grow. Wanting closer involvement in the supply chain, the family purchased a butcher shop in Tanunda, SA, where they sold their products.
After a change in family circumstances, the family took a brief hiatus from selling their branded lamb. However, after being awarded Australia's Best Lamb in 2014, Thornby Premium Lamb entered back into the market.
"In 2014 we sort of got talked into entering the Australia's Best Lamb competition....and we ended up winning that one competition, and that sort of spurred us on," Paul said.
Since then, Thornby Premium Lamb has continued to enjoy significant success and is sold at a range of butcher shops and supermarkets in South Australia.
Paul and his brother Alex have also just completed a successful split of the family business, with Paul operating the family's 1,100-hectare breeder property, 'Ballintapper Farms', on Kangaroo Island, while his brother Alex remains on Thornby to manage the feedlot and cropping operations.
The brothers still work together to produce Thornby Premium Lamb, with Paul taking a closer focus on the marketing and brand development for the product while Alex continues to dedicate his time to the technical production of the lamb.
Paul says the family's journey to creating a premium branded lamb product has provided him and his brother with a wealth of knowledge in the area that he is willing to share with other producers with similar aspirations.
"Myself and Alex are both happy and willing to give back to the industry," Paul says.
Paul's presentation at the upcoming MeatUp forum in Gawler, SA, is part of this commitment to assist fellow producers.
His presentation will share the lessons learnt by the family in creating and developing their branded lamb product, from how to build a brand that connects with customers to handling setbacks in international exports, joint ventures and dealing with domestic red meat suppliers.
Paul will also provide some valuable insights into succession planning for family farming businesses at the forum.
"I'll be certainly incorporating a lot about succession.... focusing on the positive side of succession," Paul said.
"It can be a good thing too, for the business, for the people working in the business, (and for) family relationships."
Paul's presentation will complement the range of other expert speakers and red meat research, development and adoption program presentations on offer at the 2021 MeatUp Forums.
To find out more about the 2021 MeatUp forums, visit the MLA website.