Back to

News & Events
Meet the LMO: Trevor Hess
10 October 2018
Twenty-six Livestock Market Officers (LMOs) currently work across Australia as part of MLA's National Livestock Reporting Service. Covering more than 3,000 markets a year and thousands of kilometres between them, LMOs attend and report on up to 70 of the nation's cattle, sheep and goat sales on a weekly basis.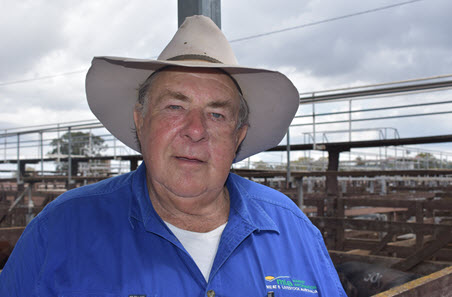 This week, Prices & Markets talks to well-known Queensland LMO, Trevor Hess, about his sales patch and how the markets are tracking.
Where are you based and what regions do you cover?
Maclagan, north east of Dalby, is my home base. I cover Toowoomba, Warwick, and Dalby cattle sales. I'm also relief reporter for Roma store and Roma prime cattle sales, and Emerald and Gracemere. Sometimes I cover Casino in northern NSW.
What are some of the challenges or opportunities for livestock producers in your part of Australia right now?
The prolonged dry weather has obviously been a challenge for some cattle producers. However, for producers with some feed in the paddock, the availability of young, lightweight, poor condition steers and heifers has provided some opportunities.
What's a hot topic around the catwalks of the saleyards you cover at the moment?
Everyone is talking and speculating about when we might experience some good rainfall in the eastern half of the country.
A lot of cattle producers have totally de-stocked in most of the hard-hit areas. Roma has been consistently yarding 5,000 to 8,000 head, and on occasions, up to 12,000 head.
Other droughts have been as bad as this one, but the difference this time is it's over a much bigger area. In previous droughts, restockers or backgrounders would normally come up to Queensland from NSW or vice versa, and there would be heaps of cattle going over the border, but not this time. When we finally do get good rain, restockers will be out in force.
What's the best part about your job?
There are never two days the same.
When you're not at the saleyards, where would we find you?
On our property at Maclagan where I try to produce Blonde d'Aquitaine-cross cattle to suit the local trade market.
What's your favourite red meat meal?
I have eaten, and will eat, from the tip of the nose to the end of the tail and once ate nostril at a beef dinner in France. However, a good T-bone would have to be my favourite.