MLA at BeefEx 2018
12 October 2018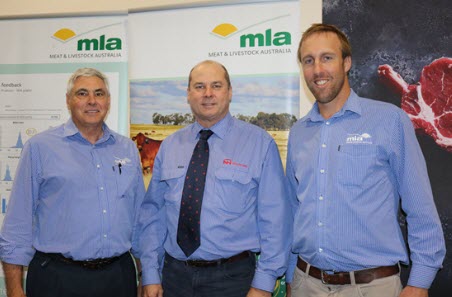 MLA Program Manager - GrainFed, Live Export and Goat, Des Rinehart, with ALFA R&D committee chair & manager of Whyalla Feedlot, Tony Fitzgerald, and MLA Project Manager – Feedlot, Dr Joe McMeniman, at BeefEx 2018.
It was a busy week for MLA at BeefEx 2018 in Brisbane.
A number of research and development projects managed by MLA were showcased to the 400 attendees.
"It was a fantastic event that was well supported," said MLA feedlot project manager, Dr. Joseph McMeniman.
"We had plenty of interest in the MLA trade stand, with lot feeders looking to find out more information on some of the key projects that their grainfed levies are being invested in."
Bunk scanner available
A new vehicle-mounted automated feed bunk scanner, developed by Australian automation and robotics solutions company, Manabotix, through MLA and in consultation with ALFA, was commercially released to industry at BeefEx.
The world-first technology is now available for adoption by industry, after extensive in-feedlot testing this year demonstrated it is more accurate in predicting feed remaining in bunks than human callers, offering potential productivity and profitability benefits to the feedlot industry.
Manabotix Managing Director, Dr Stuart McCarthy, presented the in-field test results at BeefEx.
Dr McCarthy said the bunk scanner was tested at three feedlots including Mort & Co Grassdale, Mort & Co Pinegrove and Teys Condamine feedlot, with 100 observations taken at each feedlot, and feed quantities in bunks representing the full spectrum.
New online platform for lot feeders
Lot feeders were given a preview of a new e-learning platform that will soon be released to the industry.
The e-learning platform will provide free, easy-to-use modules for lot feeders to access covering a range of topics, and with associated questionnaires for participants to test themselves with.
The initiative was highlighted during a presentation by respected industry veterinarian, Dr Kev Sullivan, Bell Veterinary Services, addressing the recently released Antimicrobial Stewardship Guidelines for the Australian Cattle Feedlot Industry.
Antimicrobial stewardship is one of the first modules that will be included on the e-learning platform when it is launched.
ALFA, through MLA, invested grainfed levies to develop the Guidelines to arm feedlot managers with practical information on antimicrobial resistance and provide a framework to ensure appropriate use of antimicrobials.
For more information, contact Joseph McMeniman at jmcmeniman@mla.com.au
Join myMLA today
One username and password for key integrity and information Systems (LPA/NVD, NLIS, MSA & LDL).
A personalised online dashboard that provides news, weather, events and R&D tools relevant to you.
Customised market information and analysis.
Already registered for myMLA?