Back to

News & Events
MLA's international knowledge and education program goes digital
27 October 2021
Customers and exporters of Australian beef and lamb now have access to a suite of online learning modules to improve knowledge and provide education and inspiration on working with Australian red meat. The True Aussie Beef & Lamb Academy builds on the already successful training programs, but also allows learners access to these via their smartphones or computers.
The Academy on Smartphone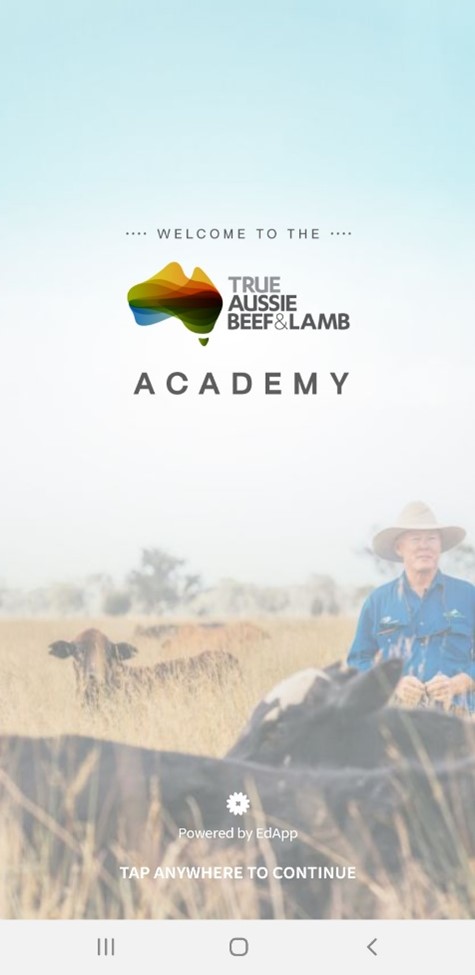 'We are very excited to launch the first digital version of our highly regarded knowledge and education training program,' MLA's Global Business Manager Josh Anderson said.
'The Academy will reach a wider audience and is optimised for smartphones, allowing an opportunistic style of learning when people have a spare five minutes.'
Partnering with a new micro-learning provider EdApp, training is delivered in topical, bite-sized learning modules. The Academy courses are easier to develop, update and distribute compared to traditional eLearning courses and completion and retention rates are dramatically higher. The ease of development also allows courses to be customised and co-branded, giving companies the ability to provide a tailored training experience.
'Given the scale of red meat exports, we recognise companies can never possesses the resources to physically train or reach every customer or staff member across our global markets,' Mr Anderson said.
'Online delivery of training has advanced to a point whereby we can now reach customers and consumers via scalable education initiatives online – something The Academy does very well through delivering translatable content to a wide audience.
'The initial suit of training courses is now available and range from beef cooking and butchery techniques for chefs to Australian food safety systems and industry facts.
'I encourage anyone who wishes to trial the system to please contact me.'