Back to

News & Events
MSA drives business decisions for Northern NSW producers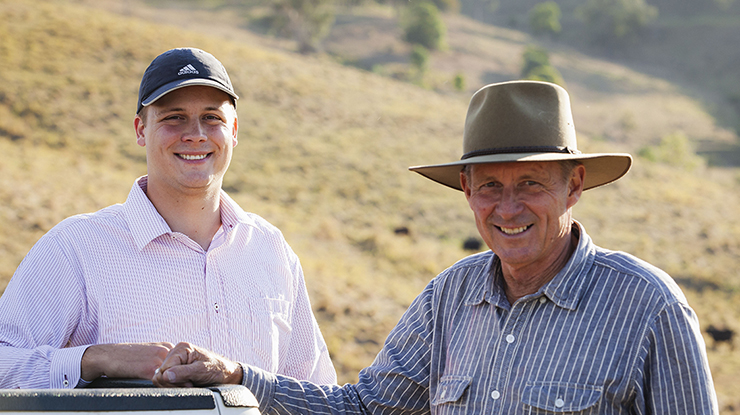 Callum and Tom Amey, Mummulgum
Northern NSW beef producers Tom and Cathy Amey have spent almost 20 years refining their herd based on feedback from Meat Standards Australia (MSA).
By adopting a policy of using MSA feedback data to guide breeding decisions, Tom and Cathy have made calculated changes – like moving from Charolais to Murray Grey sires over their composite cows, which are half Brahman and a quarter each Murray Grey and Friesian.
The move gave the Ameys the extra carcase fat cover they needed to more reliably hit MSA grading, without significantly denting weight gains.
It's these business decisions that have resulted in Tom and Cathy being awarded the 2019 MSA Excellence in Eating Quality Awards for Most Outstanding MSA Producer in New South Wales for Band 2 producers.
The Ameys achieved 100% compliance to MSA requirements and an average MSA Index of 63.15 across 2017-2019.
Tom has been a cattle producer for more than 40 years and has experience across the grazing and processing industry. He runs a 700-head beef operation at Dyraaba and Mummulgum, west of Casino in NSW, servicing the MSA-graded trade yearling market.
By looking at the continuous feedback from the MSA feedback sheets, Tom aims to steadily grow his beef operation's profitability, as he has done since he became a registered MSA producer in 2000.
"MSA keeps me focused on quality. It helps with the selection of cattle I breed from and the feed choices I make to finish my yearlings," Tom said.
"Weaners are turned off at 9.5–10.5 months, at average weights of about 210 kilograms (carcase weight), and we supply mostly to McCaughey Meats in Casino.
"Calves are given access to a custom-mix grain ration on a creep-feed basis two months before they are processed, a relatively minor cost that is repaid in extra weight gain and finish.
"It gives me the benefit of a carcase that has some grain input. The calves have done most of their growing but the grain helps finish them off as the mother's milk supply starts to drop off."
Tom also places a strong emphasis on temperament and low stress stock handling techniques, which can influence pH levels at the time of slaughter.
"The mothers of these yearlings are half bred Brahmans and if you have Brahman cattle you become a good stock handler because you have to appreciate them and take cues from them – they can be brilliant to handle or they can be very difficult," Tom said.
"I muster with my ute, but usually it's as simple as driving into a paddock, calling out and they run to the front gate – it's something I've trained them to do.
"When I have the yearlings in the yards waiting for the truck, I have a trough there and they have access to a ration that they've been eating from feeders out in the paddock. It's about consistency and keeping the animals as calm as possible."
Tom said there's a lot for producers to gain by being part of the MSA program, as it helps drive business decisions and profitability.
"You have to be across all the key areas: to be profitable you need an animal that has a sufficient growth rate, has the ability to finish under the conditions you've got them and a good temperament. MSA provides you with feedback to help manage this," Tom said.
"If producers can make business decisions based on MSA compliance they are going to be winners."