Back to

News & Events
MSA grading sees Walpole producers go from strength to strength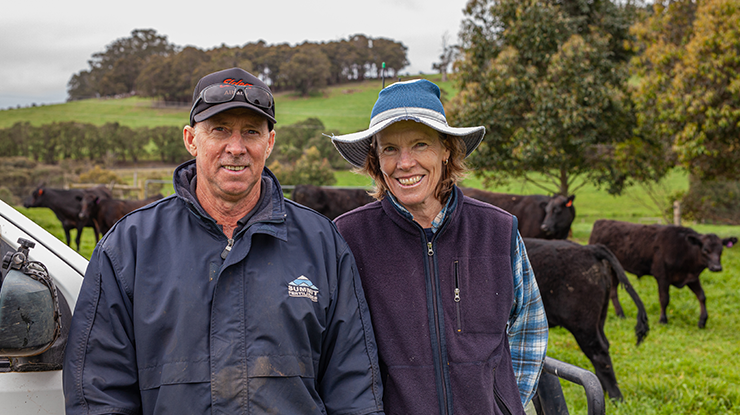 Wayne and Carol Dumbrell, Walpole.
Continuous improvement is the name of the game for WA producers Wayne and Carol Dumbrell, winners of the 2019 MSA Excellence in Eating Quality Awards for Most Outstanding MSA Producer in Western Australia for Band 1 producers.
Running a herd of 220 Angus-Friesian cross, Murray Grey-Friesian cross, and second-cross females across 260 hectares near Walpole, the Dumbrells have been supplying high quality milk-fed vealers to Woolworths for the past 15 years.
Turning off the animals at roughly 10 months of age and targeting a carcase weight of 240 kilograms, the Dumbrells have found MSA grading and individual carcase feedback to be helpful in fine tuning the veal they produce.
"When Carol and I started out, we were fortunate in that we inherited a strong cow base from Carol's parents, which probably put us ahead of the curve from the outset," Wayne said.
"From there, the MSA grading system and individual feedback it provides has allowed us to continuously improve what we're doing, by tracking the progeny of individual cows and bulls and their performance."
The Dumbrells have a philosophy of only consigning beef they would be happy to eat themselves, and their on-farm management practices reflect their efforts to maintain their herd's high level of performance.
"Running a relatively small herd allows us to monitor animals closely, and be familiar with their breeding, behaviour and growth patterns on an individual level," Wayne said.
"MSA guidelines and feedback have led to small changes here and there in how we manage our animals. We typically run our cows in mobs of 40, and a month before selling we'll draft them on size and weight to make sure they're happy and settled in their mobs before we truck them out.
"Docility, fat cover and marbling are key traits we select for when choosing bulls as well, and the results are pretty quick to come back in the MSA data. If an animal doesn't perform, it's relatively simple for us to look at the data and see what went wrong and then set about addressing the problem."
Another focus for the Dumbrells is ensuring their animals are kept on a rising plane of nutrition.
"We're careful to make sure the animals are on a consistently rising plane of nutrition, receiving more and better-quality feed right up until they leave the farm," Wayne said.
According to MSA, keeping cattle on a rising plane of nutrition will help improve compliance and also allow producers to turn animals off more quickly which can lead to improved ossification scores.
"We graze on ryegrass and clovers in winter, and kikuyu in summer, using a rotational grazing system and then supplementary feeding hay to fill any feed gaps," Wayne said.
"The effort we put into this system is fairly quickly returned through the premium we receive for consistent MSA compliance."