Back to

News & Events
Northern Breeding Business (NB2) producer group activities June 2022 update
Kimberley/Pilbara Groups
A business foundational training session was held on Monday 28 March 2022 for group #2 in the Kimberley/Pilbara. Six group members from four stations were in attendance and the meeting was held on Mandora Station.
Tim Carter from Bush Agribusiness conducted the in-person training. A bit of a novelty after two years of COVID-19 lockdowns and isolation here in Western Australia.
The training was well received, and the group is powering through the completion of their individual templates.
Kimberley/Pilbara group #2 training on Mandora Station.
Contact: Rebecca Butcher, Department of Primary Industries and Regional Development
E: rebecca.Butcher@dpird.wa.gov.au
T: 08 9651 0540
M: 0438 200 677
Indigenous/Animal Health Australia Group
The indigenous group has conducted three residential workshops during 2021 and 2022 and has conducted herd and financial data collection on four properties. Development of immersive technology tools has been initiated and NB2 foundational training in the feedbase, herd management and financial management components is continuing.
Residential workshops were conducted at Mt Isa, Ingham and Chillagoe with field trips to local indigenous owned properties. These workshops follow a program of group discussion, identification of areas in which group members can work together, presentations from MLA, AHA and NB2 personnel and other specialists associated with the project, experience with immersive technology, foundational NB2 training and planning for future group/NB2 activities. The workshops are designed to allow time for group members to develop connections and to share insights and stories.
At this stage, eight indigenous properties/cattle businesses have engaged with NB2 and all have indicated willingness to participate in further activities over the life of the NB2 project.
The initial filming of an autopsy and of teaching components has been completed and the filming of material to form the basis of development of a biosecurity training tool has been conducted. Further development of immersive technology tools and outputs will continue during 2022.
Commitment to work together as a group of indigenous cattlemen has been reinforced with an initial focus on cooperation in the area of staff management, exchange and training and intention to investigate further opportunities of cooperation across the group.
A presentation by an area manager from the NB2 corporate group was facilitated and resulted in such positive feedback that more activities such as this will be planned.
Group members have requested the presentation of Grazing Fundamentals workshop at a suitable location in August 2022.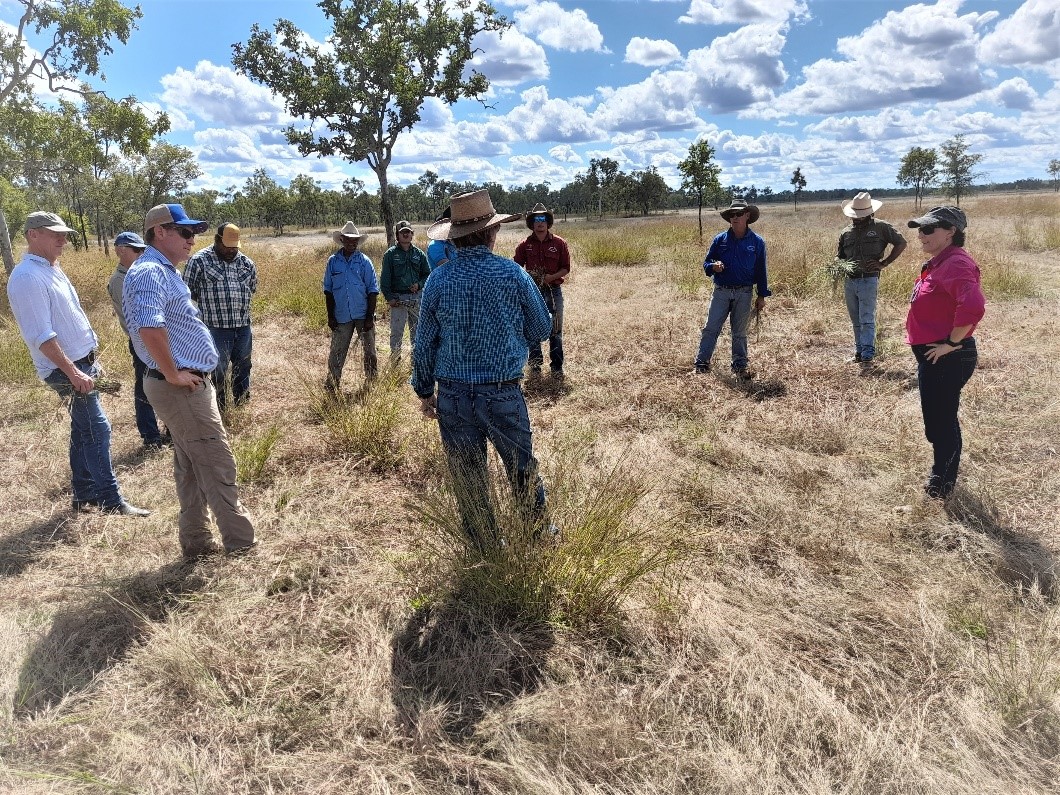 Feedbase foundational training on Bulimba Station, May 2022.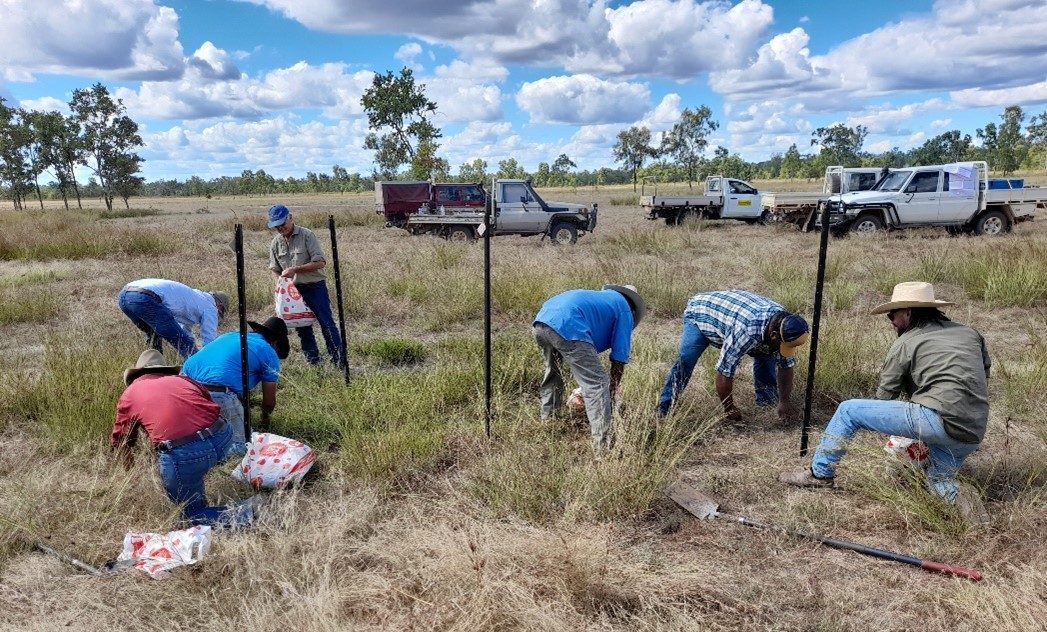 Competitive forage budget training, Bulimba Station, May 2022.
Contact: Ian Perkins, LPM QLD
E: ian@lpmqld.com.au
T: 07 4686 1198
M: 0408 059 377
Burdekin Group
NB2 Pathway to Practice – Burdekin group feedbase training completed
On 28 March, 16 Burdekin group members met at Warrawee station (near Charters Towers, Queensland) for their foundational feedbase training with Dionne Walsh (Range IQ). Starting the day with a gourmet breakfast showcasing property pork, kindly donated by the Healings, the group enjoyed a half day of field training with Dionne on pasture yield assessments, land condition assessments and pasture species identification.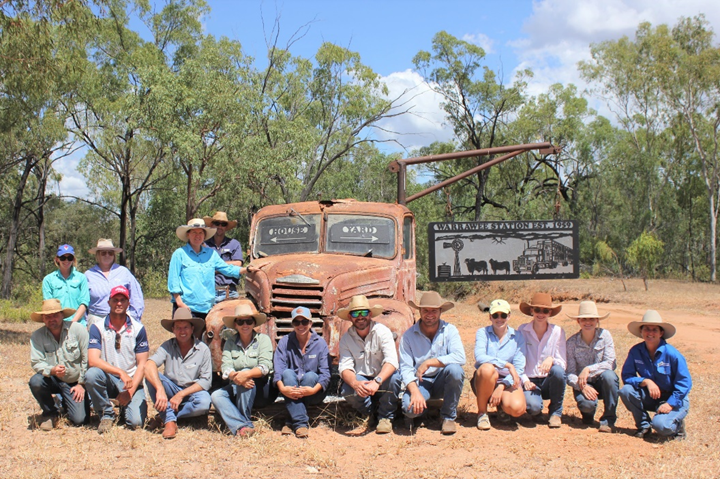 Burdekin group members at Warrawee Station.
Land condition and pasture photo standards were provided to all businesses to assist with conducting feedbase measures, and a paddock drive with informal tips and tools presented at varying stops, along with everyone practicing land condition and yield assessments. Stepping out and stock days per hectare pasture budgeting methods were also demonstrated. It was then back indoors to work through the feedbase template.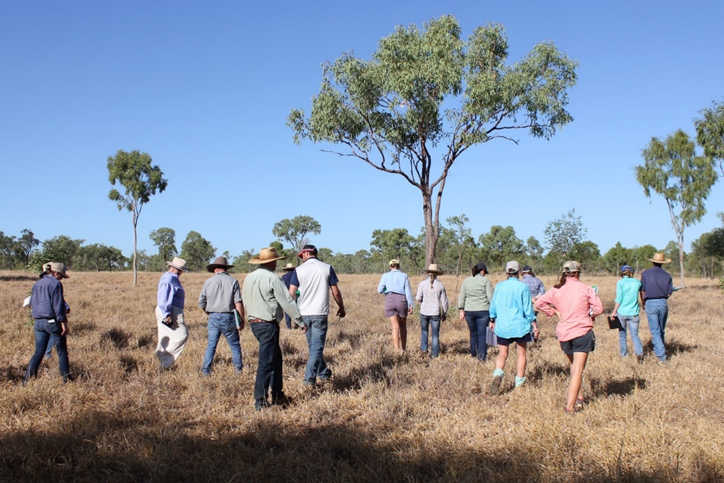 Feedbase training on Warrawee Station.
Contact: Roxanne Morgan, QDAF
E: roxanne.morgan@daf.qld.gov.au
T: 07 4999 8555 | M: 0436 826 211
Contact: Jim Fletcher, QDAF
E: Jim.Fletcher@daf.qld.gov.au
T: 07 4999 8554
M: 0428 960 572
Fitzroy Group
The Fitzroy group had their final feedbase training at the Barretts' central Queensland property 'Drumburle', in mid-March. Dionne Walsh from Range IQ delivered the feedbase training, equipping the producers with the skills to complete the foundational feedbase template. This group has met four times in the past six months. Interest and participation remain high with good numbers in attendance and special interest in property-based meetings (at a group member's property).
On the day, NB2 Producer Coordinator Stu Barrett shared Drumburle's management program with the group.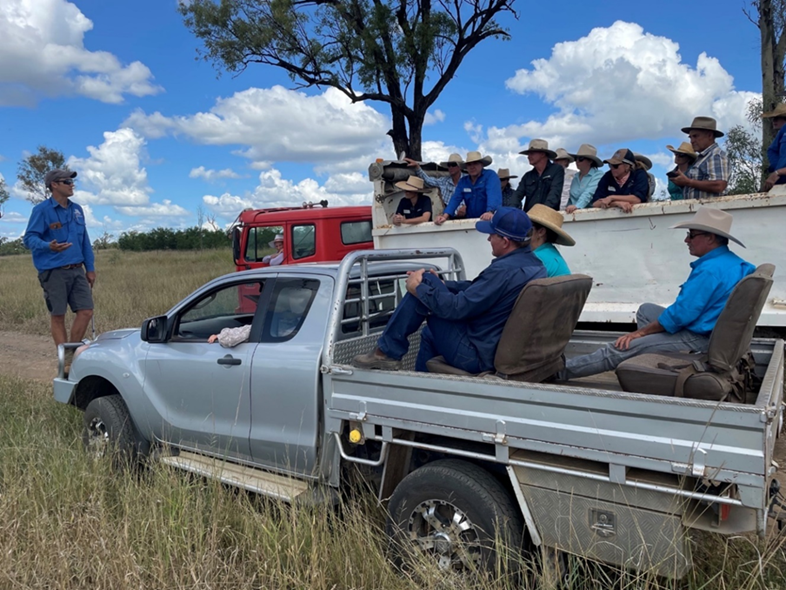 Fitzroy group coordinator, Stu Barrett leading the tour of 'Drumburle'.
Contact: Matt Brown, QDAF
E: matt.brown@daf.qld.gov.au
T: 07 4843 2611
M: 0428 104 248
Pastoral Company Group
The group held their first on-property meeting at 'Brunette Downs' in 2022.
Each business assessed their own performance relative to average and top 25% of group. This built on analysis done in Mt Isa last year and will flow well to the next step which is assessing all business data at the next meeting. The feedbase training by Dionne Walsh went well and gave everyone a good understanding of the theory, as some were well versed in the practice without necessarily having a good understanding of theory. The agreement to have an 'apples and apples' desktop Long-term carrying capacity (LTCC) performed for each station was a good outcome of the meeting.
The feedbase training, while critical, was always going to be a challenge due to a significant variation in expertise in the room. It was great to see participants debate kg/ha dry matter in the paddock, that isn't something you see often.
The group has agreed to go through a process to standardise their LTCC assessment. This will be a desktop activity for most, with Dionne Walsh guiding rangelands officers through the process. For some it will require an on-the-ground assessment.
The group identified that a 'deep dive' into a relevant R&D project each meeting might be a good agenda item. The next meetings are in Mt Isa and Camooweal.

Foundational feedbase training on 'Brunette Downs'.
Contact: Ian McLean, Bush Agribusiness
E: ian@babusiness.com.au
M: 0401 118 191
Cloncurry Group
The latest NB2 producer group to form held its first formal meeting over two days in Cloncurry in early April. This group was initiated by Cloncurry veterinarian Trevor Smith, who has undertaken the relevant NB2 training and will facilitate the group which is made up of clients of his practice. The seven beef businesses in the Cloncurry group, a mix of both corporate and family enterprises, met in early April to complete their initial foundational training with Dionne Walsh from Range IQ and Tim Carter from Bush Agribusiness, and are now populating their herd, financial and feedbase data templates.