Back to

News & Events
New MLA Directors elected
22 November 2018
More than 800 producers and industry representatives are participating in a packed program of events as part of Meat & Livestock Australia's (MLA) Red Meat 2018 in Canberra, which has included the 2018 MLA Annual General Meeting (AGM).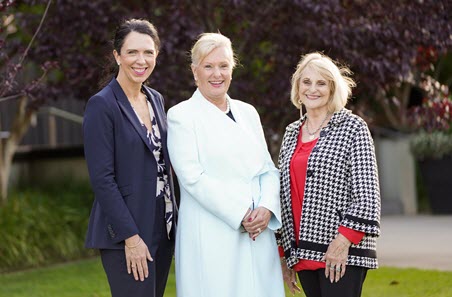 The formal proceedings of the AGM included consideration of MLA's accounts, the election of two Directors to the Board and one cattle producer representative position to the MLA Board Selection Committee.
MLA members voted on the election of two Directors to the MLA Board – both first-time Board Directors (see extended biographies below):
Professor Manny Noakes – an expert in many fields of nutrition and health including the food regulatory system and functional food substantiation, with an in depth knowledge of the role of red meat in human nutrition, received 88% votes in favour.
Jo Pye – an expert in large scale customer engagement, marketing and strategy within the fast-moving consumer goods (FMCG) industry (with a focus on food and beverage), received 91% votes in favour.
The MLA Board is a skills-based Board. Directors have complementary skills to reflect the diversity required to make important decisions in the best interest of members and for the long-term benefit of the livestock industry.
MLA members also voted on the election of one cattle producer representative to the MLA Board Selection Committee.
The successful cattle producer representative was:
Mick Hewitt as the grassfed cattle representativeThe role of the Selection Committee is to call for applications, review, interview and then report to members on the suitability of candidates for election to the MLA Board.
The Committee is currently made up of two non-voting MLA Directors, three representatives nominated by producer peak councils and four producer members who have been directly elected by MLA members – one sheepmeat, one grainfed cattle and two grassfed cattle representatives.
MLA Chair Dr Michele Allan provided the AGM with an overview of the industry over the last 12 months.
"With many of the Australian red meat and livestock industry's key supply regions in the grip of drought, 2018 was a challenging year for many of MLA's producer stakeholders," Dr Allan said.
"Seasonal conditions will always have implications for national herd size, slaughter numbers, supply chain profitability, export volumes, domestic pricing and consumption – but it's a continuing testament to our industry's resilience that these impacts do not alter its overall progress.
"In 2017-18 MLA has worked exceptionally hard to support our producers' efforts by keeping Australian beef, sheepmeat and goatmeat at the forefront of consumers' minds in what has become an increasingly competitive global market."
Outgoing MLA Managing Director Richard Norton, who is stepping down from the role after four and a half years, reported on the performance of the MLA over the last 12 months.
"Today, MLA today has just under $600 million in contracts for research, development and adoption across the entire red meat value chain," Mr Norton said.
"Breaking that down, MLA has attracted $180m in research funding from entities outside of producer levies and Government funding.
"MLA invested $262.2 million in 2017-18 which was 36% more than last year. This increase was primarily due to MLA Donor Company (MDC). It resulted in the MLA Group using almost 99% of the Government matching funds available in 2017–18.
"The added dividend for our levy payers is that MLA is now also generating $5.5 million annually for our industry in returns from service fees and royalties. This is being reinvested back into research and marketing."
Looking ahead, Mr Norton stressed the importance of the red meat and livestock industry working together to manage risk.
"There is a review underway of the industry's Memorandum of Understanding (MOU) which sets out the roles and responsibilities for the red meat industry's peak councils and service providers. Currently though, roles and responsibilities for issues and crisis management are not covered and not clear," Mr Norton said.
"For the sake of our levy payers and their businesses, for the sake of the families and communities and the local and national economies that depend on them, I make one final recommendation in this role.
"And that is, that this review of the industry's MOU resolves the ownership of industry risk and the responsibilities for managing issues, because the current situation is not working in the best interests of our industry."
Mr Norton said it had been a privilege to serve Australian red meat and livestock producers.
"You've shared your vision for your business, you've shared your ideas, you've shared your frustrations and you've shared your feedback about MLA's performance, good and bad. You've kept me focused on what matters to you – and what you expect from your service provider," Mr Norton said.
Elected MLA Board Directors – biographies:
Manny Noakes
Qualifications:BSc, Dip Nut & Diet, PhD
Professor Manny Noakes is a key opinion leader and trusted advisor in nutrition and health both nationally and internationally. With over 25 years' experience she has extensive knowledge in many fields of nutrition and health including the food regulatory system and functional food substantiation, and an in depth knowledge of the role of red meat in human nutrition. Professor Noakes is the recipient of three CSIRO Medals, is a Distinguished Alumni of Flinders University, holds a research excellence award from the University of Adelaide and was a recipient of the Zonta Club Woman of International Achievement award in 2007. In 2014, Manny was named in the top 50 influential women in South Australia as part of International Women's day and in 2017 was nominated for Australian of the Year. Professor Noakes is currently an Adjunct Research Professor with the University of South Australia and a member of the Nutrition Society of Australia. In addition she is also a member of the National Committee for Nutrition for the Australian Academy of Sciences as well as being on its Expert Working Group Special Project: Nourishing Australia: A decadal plan for nutrition science.
Previous roles:
Professor Noakes was formerly a Senior Principal Research Scientist and Director for the Nutrition and Health Program at CSIRO. She has been an executive member of the Federal Government Food and Health Dialogue, the National Heart Foundation Food and Nutrition Advisory Committee and an Executive Member of the Lion Nutrition Advisory Panel amongst numerous other advisory roles for industry and government.
Jo Pye
Qualifications: BSc Food & Nutrition, MBA
Ms Pye has 20 years' experience in large scale customer engagement, marketing and strategy within the fast-moving consumer goods (FMCG) industry (with a focus on food and beverage) across numerous roles covering food science, product and strategic marketing management, consumer insights and strategic planning. She has held senior positions across local, regional (APAC) and global (USA, UK, APAC) markets including a three-year assignment in Shanghai, China where she was responsible for strategic planning and implementation to drive regional business growth. Ms Pye has excelled in both global corporate and lean start up environments and in designing and delivering high quality strategic market advisory and implementation projects. She is currently Director – Food Service for The NPD Group, is undertaking a Diploma in Leadership Coaching and is a member of the Australian Institute Food Science & Technology (AIFST).
Previous roles:
Ms Pye was Global Head of Insights & Customer Experience at Watch Me Think, Global Director of Insights & Client Service, Mintel International and was Marketing Director Australia & NZ DuPont (formerly Danisco).
Elected Board Selection Committee producer representative – biography:
Grassfed cattle representative: Mick Hewitt
Mr Hewitt has served on MLA's Selection Committee for the past three-year term and has elected to renominate. He combines experience acting as a committee member representing grassfed beef producers, with a solid understanding of the broader beef industry including insights from production and consumer perspectives. Mr Hewitt's career and current executive role as CEO of Hewitt Cattle Australia includes negotiating and selecting senior positions for people in significant roles of responsibility. He offers extensive experience in building people performance and operational capacity to meet strategic and governing requirements and is well-positioned to make a valuable and ongoing contribution to the role. Mr Hewitt feels it would be a privilege to contribute to the beef industry through this critical function of the MLA Board Selection Committee.
Photo caption: MLA Chair Dr Michele Allan (centre) with newly-elected Directors to the MLA Board, Jo Pye (left) and Professor Manny Noakes (right).