Back to

News & Events
New R&D addresses drench usage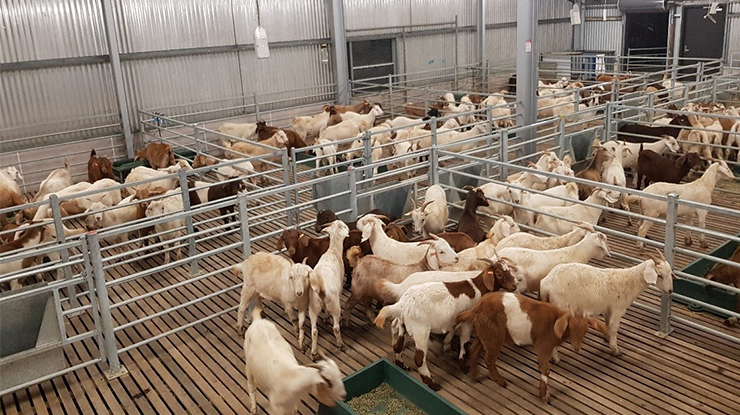 Key points:
Internal parasites continue to be a major problem for goat producers, with few effective and registered drenching products for use in goats available.
A new MLA-funded R&D project aims to inform veterinarians of the best approach to drenching goats.
Results from high-level testing has identified a number of viable off-label drench options and dose rates.
A new MLA research project is addressing the need for sustainable internal parasite control for the Australian goat industry through informed off-label drench use.
Internal parasites continue to be a major problem for goat producers. Goats don't develop an age resistance to worms to the extent that occurs with sheep and cattle, and there are relatively few effective drenching products registered for use in goats.
Providing science-based advice
The levy-funded project, 'Sustainable internal parasite control in goats: Effective and safe anthelmintic use' is being led by Dr Emma Doyle from the University of New England.
Dr Doyle said the project aims to provide veterinarians with relevant, science-based advice to be able to guide goat producers in making best-practice decisions regarding the use of drenches (also known as anthelmintics).
"The results of this project will present producers with viable, effective and accessible options when tackling worm control in goats, building overall industry confidence around goat health and immunity," Dr Doyle said.
"It looks to highlight the importance of recognising what products are working and what aren't and where drench resistance may be a factor, ultimately influencing levels of productivity and sustainability."
Findings to date
The project comprises four experiments, three of which have been completed.
The project's first experiment involved testing seven different sheep and cattle drenches with the aim of establishing effective dose rates.
While the majority of drenches tested proved effective, this stage identified one ineffective drench to be the Moxidectin pour-on and is flagged to producers as a potentially unsustainable option.
The second experiment was conducted on-farm, where the tests were re-run using a natural infection under dose rates recognised in the first experiment, as well as one slightly higher.
Results confirmed that the dose rates of the first experiment were most effective.
The third has been completed but is still undergoing laboratory work to achieve final results. The results are looking to determine the amount of residue drench leaves within goats, which will help inform recommended withhold periods.
The fourth experiment is yet to be undertaken but will aim to measure the drench residue in milk so a withhold period can be established for milking goats as well as those bred for meat.
Accessing information
Information taken from this project will be made available for veterinarians to inform producers.
The first three experiments of the project will be wrapped up by the end of 2020.
Respective results will frame a set of guidelines that will allow veterinarians to safely and accurately provide recommendations to producers in using off-label sheep and cattle drenches on goats.
The final experiment and results will conclude in early 2021, and will be provided to veterinarians and ParaBoss to inform advice for producers on best-practice approaches to drenching and worm control.