Back to

News & Events
Olympic and Paralympic Ambassadors announced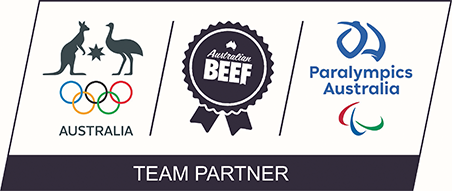 Meat & Livestock Australia's (MLA) Australian Beef brand has today unveiled six Australian Olympian and Paralympian Ambassadors as part of its partnerships with the Australian Olympic and Paralympic Teams competing in the Tokyo 2020 Games.
Paralympians Eliza Ault-Connell and Scott Reardon will be joined by Rugby Sevens' most capped female player Emilee Cherry and Vice-Captain Lewis Holland, Co-captain of the Hockeyroos Emily Chalker and Olympian Basketball player Chris Goulding, as Australian Beef Ambassadors.
These Ambassadors, many of whom have a strong connection with the red meat industry, will help tell the Australian Beef 'The Greatest' story on the road to the Tokyo 2020 Games.
In announcing the Australian Beef Ambassadors, MLA Chief Marketing & Insights Officer Lisa Sharp said the Ambassadors will feature across various aspects of MLA's partnership program, with each focusing on telling their stories of 'Greatness' and the importance of Beef in a healthy lifestyle.
"Australian Beef is proud to be supporting this group of athletes with such powerful stories of resilience, dedication and success that will inspire others to find their greatness within," Ms Sharp said.
"The Ambassadors are a critical part of MLA's partnerships – allowing Australian Beef to tell stories of greatness and show how Australian Beef is an important part of a healthy lifestyle and an easy-to-cook, high quality protein for everyday meals.
"The Ambassadors will be working with MLA across a range of Australian Beef activities through the partnerships, including our community programs.
"MLA, through Australian Beef, will also be working with all six Ambassadors to share their favourite beef recipes, inspiring Australians to enjoy beef in a variety of healthy and balanced meals.
"We're excited to work with our Ambassadors, share their stories, and help all Aussies lead a healthier lifestyle.
"MLA's partnerships with the Australian Olympic and Paralympic Teams competing in the Tokyo 2020 Games represents an excellent opportunity to tell Australian Beef's story with a platform that has a huge and highly engaged local and global audience."
To announce the Ambassadors, MLA through the Australian Beef brand, has created a content series that tells the athletes' stories and the important people who have supported them on their journey to greatness – from their coaches to their local community. The first of the series was released today, with Eliza and Scott's stories.
After 10 years away from the sport, wheelchair racer Eliza Ault-Connell is set to make a triumphant return to the Paralympic Games and has the support of her children to thank for her incredible comeback.
Fellow Paralympian and Paralympic gold medalist Scott Reardon grew up in Temora, in regional New South Wales, and brings a true understanding of Beef producers and provenance to the partnership.
"Growing up in Temora and as a Paralympian, I understand the important role that beef has in both the community, and as part of a healthy and balanced diet," Scott said.
"I'm delighted to partner with Australian Beef to be able to tell my story as an elite athlete, a Paralympian, and someone who is proudly from the country. I'm so pleased to be able to show the greatness behind my greatness – the amazing people of Temora – in my work with Australian Beef."
The content will be utilised across broadcast TV, online video, YouTube and paid social media.
You can watch Eliza Ault-Connell's YouTube video here and Scott Reardon's YouTube video here.
To view the profiles of the Australian Beef Ambassadors or to view the content series visit https://www.australianbeef.com.au/olympics.
For more information about MLA and Australian Beef's full range of activities as part the partnership with the Olympic and Paralympic Teams, visit https://www.mla.com.au/australian-beef-2020/.