Back to

News & Events
Over the fence
08 November 2019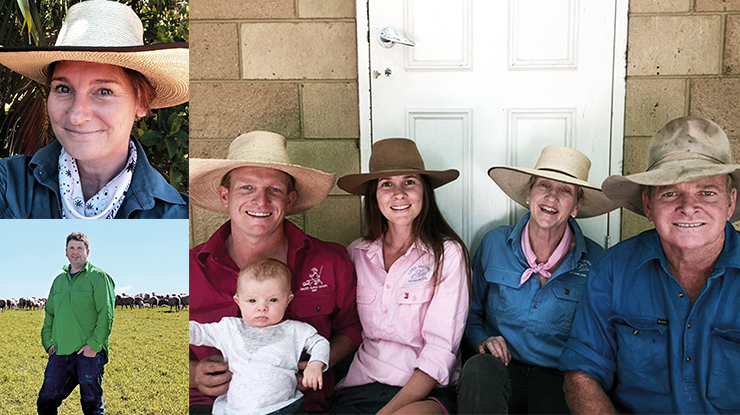 In this series, we follow a group of producers from across Australia as they manage their operations over the course of a year and respond to the challenges that arise in modern beef and sheep enterprises.
Meet our new producers for the 2019–20 series: Andrew Mitchell, the Lord family and Jane Sale.
Andrew Mitchell – Mintaro, SA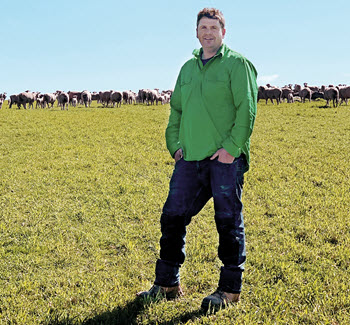 Farm snapshot
| | | | |
| --- | --- | --- | --- |
| Area | Enterprise | Pasture | Rainfall |
| 3,300ha over several properties, plus 300ha leased | Dual-purpose Merinos, cropping and wine grapes | Native pastures, sown cereals, ryegrass and white clover | 600mm |
Our business:
The farm, 'Chelwood', has been in our family since 1914. I'm the fourth generation. It was split 20 years ago between my father and uncle and, since then, we've bought half back. I farm with my wife Kimberley, my mum Pam and dad John, and my brother David and his wife Peggy.
Chelwood has always been a cropping and sheep property (mainly sheep), but it swung heavily to cropping during the 1980s. From 2005–2006 we built the sheep numbers back up – we were down to 1,000 sheep at one point. We now join about 3,000 Merino ewes each year, mainly to Merinos. We've played with a few crossbreds (400–500), but Merinos are our main business.
We crop 2,400ha and have 1,000ha of grazing country which ranges from native grasses through to improved pastures with clover and ryegrass. Frost is an issue here so we grow lucerne in the lower country, which gives us the option of grazing, or hay or seed production. We have hay storage leased to a third party. We also have 30ha of vineyards for wine grapes, which are sold into Clare Valley and Barossa Valley vineyards.
My go-to resources:
I look at people who I think are doing the best job with sheep. I read Feedback, Farming Ahead and Beyond the Bale, and a lot of information comes via social media. I recently had a weather station put in as part of a large program to address spray drift going into vineyards.
More information:
Andrew Mitchell
E: aandkmitchell@bigpond.com
To find out more about what's on Andrew's plate, check out the latest edition of Feedback magazine.
---
The Lord family – Richmond and Tambo, Queensland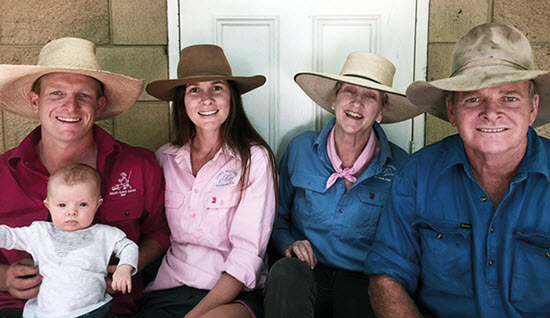 Farm Snapshot
| | | | |
| --- | --- | --- | --- |
| Area | Enterprise | Pasture | Rainfall |
| 240,000ha across six properties | Backgrounding, breeding and fattening Brahman cattle | Spear grass, spinifex, stylos, Wynn cassia in the north, Mitchell and Flinders grass in the south | 475mm/550mm |
Our business:
Kacie Lord
When he was 19, Ardie went into partnership with his brother with their father's support. In the 1980s, he bought his brother out and acquired more properties along the way. The acquisition of 'Woodstock' at Richmond was for our son Nikko and his wife Jade. We're very conscious they're the next generation and we have to set them up so they can fly in the business.
One of our goals has been to set ourselves up financially to go into business with our kids, and these don't have to be rural businesses. We also support our two other children in their business ventures. One of our daughters is developing an app for the health care industry and our other daughter is based in London working in event management.
As far as the farm business goes, our approach is to keep maiden breeders at the home station, 'Sutherland'. Our northern country is tough on maiden heifers, so we don't send them up there until they're pregnant with their second calves. We bring our weaners back down from the northern properties and they're sorted here at Sutherland, managed for a period of time, then either grown out here or sent to the southern block at Tambo.
My go-to resources:
We use KLR Marketing principles for some of our decision‑making and MaiaGrazing for grazing and animal management. We now have fast connectivity around the house and sheds at Sutherland and that's been the greatest thing that ever happened. Mechanics working in the shed can now order parts, access YouTube for repair tutorials, and photograph and email their purchase orders.
We use a combination of cloud‑based programs and OneNote for the paddock notebook – it's all paperless for our accountant.
More information:
Ardie and Kacie Lord
E: kacie@lordpastoral.com.au
To find out more about what's on the Lord family's plate, check out the latest edition of Feedback magazine.
---
Jane Sale – Kimberley, WA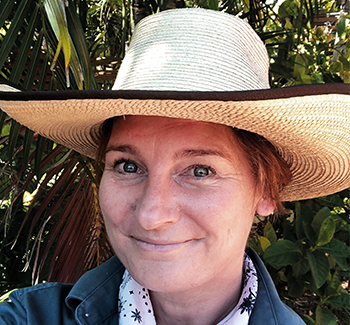 Farm Snapshot
| | | | |
| --- | --- | --- | --- |
| Area | Enterprise | Pasture | Rainfall |
| Approximately 1,619,000ha across several stations and Indigenous sub-leases | Breeding and backgrounding Brahman/Droughtmaster cattle | Spinifex and annual grasses, buffel and curly spinifex on river blocks, Mitchell, bundle bundle and blue grass | 475mm/550mm |
Our business:
We built the business from scratch with two investment partners. We started with a 355,000ha bare block at 'Yougawalla' in 2008, four hours from the nearest small town, with no buildings or infrastructure. It had one fence around two‑thirds of it, three watering points and 800 cattle. In the first two years we put in 300km of fencing and 50 water points. It took longer than we imagined – we planned for five years and it went to 10 – but it allowed us to expand.
Our first sub‑lease came when the live export ban was put in place. The ongoing effect of this was the inability to sell projected calf numbers, so we were running out of grass. We struck our first agreement with our Indigenous neighbours. We employ their community members – they have first right of refusal of any jobs that come up. It's a good structure. Because of our record, we've had a lot of interest in helping other stations set up similar agreements with their neighbours. In 2017, we sold the business to an overseas‑based owner and we've stayed on to manage the property while continuing to expand.
Currently, we run about 50,000 cattle across seven properties, which increases to 60,000 at peak times. Most of the cattle (80–90%) are for live export. They're kept entire because this produces a leaner beef and that's what the Vietnamese and Indonesian markets want. It can be challenging to manage a breeder herd but we do it by keeping them in separate mobs on different stations. The remaining 10–20% go to the domestic abattoir market.
My go-to resources:
In August, I became a member of the Pastoral Lands Board. The two‑monthly meetings are a great way to keep on top of what's going on at a state level. That's my main networking. We also have a great Department of Agriculture and Food in WA and we work with them a bit. Everyone is pretty connected.
More information:
Jane Sale
E: jane.sale@bigpond.com
To find out more about what's on Jane's plate, check out the latest edition of Feedback magazine.