Back to

News & Events
Red meat here to stay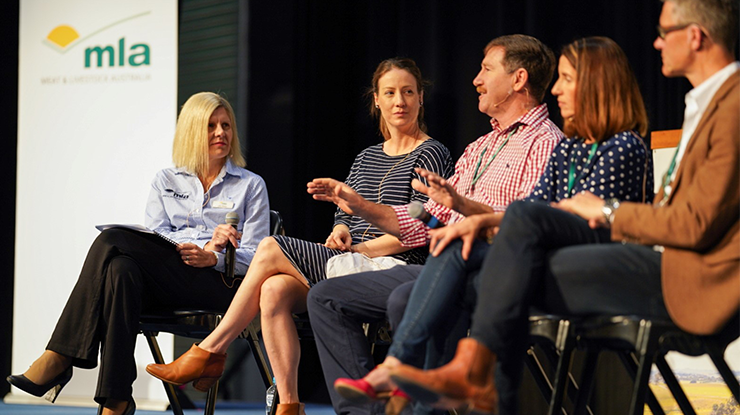 Keeping red meat on the plates of consumers was the underlying theme across Day 3 of Red Meat 2019, from the industry breakfast through to each of the forums. Here's a summary of the day.
Plenty of food for thought
At the industry breakfast chaired by MLA Chief Marketing, Communications and Industry Insights Officer, Lisa Sharp, speakers and panellists discussed the importance of maintaining and building consumer trust and how the industry can effectively tell its story.
Attendees also heard the latest insights from Project Daisy, which benchmarks consumer attitudes and behaviours to red meat across metropolitan Australia.
Project Daisy is conducted by strategic consultancy firm Pollinate on behalf of MLA, and Pollinate CEO Howard Parry-Husbands discussed its results and implications for the industry.
He said the number of consumers shifting to a vegetarian diet remains relatively stable at 7.6%, but more than 75% of vegetarians classify themselves as 'flexi' and are open to the possible inclusion of meat in their diet.
"Our research also shows there's relatively little negativity towards the red meat industry; however, consumers are confused and red meat eaters are conflicted about their choices," Howard said.
"The industry needs to reassure people it's ok to keep eating red meat, and establish a narrative with clear goals that shows how red meat is part of the solution to consumer concerns about issues such as the environment."
He also urged the industry not to engage in the politics of conflict with opponents to the red meat industry, such as vegan activists.
A panel session including Queensland beef producers, Michael and Michelle Lyons, and sports nutrition and dietitian, Peter Carige, discussed how the industry could better share red meat's story to eliminate environmental and health concerns.
Domestic growth opportunities
With the domestic market being the largest and most valuable destination for Australian red meat, the focus on market growth opportunities at home was fitting for the first session of the Global Markets Forum.
Attendees were given insight into the story of Jim's Jerky, an Australian family-owned and operated business that spotted a growth opportunity and set about blazing a trail into the relatively unknown market segment of beef snacks.
Jim's Jerky CEO Emily Pullen outlined the challenges they faced starting out in what was then a very limited market.
"When we started out in 2004, jerky was a relatively unfamiliar product to most consumers, and the existing products on the market were full of sugar, highly processed and manufactured overseas," Emily said.
"So, by attending hundreds of events and field days and offering free samples, we set about telling our story and educating consumers as to what good jerky could taste like.
"Beef jerky isn't the cheapest snack on the market, which means we need to stay focused on what our consumers want and demonstrating real value to them, whether that's the nutritional, provenance or diversity value of the product."
The forum was book-ended by presentations from MLA's Market Intelligence Manager, Scott Tolmie, and Domestic Market Manager, Graeme Yardy, who outlined both the domestic challenges and opportunities present for the red meat industry.
Target premium markets
At the second session of the Global Markets Forum, former Federal Minister for Trade and Investment, Andrew Robb AO, who is now Chair of The Robb Group, said he was bullish about the future for the red meat industry, particularly in the Asian Century.
"I can't see the explosion in demand for protein diminishing in the near future," Andrew said.
"Our trade agreements give us a measure of protection, and our disease-free status gives us a measure of protection."
Andrew cited the growth in incomes of millennials – 28–34-year-olds – as a prime opportunity for the industry.
"There are 800 million millennials across Asia, and 300 million of them are in China. Two-thirds of those millennials are in the middle class already," Andrew said.
"We have a premium product and we need to be in premium markets. The industry has to have a clear vision that we will be at the premium end of the market."
Demonstrating sustainability
The final forum session of Red Meat 2019 brought together a theme that had regularly come up across the three-day event in Tamworth, relating to sustainability and how the red meat industry can better communicate its credentials in this space.
The forum, Why demonstrating sustainability is critical to all red meat businesses from paddock to plate, featured an overview of why sustainability is important to the red meat sector from MLA Manager – Sustainability Communications, Sarah Hyland, along with presentations from Rabobank's Denoven Ellis and McDonald's Sustainable Sourcing Global Lead on Beef, Dr Nicola Robinson.
With more than 37,000 restaurants and serving over 69 million people each day, Dr Robinson highlighted how McDonald's was using its scale for good.
"With the size of our supply chain, we have an opportunity to make an enormous difference. We believe delicious food is sustainable, and one of our five global priorities is beef sustainability," Dr Robinson said.
"This means we partner with producers around the world, to work out local definitions of beef sustainability and seek to scale up sustainable beef production in these places."
Another clear message of the forum was that sustainable performance needs proof, and this was reinforced by Jenny O'Sullivan, a Gippsland producer and member of the Australian Beef Sustainability Framework steering committee.
"As an industry, the most effective way for us to push back against criticism is with transparency – we need to fight with facts and be honest about where we're at as an industry," Jenny said.
"The Australian Beef Sustainability Framework defines sustainability, and reports on how we're tracking to meet our goals."