Back to

News & Events
Red Meat MoU Green Paper: have your say on industry's future
21 February 2019
An overhaul of Australia's $18 billion red meat and livestock industry drew one step closer last week with the release of a Green Paper with options for the future of the sector, including the role of live exports and manufacturing.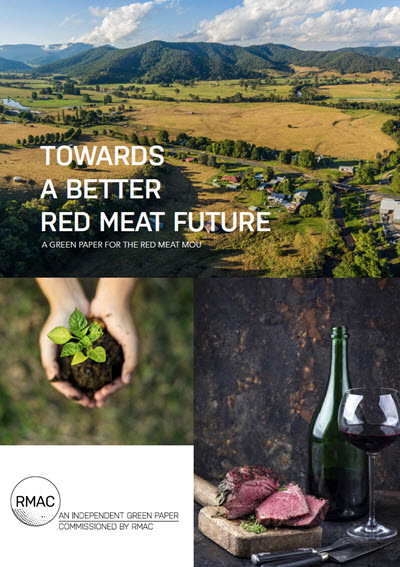 The Green Paper was developed in response to an overwhelming appetite for reform of the Memorandum of Understanding (MoU) put in place 20 years ago to define the roles, responsibilities and funding of Australia's red meat industry bodies.
Lead Reviewer and Chair of the Red Meat Reform Taskforce Jim Varghese encouraged anyone with a stake in the industry to read and comment on the Green Paper at rmac.com.au/mou by 14 March 2019.
"This Green Paper aims to comprehensively present where the industry is now and what a better future for the red meat industry would look like," Jim said.
"Consultations with industry bodies and the broader business community have found growing recognition of the need for change to the way the Red Meat MoU, and by extension the red meat industry, operates: change is wanted and needed."
"Through the Green Paper consultation process, we are seeking to build a consensus from industry that change is needed so we are empowered to take bold steps to rewrite the Red Meat MoU."
The Green Paper is part of an Independent Review of the MoU, which aims to position the industry for a better future by having the best structure to meet increasingly urgent challenges including climate change and other environmental factors, animal welfare, low levels of investment, changing consumption patterns, and technological disruption.
The Green Paper outlines four options for potential reform: incremental change to the status quo; law of the jungle; a hybrid model, and; a revitalised red meat industry led by a new organisation.
Independent Chair of the Red Meat Advisory Council (RMAC) Don Mackay has backed the call for bold and ambitious reform identified by stakeholders.
"Our industry has achieved an enormous amount and we want it to keep on growing. Our duty is to ensure 20-year-olds entering the industry now – as businesspeople or employees – have a capable, streamlined and high performing industry over the next 30 years," he said.
"Good governance with clear roles and responsibilities is important in any organisation; in an industry as diverse as ours with 82,000 businesses right along the supply chain, it is critical.
"A refreshed MoU is needed to give the clarity and accountability needed to meet the unprecedented challenges and opportunities in front of us.
"I'm pleased to see the independent Taskforce has seen a strong appetite for change in its discussions, and I encourage people right across the red meat supply chain to give the Taskforce broad and constructive feedback until 14 March."
More information:
Have your say at rmac.com.au/mou