See BunkBot in action at SMARTBEEF 2019
11 June 2019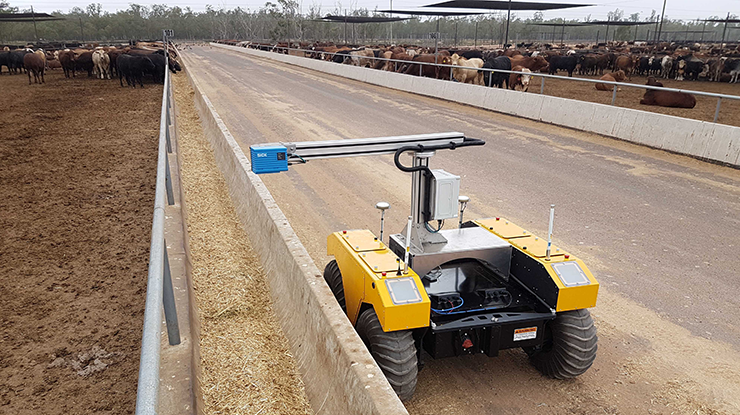 Feed bunk scanner technology has been transferred to an autonomous mobile robot, known as the BunkBot.
Lot feeders will be able to see cutting-edge automated feedlot technology in action – including the latest innovation, the BunkBot – when SMARTBEEF 2019 is held at Dalby in October.
A range of projects funded by grainfed levies and managed by MLA in consultation with the Australian Lot Feeders' Association (ALFA) will be demonstrated by automation and robotics solution company Manabotix.
After successfully developing an automated feed bunk scanner for adoption by the Australian feedlot industry that's more precise and accurate than human callers, Manabotix is taking the technology to the next level through a new R&D project.
Feedlot robots a reality
Manabotix Managing Director Dr Stuart McCarthy said the feed bunk scanner technology has been transferred to an autonomous mobile robot, known as the BunkBot.
"Rather than being a vehicle mounted system, the automated feed bunk scanner will be completely autonomous," Dr McCarthy said.
"We have fit the bunk scanner to a machine from Canadian-based robotics manufacturer, Clearpath Robotics, and integrated it with the bunk scanner so that it can perform the same as before, only without humans.
"It has an anti-collision function and we have implemented a path-planning library which can suit individual feedlots. It can also be set to activate at specific times.
"Mort & Co's Pinegrove feedlot near Millmerran is hosting the evaluation of the BunkBot."
Paving the way for the future
Dr McCarthy said the BunkBot project will deliver value to feedlots in at least two ways, both based on productivity improvements.
"In the near-term we expect that at least one labour unit at a feedlot dedicated to bunk calling may be reallocated, as the BunkBot will be able to replace this skilled resource by being available to operate unrestricted with overall higher performances.
"Longer-term benefits may be realised through increased bunk calling frequency with the mobile robot, possibly ultimately leading to increased carcase gains.
"Additionally, by demonstrating that autonomous vehicles can operate in the feedlot environment, the platform may be used as a mounting point for future technologies."
Join myMLA today
One username and password for key integrity and information Systems (LPA/NVD, NLIS, MSA & LDL).
A personalised online dashboard that provides news, weather, events and R&D tools relevant to you.
Customised market information and analysis.
Already registered for myMLA?