Back to

News & Events
Soil strategies for the best returns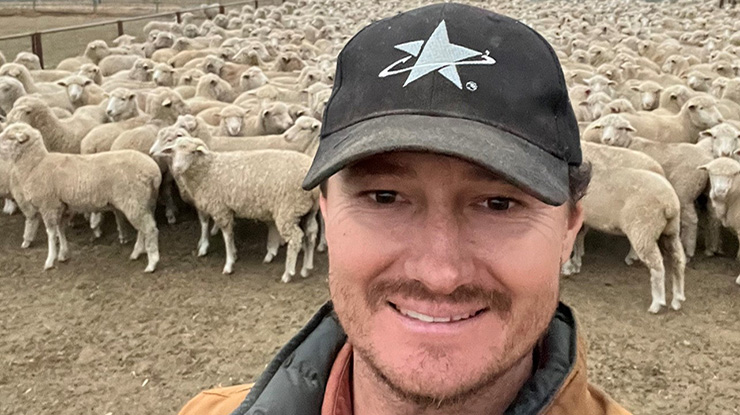 Getting bang for their buck with soil testing and fertiliser use was what drove Will and Simone Onus to take part in the Coolac Healthy Soils Group – and according to the couple, taking the plunge to participate has been well worth their while.
Together, Will and Simone Onus operate 'Woodside', a 2,500ha grazing enterprise at Coolac, NSW which is home to a fine wool flock, a store lamb enterprise and an Angus breeding herd producing feeder steers.
With granite and basalt soils, Woodside receives 830mm average rainfall and is one of the 12 businesses that took part in the Coolac Farmers Healthy Soils Group working with Graminus agronomist Nathan Ferguson.
Taking the plunge
According to Will, the group formed as a result of widespread interest in the area around maximising returns from on-farm inputs.
"As a group, we wanted to get some guest speakers and learn more about our soils and making the most of our fertiliser use, so forming a Healthy Soils Group was a great opportunity," Will said.
"The group members all wanted to develop a better understanding of soil test results, choosing appropriate fertilisers, and getting the best returns possible from those inputs.
"We also wanted to look beyond soil phosphorus and nitrogen levels and were interested in soil testing at depth, the long-term impacts of current farming systems and their impact on increasing soil acidity.
"It's become clear that we need to pay attention to soil pH as there are issues with soil acidity and some places are dealing with aluminium issues as soil acidity increases."
Fencing and fertilising
Learning about soil management as part of the group has encouraged Will to fence paddocks according to soil type to manage grazing, control stock camps and allow more targeted fertiliser applications based on soil conditions.
"As a result of the group sessions, I've been doing visual soil assessment based on soil ribboning and assessing pasture types to identify the best places to put in fences," Will said.
"Most of our country is breeding country and we've been looking at paddock subdivision in some of our lower country and on a few hills where we can change the pasture production, so they are more suited to finishing stock."
Will said the changes he has made following these assessments have noticeably aided productivity in many paddocks on Woodside.
"In many cases, we haven't needed to resow pastures, but have had a better return by paddock subdivision and better use of fertilisers and lime on existing pastures," Will said.
"Accessibility can be an issue on parts of the farm, so we need to pick the pastures and the paddocks where we will get the best response."
Soil testing decisions
Will had been soil testing with an agronomist for several years before joining the Healthy Soils Group, but said he now has more confidence talking through soil test results and fertiliser recommendations because of the knowledge he has gained from the group.
This confidence, Will said, has enabled him to make better decisions for improved productivity on Woodside.
"I'm making more informed decisions and am in a position where we can talk through the options and outcomes on the pastures and business," Will said.
"I am definitely focusing more on lime – and while it may not be limiting our production in some paddocks now, if we don't act, we could face some issues in the future.
"Soil testing in the top 10cm has identified a range of soil pH levels across the farm, ranging from pH in the high 3s to the high 4s. Most of our soils have a pH in the low 4s.
"A lot of the very acidic soils are on the slopes where we have accessibility issues – but if we can't get into a paddock to apply lime, we manage the paddock to always maintain ground cover to slow the rate of acidification.
"Cost is an issue with these areas, and we are looking at more cost-effective ways of managing them."
Leveraging lime
Following his participation in the Group, Will has been able to apply lime in several, specially targeted paddocks that are accessible and is seeing his efforts pay off.
Will has applied lime on paddocks with pH in the mid 4s which was growing 'very tired' phalaris and silver grass pastures and seen significant improvement in the phalaris production.
He has also used lime to reduce soil acidity in a paddock which was sown to lucerne three years ago.
"The lucerne has been a huge benefit in finishing store lambs and increasing their value," Will said.
"We used to turn off lambs at 30–40kgs, but with the lucerne we can now get lambs in the high 40kg bracket because of the quality feed over summer."
Getting a carbon baseline
Soil carbon was another topic Will and the group learnt about as part of the program, with access to independent information on carbon farming a key area of interest to participants.
"We learnt how organic carbon can cycle through the soil and levels can fluctuate," Will said.
"The upside in increasing soil organic matter and soil carbon is the increase in cation exchange capacity and water holding capacity.
"As farmers, we need to focus on productivity because that's where the benefits are, so we intend to measure and monitor our soil carbon so we have a baseline and stick to business as usual.
More knowledge, better decisions
Will credits the Coolac Farmers Healthy Soils Group as equipping him with a range of practical knowledge to enable him to make better farm management decisions.
"I now have a much better understanding of the different components of soil health and what influences microbial activity, soil structure and soil nutrients," Will said.
"I've developed practical hands-on skills such as soil ribboning which I can do out in the paddock to identify soil texture and type differences which I can then discuss with the agronomist.
"I've also improved my decision making on soils and whether capital should be directed to infrastructure such as paddock subdivision or fertiliser in a way that produces the best return for the money spent.
"This can mean putting fertiliser where it's needed, or lime where it will be most effective.
"All in all, I'm making more informed decisions regarding our soil management which is making for a more profitable and sustainable farm business."