Back to

News & Events
Tailored technology provides remote solutions
04 March 2021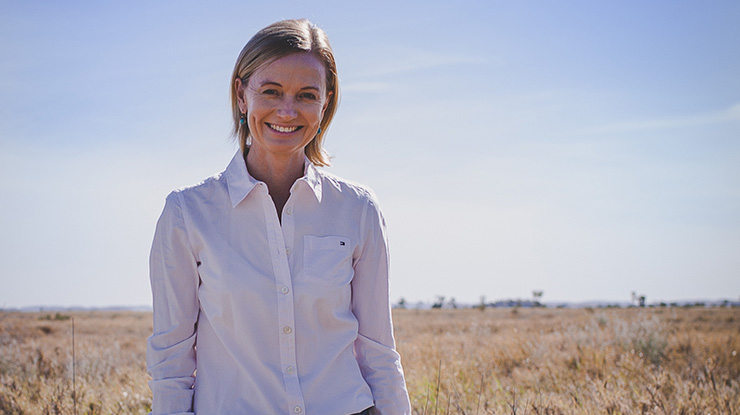 MDH's chief financial officer Julie McDonald believes small satellite technology offers the most promise for increasing connectivity across pastoral regions.
Managing 140,000 head of cattle across a portfolio of Queensland properties demands intelligent logistics and good communication.
It's a challenging task when connectivity is limited, but family-owned paddock-to-plate company MDH is forging ahead with judicious investment in digital technologies.
MDH's chief financial officer Julie McDonald said their suite of tools was selected to overcome the challenges of a diverse, remote business both in the office and out in the paddock.
"One of the most crucial pieces of digital technology we use is our in-house accounting software, which is hosted by a third-party to enable access for our remote employees with administration roles," Julie said.
"This software is multi-cost-centre, multi-currency and multi-modular to cater to our diverse needs."
Customised tools
For the past three years, MDH has worked with Melbourne-based company, Sapien Technology, to develop cloud-based, integrated, multi-property paddock book software.
"It incorporates supply chain management tools to aid with stocking, mustering and trucking decisions," Julie said.
The company is also working with Safe Ag Systems to develop employee management tools which could see future staff inductions include online interactive elements where relevant.
MDH has also trialled a solar-powered, fixed-wing drone, with assistance from MLA Donor Company, to monitor water points using satellite technology and high-resolution cameras.
Limited connectivity across the property meant live footage and photos couldn't be accessed in real-time, so the system saved images to an SD card so they could be downloaded when the drone returned to base. Despite this limitation, Julie said the technology provided cost and time benefits, and reduced frequency of vehicle use.
"We estimate the drone alone would save $1,000/week/property in the dry season by replacing two water runs on a large-scale property," she said.
"We'll adopt this technology when it's ready for commercial use, initially investing in three drones."
Other ag-tech
MDH uses Elynx animal management software at their 'Wallumba' feedlot to capture and track data about cattle, rations and commodities.
Neighbouring the feedlot are 10 centre pivots which Julie said are monitored and controlled using telemetry via the mobile phone network.
MDH also uses FarmMap4D software for mapping and infrastructure planning.
Devices
"We use our smart devices for voice and video conferencing, program and logistics management, plus family and employee communications," Julie said.
Julie said as everyone in the company has a smart device in their pocket, the opportunity to talk and text is limited only by coverage.
'Our Cape York property, 'Rutland Plains', has mobile reception in part, and wherever we have a sniff of a mobile signal, we use boosters to make the most of it," she said.
"Where we don't have coverage, we install Wi-Fi networks around homesteads.
"We do have properties which present challenges as far as coverage goes which is certainly an issue for workplace health and safety when people are working remotely. We cover this by using UHF radio and satellite phones."
She said improved connectivity would deliver many benefits to remote enterprises, especially as the need for and use of technology increases with the need to improve yield and productivity.
"Connectivity in regional and remote areas needs to be sufficient to enable adoption of technology which will allow the northern beef industry to continue to thrive in changing climatic, political and social conditions, and community and customer expectations."


Technology offers many advantages across the management of extensive pastoral properties.
Reduced connectivity limits, but does not exclude, options for technology.
Small satellite technology offers the most promise for increasing connectivity across pastoral regions.