Back to

News & Events
Technology turning point
04 March 2021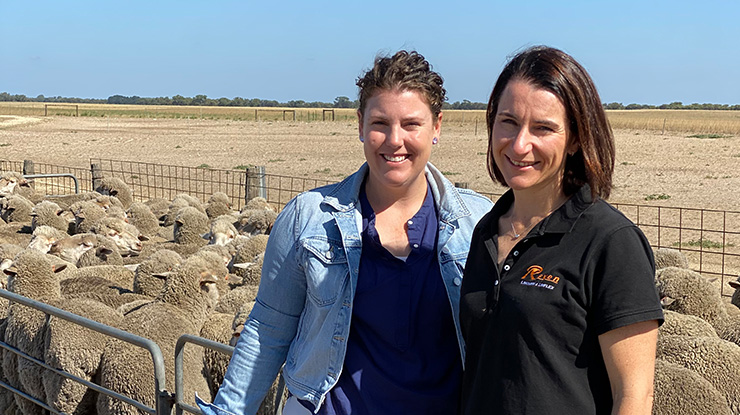 Jo Williams and Penny Schulz used an MLA‑supported innovation program, Farmers2Founders, to develop an app for the livestock industry.
The old adage 'necessity is the mother of invention' certainly rings true for SA beef and lamb producer Penny Schulz. In her quest to find technical solutions for a lack of transparency between livestock agents and producers – as well as a fragmented livestock marketing system – Penny co‑founded an ag‑tech business with her friend, Jo Williams.
Penny and Jo were involved in the inaugural round of the MLA‑supported Farmers2Founders program to develop producers' entrepreneurship and technology capabilities to solve industry challenges.
She said the concept of guiding producers to develop ideas to solve their own problems is the best way to overcome challenges.
"While producers are good business people, they're not always the best people to have start‑up businesses, so the program goes through a structured process to set us up for success rather than failure."
Through the Farmers2Founders 'Ideas Program', Penny and Jo's idea evolved from their initial concept of a meta‑search aggregator (an online retrieval tool which pulls together data from web search engines) to buy and sell livestock, into something quite different: a tool to help livestock agents.
However, Penny said throughout the evolution of their idea, the 'pain point' they'd identified – the perceived lack of transparency in the livestock marketplace – didn't change.
To overcome this, Penny and Jo's FarmStocker app aims to help agents service their clients better through an improved understanding of clients' businesses.
In the future, there'll be additional tools to enhance the value proposition between the producer and their agent.
"Agents' businesses are based on relationships. When we interviewed them, agents told us they want the opportunity to provide more value for their clients.
"We're trying to build a tool that improves everybody's business model so we're all on the same page," Penny said.
FarmStocker will soon be ready for testing. Alongside the app's development, Penny is completing a PhD through the University of New England, looking at the adoption of app technology by producers.
"There was all this information around about how to build apps for producers, but nothing on how well those apps were adopted," she said.
"No one was checking whether they were beneficial, or how many people downloaded and used them. I thought there's a big gap there.
"Producers, particularly livestock producers, get a bad rap for being poor adopters of digital technology, and that really grates on me.
"The producers I work with are very savvy people. Given a good value proposition, they'll take it up, change and adapt."