'True Aussie' cooks with Conan
27 September 2018
When one of the United States' biggest media stars wants to cook American-style hamburgers in Japan before a massive audience, who gets the barbecue fired up? The answer is Meat & Livestock Australia.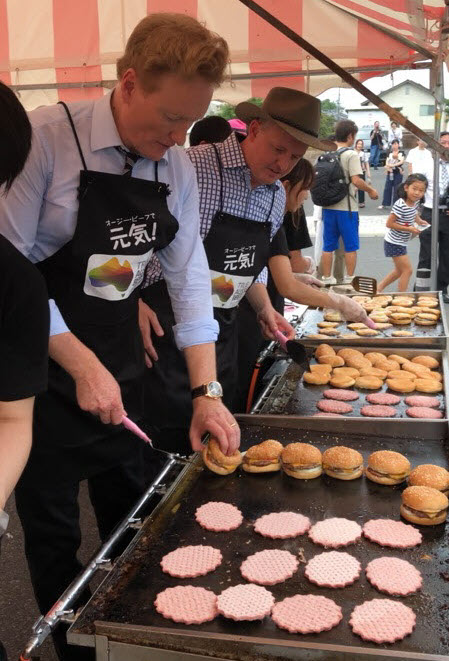 Comedian Conan O'Brien took his television program to Hokuei, Tottori (also known as 'Conan Town'), along with his 20 million Twitter followers, five million Facebook fans and one million Instagram followers.
After seeing a video of Conan offering to travel to 'Conan Town' to which the mayor responded with requests that included American-style hamburgers for the whole town, MLA contacted Conan's production team with offers to help.
The American hamburger event become an Aussie beef event, with MLA organizing to cook 1,200 'True Aussie' hamburgers in 2.5 hours.
MLA's International Business Manager - Japan, Andrew Cox, hit the barbecue alongside Conan, who was wearing a 'True Aussie beef' apron, outside the Hokuei Train Station.
"Despite the short timelines and a large typhoon hitting west Japan earlier in the week, the event took place successfully," Mr Cox said.
"The decision to pursue this opportunity was pretty easy given Conan's large global profile and the opportunity for good PR for the True Aussie beef brand, especially in the US and Japan.
"Photos and video from this event have already been distributed widely, despite the show not airing until November."
Images featuring Conan cooking hamburgers wearing the 'True Aussie' apron have already attracted 23,000 likes on Instagram and 5,000 likes on Feedback.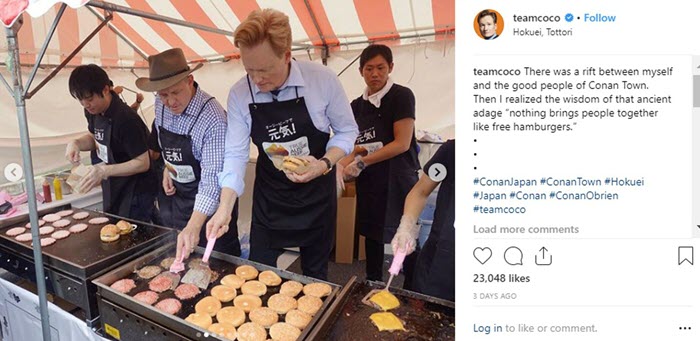 Hokuei, Japan, is the birthplace of manga artist Gosho Aoyama. Aoyama created an incredibly popular manga (comic books) in Japan about a kid sleuth called 'Detective Conan'.
It is so popular that some people have taken to calling Hokuei 'Conan Town.' It has absolutely nothing to do with late night host Conan O'Brien, but he thinks it is too great a coincidence.
Read the full story in this blog featuring Tweets from MLA's Michael Finucan and Andrew Cox.
More information:
Andrew Cox, MLA International Business Manager – Japan & Korea
Email Andrew Cox
Join myMLA today
One username and password for key integrity and information Systems (LPA/NVD, NLIS, MSA & LDL).
A personalised online dashboard that provides news, weather, events and R&D tools relevant to you.
Customised market information and analysis.
Already registered for myMLA?