Back to

News & Events
True Aussie promoted at annual Japan supermarket trade show
09 April 2020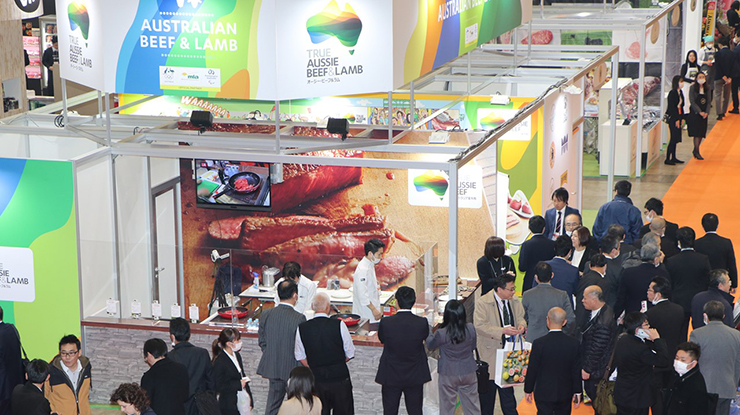 MLA's True Aussie Beef and Lamb booth in Tokyo, February 2020.
Australian Beef and Lamb again featured prominently at the annual Supermarket Tradeshow (SMTS), held at Makuhari Messe in Tokyo, Japan in February - with MLA's True Aussie Beef and Lamb stand hosting ten Australian exporters for the three-day fair.
Over 80,000 people attended the main tradeshow and as part of the program – which was held before the full impacts of COVID-19 were felt across the globe. Visitors to the True Aussie stand enjoyed premium beef and lamb tastings prepared by celebrity Chef Kudo, as well as live cooking demonstrations and education sessions.
MLA would like to thank Arcadian Organic & Natural Meat Co, Australian Lamb Company Pty Ltd, Borthwick Food Group, Haywill Holdings, Jack's Creek, Patties Foods Pty Ltd, Ravensworth Agricultural Company of Australia Pty Ltd, Stockyard, Teys Australia Pty Ltd and Thomas Foods International for their support and participation in the tradeshow.
The Supermarket Trade Show isheld annually in February each year. Should you wish to attend as a part of the True Aussie Beef and Lamb stand, please contact MLA for details on how to participate.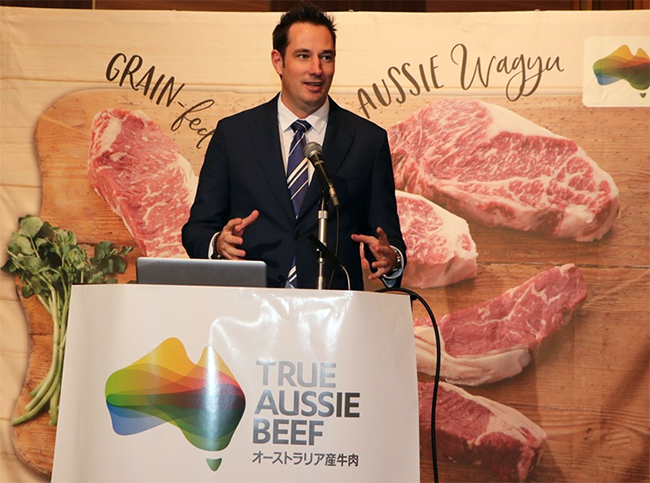 MLA's new Regional Manager – Japan & Korea, Scott Walker presenting at MLA's Red Meat Projection Seminar.
New MLA Regional General Manager, Japan & Korea – Scott Walker
Scott Walker joined MLA Japan & Korea in January this year, relocating from Singapore and Indonesia to Tokyo. He comes to MLA following a number of senior leadership roles in Tourism Australia and Blackmores. Three months into the role and unprecedented events globally have made for a challenging start, though the opportunity to grow the markets moving forward is clear. Scott gave us some of his thoughts since commencing the role.
"Both markets have a legacy of strong branding, recognition and trust and this was immediately evident when I started. This is a powerful tool, particularly in uncertain times to generate both present and future growth opportunities. The markets are becoming increasingly competitive and Australia's brand equity will be a critical strength in the competitive battle to come. Combine this with the strength of the MLA teams in Japan and Korea who are passionate, committed, hard-working and dedicated to the success of our stakeholders, we having a winning combination.
"Since starting the role I have been immensely humbled by the support of our stakeholders and the unflinching focus on the common goal. The importance of these markets cannot be understated and I look forward to contributing to the success of all our stakeholders. I am very optimistic about the ongoing and long term potential of the markets and look forward to working with the industry further to see Australia's position continue to evolve, grow and prosper."