Back to

News & Events
Unlocking leucaena's potential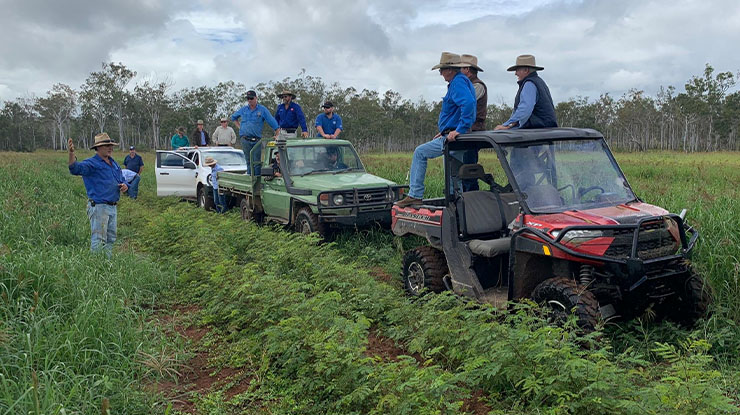 Producers learning about the benefits of leucaena at a property in Queensland. Image: The Leucaena Network.
Producers now have access to new information to help unlock the potential of leucaena, with the release of an updated guide on how to establish the highly productive forage legume.
When it comes to leucaena, University of Queensland Associate Professor Max Shelton certainly knows the secrets to its success. He's been studying it since 1991 and has helped develop new varieties.
Max was co-author of the original guide to establishing and managing leucaena published by MLA in 2006. With so much new information about leucaena produced since then, he said the updated guide is an important resource for producers.
"We've accumulated a wealth of scientific and on-farm data which we've used to update the original guide," Max said.
"We want to see people get the most out of their leucaena. It's such a valuable crop, and we want producers to receive the value for all 30 years of its potential productive lifespan."
The new guide, Leucaena – the productive and sustainable forage legume, is produced by University of Queensland and MLA with input from the Queensland Department of Agriculture and Forestry, and is available at: mla.com.au/leucaena
It provides producers with the latest information on:
new varieties of leucaena
sustainable grazing practices
the economics of leucaena, including costs and return on investment
environmental impacts
management strategies.
Meeting industry requirements
The new guide responds to producers' need for the latest industry information, backed by on-farm learnings.
"The beef industry's requirements are changing," Max said.
"The demand for good quality grassfed beef is still high, but it's coupled with a requirement for graziers to provide good environmental stewardship of their land.
"The updated leucaena guide addresses these challenges, detailing how to use the best land available to produce a high quality and economically beneficial product, while maintaining environmental sustainability.
"When correctly managed, leucaena can reduce enteric methane emissions by up to 20%, sequester carbon and increase organic matter in soil, while also massively improving animal weight gains, as steers grazing leucaena will put on between 250–300kg/year."
Managing risks
The guide examines financial and environmental risks.
For example, Max said removing land from production while leucaena is established – which can take 6–12 months before light grazing is possible – can been seen as a financial risk.
There's also a risk of leucaena spreading beyond its paddock into waterways and common land if it's not properly managed after establishment.
"The guide details these risks and how correct management effectively prevents them," Max said.
The Executive Officer of The Leucaena Network, Bron Christensen, said the new guide will explain how establishment practices are dependent on land types and outline the most suitable approach.
"We now know you have to understand the environment leucaena's being introduced to, which can change recommendations around establishment and management," Bron said.