Back to

News & Events
WestBeef awarded for high MSA compliance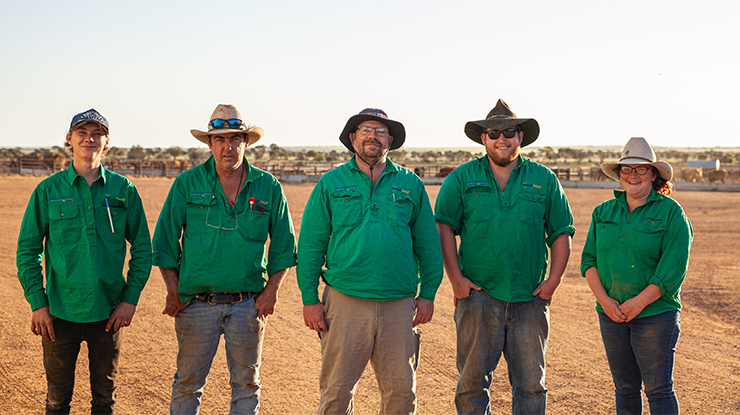 Angus Lawton, Rob Mott, Dale Ure, Reid Brennick, and Zoe Aitken, WestBeef Feedlot, Kalannie.
A combination of high value nutrition and low-stress stock handling systems are central to operations at WestBeef Feedlot at Kalannie in Western Australia's Central Wheatbelt region.
They're also key to turning off cattle that achieve exceptional rates of compliance to Meat Standards Australia (MSA) that has seen WestBeef awarded the 2019 MSA Excellence in Eating Quality Awards for Most Outstanding Feedlot in WA.
The low-stress handling in combination with customised nutritional programs has led to WestBeef's high MSA compliance of 99.5% and average MSA Index of 61.47. This means WestBeef has consistently met MSA requirements of carcases having a meat pH below 5.71 and a minimum of 3mm rib fat with adequate fat distribution over the entire carcase.
WestBeef Feedlot turns off the company's own British and European breed cattle for MSA grading, as well as custom feeding for clients.
Located on 1030 hectares, the feedlot is licensed for up to 7,500 head and has 900ha of farming and backgrounding country.
WestBeef Feedlot Manager Dale Ure said the feedlot has been turning off up to 5000 head of the company's own and clients' cattle for MSA grading annually, with cattle processed at various processing facilities according to clients' programs.
"Until earlier this year, we had a constant stream of our own animals coming from our property at Esperance and other great southern backgrounding properties at approximately 400-430kg and being fed for between 100 and 120 days. They were primarily Angus cattle," Dale said.
"We have our own Wagyu cattle in the feedlot at the moment on a 460-day feeding program.
"We also do a lot of third-party feeding for regular clients, utilising a range of feeding programs to target different markets.
We treat every animal the same when it comes to low-stress stock handling and ensuring high standards of animal welfare.
"Everyone on the husbandry team has received low-stress stock handling training and all of our yards and handling systems have been designed with low-stress stock handling in mind.
"The infrastructure is designed so you can move cattle without having to be in close proximity to them, so you're not putting them under stress. You can easily run cattle through the yards with just two people."
WestBeef grows its own hay for the feedlot, and sources grain from surrounding farms.
"Due to our location and with economies of scale, our neighbours can produce grain a lot more cost effectively than we can, so we have moved to just growing hay for ourselves," Dale said.
"We can source hundreds of thousands of tonnes of grain within an hour's drive. We source wheat, barley and lupins. At the moment, we're feeding out barley because it's the most cost effective and energy rich ration, but if the market shifts so that wheat is the more cost-effective megajoule, then we shift back to that.
"We background all of our own cattle that come in to the feedlot. Cattle that we custom-feed start off on hay before moving on to a grain ration."