Back to

News & Events
Woodchip bedding benefits revealed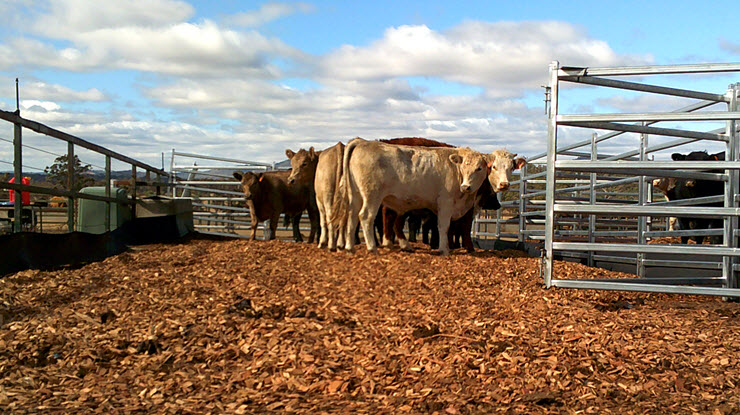 Cattle on the woodchip bedding applied at a depth of 15cm at UNE's Tullimba Research Feedlot.
Providing feedlot cattle with woodchip bedding during wet and muddy conditions has been shown to result in a range of production and animal welfare benefits that offset the cost of woodchips, a new study has found.
The R&D project, funded by MLA in consultation with the Australian Lot Feeders' Association (ALFA), was undertaken by the University of New England (UNE) Ruminant Research Group, led by Dr Fran Cowley.
Focus on performance and welfare
The study was conducted in 30 small pens of cattle over a 109-day feeding period from May to September 2018 at UNE's Tullimba Research Feedlot, near Armidale, NSW, simulating a wet southern Australian winter using a custom-built irrigation system specifically designed for the project.
Researchers examined the performance and welfare outcomes for 100-day grainfed cattle when woodchip bedding was applied at depths of 15cm and 30cm, compared to that of cattle in pens with no bedding.
A range of measures were taken for animal production (live weight gain, feed intake and efficiency), animal behaviour and use of pen space, and dag score; the condition of the pad; labour and other costs associated (cost of application and removal of woodchip, costs and composition of cleaned manure). At slaughter, pre-slaughter washing time, carcase characteristics and relative adrenal gland weight were measured and the experimental results were analysed for net profit.
Dr Cowley said the project found that a provision of woodchip bedding at a depth of 15cm resulted in an increased average daily gain and hot standard carcase weight, as well as animal welfare benefits.
"The greatest impact of the woodchip bedding was improved feed efficiency. The cattle on woodchips increased their carcase weight gain but they didn't increase their intake, and had lower maintenance energy requirements," Dr Cowley said.
"That resulted in an improvement in the grid price and increased carcase value.
"Under the small pen research conditions, and a 109-day feeding period, there was a $74 increase in carcase value which translated into a $6 per head net benefit of having the woodchip bedding. This shows that the benefits of woodchip bedding can more than compensate for the costs, and we expect that the actual value of the benefit could be even greater under commercial conditions.
"Another major finding was the animal welfare benefit. We found the adrenal glands in the woodchip-bedded cattle were smaller. The adrenal gland is linked to production of stress hormones, and this suggests that woodchip bedding reduces chronic stress in cattle who are in cold, wet conditions.
"But it's important to interpret physiological measurements of stress along with behavioural indicators.
"We used images of the cattle collected by a drone to show us whether the woodchip bedding affected how much time the cattle spent standing, lying and visiting the bunk. This showed us that cattle were very willing to lie down on the woodchip – they didn't find it aversive, but surprisingly, that the cattle in the pens without the woodchip bedding didn't decrease the amount of time they spent lying down. Lying in the mud may have contributed to the lower growth rate of these unbedded cattle – loss of body heat to cold, wet mud would mean less energy available for growth."
30cm vs 15cm depth
Dr Cowley said while the study showed there was no advantage in having woodchip bedding at a 30cm depth compared to a 15cm depth, this may be a more viable, and potentially necessary option for longer fed cattle.
"Cattle with woodchip bedding did not sink as low into the mud and even at the end of the trial, on 30cm of woodchip, they stood on a relatively clean surface," Dr Cowley said.
"But for medium and long-fed cattle, a greater quantity of woodchip would be required, as by 10 weeks on feed, the 15cm woodchip treatment was becoming quite muddy. The 30cm pens were still in good order at the end of the trial and cattle could have been fed longer.
"Woodchip is mostly being used in the industry currently by lot feeders for long feeding periods, and we only looked at the 109-day feeding period, so I suspect that you would see an even bigger economic benefit from a longer period.
"That comes from two aspects – firstly, every extra day that you keep cattle on woodchips, you spread the woodchip outlay costs over more liveweight gain. We purchased woodchip at $50/tonne, and for a 15cm depth and a 109-day feeding period, this costs 30 cents per head, per day, whereas that cost would be halved over a 200-day feeding period.
"The second issue is that with long-fed cattle, you run a greater risk of feet problems, because they're heavy, and if they're in wet conditions, their hooves and lowered leg regions will be subject to a lot more challenges.
Further research required
Dr Cowley said that further research needs to be done under large pen conditions, as commercial lot feeders have observed animal health benefits of utilising bedding for cattle cleanliness, lameness and mortality.
"We had 300 cattle in this trial so mortalities were few, but at commercial scale, you might see differences in there, as well as with lower input costs, which could make the economic analysis even more attractive.
"It would also be definitely worthwhile doing further research into the effect of woodchips on lameness, and quantifying the value and composting potential of the manure-woodchip mixture."
Dr Cowley recommended that commercial feedlots utilise the cost-benefit analysis developed in the trial for their feedlot to determine the viability for their enterprise.
"Different feedlots will have different costs of putting woodchips in. We purchased woodchips for $50/tonne but some producers could get it cheaper, depending on the source of the bedding.
"It's important to understand that the value of this strategy is going to be dependent on input costs," Dr Cowley said.