Back to

Research & Development
Subscribe to R&D Round-Up newsletter
Stay informed with a short, sharp monthly summary of MLA's latest research reports.
Sign up
Kids +
Background
Improving reproductive performance in goats to increase productivity and profitability on-farm will be the focus of an exciting research project, Kids+ – supported by the largest research investment to date for the goat industry. The $3.7 million project is being funded through the MLA Donor Company in partnership with the University of Queensland (UQ). The Department of Agriculture and Fisheries Queensland is also providing significant in-kind support for this project with the Goat Industry Research, Development and Adoption Committee having provided input to the project's establishment and its ongoing progression.
Many producers are recognising the unique resilience of goats to the increasingly challenging climatic conditions in Australia. Climate change has caused changes to many grassland and pastoral systems, resulting in less grass production and increased shrubs and woody regrowth. Goats are primed to take advantage of these environmental changes because of their abilities to digest and thrive on browse dominant diets.
Herd performance insights to inform transformation of industry
Rising goat meat exports (up 20% in 2021) and goat prices (averaging around 900c/kg lwt), fuelled by strong international demand, have created a fertile environment for producers wanting to move on from largely opportunistic harvesting to semi-managed/managed production systems. This project aims to inform a more sophisticated understanding of what contributes to herd performance so well-organised selection, breeding and management programs can be developed.
Investigating causes of kid loss
A lack of information on factors influencing goat reproduction efficiency is an area this project aims to explore, to effectively accelerate the growth of this transforming industry. Determining reproduction benchmarks for the various goat production systems and causes of kid loss, are key goals.
The project aims to:
Benchmark goat reproductive performance including pregnancy scanning and kid survival, across five seasons and across a range of production system types
Evaluate the drivers of variation in goat production systems
Demonstrate improvements in productivity, profitability and welfare through improved management interventions.
Core activities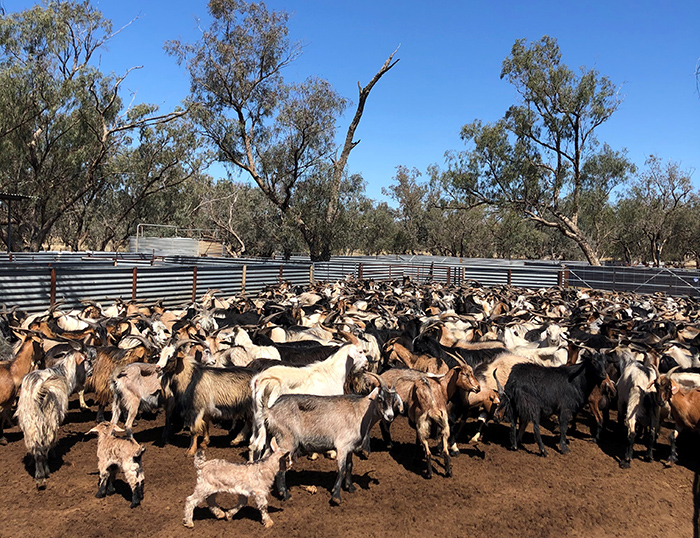 Over five years, data will be captured from a minimum of 15 commercial properties and 15,000 animals.
Surveys
UQ and MLA will conduct regular surveys of producers to determine the drivers of change in production systems, as well as perceptions on the future of the goat industry.
Focus groups
Three focus groups will also be formed to contribute to engagement and development of demonstration farms in each of the production system types: extensive, semi-extensive and intensive.
How to get involved
Producer expression of interest (EOI)
The success of this project relies on active involvement from a range of Australian goat producers and MLA values their insights, data and feedback.
Click the button below to register your interest in taking part in the program.