Back to

Research & Development
Subscribe to R&D Round-Up newsletter
Stay informed with a short, sharp monthly summary of MLA's latest research reports.
Sign up
RD&A stocktake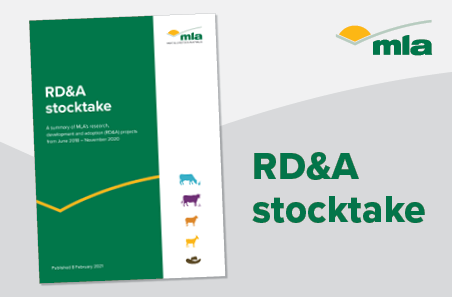 The RD&A stocktake summarises MLA-funded projects across the Research, Development & Adoption, Integrity Systems Company and International Marketing R&D portfolios. It provides details of completed and in-progress projects during a two-and-a-half-year period.
The document has been compiled to create more visibility of the range of projects that MLA has invested and is investing in on behalf of the red meat industry. It is also intended to help inform MLA's consultation with stakeholders and industry bodies, which is conducted to identify future investment areas in RD&A.
The document provides a comprehensive record of in-progress and existing work, and can be used to identify opportunities for R&D and help avoid duplication of research or resources.