Back to

News & Events
Consumers the focus of South East Asia activities
29 May 2019
Putting the consumer first and understanding their demand drivers and needs is the key to success in any market. Utilising major consumer research on attractive cities in South East Asia, MLA has been building consumer led strategies, focusing on nutrition and educating consumers on why Australian red meat is the best choice in meeting their needs.
Here we look at some of the recent events in the region as MLA delivers on its red meat strategy in the South East Asia.
Food and Hotel Vietnam:
Ho Chi Minh City, 24-25 April
As part of Food and Hotel Vietnam in Ho Chi Minh City, MLA hosted a networking event at the Consul General Julianne Cowley's residence to celebrate Australian red meat in Vietnam.
Guests were treated to delicacies by Vietnam's winner of Master Chef, Chef Hoa, who cooked up a storm with True Aussie beef and lamb. Chef Hoa turned a traditional local favourite recipe on its head and served up the innovative True Aussie Beef Bahn Mi, which was a showstopper for everyone who attended.
The Australian Trade and Investment Commission (Austrade) of the Australian Consulate General, in collaboration with MLA, hosted Working with Australian Red Meat – a seminar for food service operators and food retailers in Ho Chi Minh City the following day at Food Hotel Vietnam. MLA ran the seminar, which attracted over 100 industry delegates, under the theme of food safety, which was presented by Ellen Rodgers and David Carew and emphasised Australian red meat's world leading safety standards. A recent MLA commissioned study on Attractive Cities in South East Asia highlighted Vietnamese consumers were most concerned about food safety when purchasing red meat.
The seminar provided importers, hotels, restaurants and retail outlets a better understanding of the Australian red meat industry and its integrity systems, along with a snapshot on consumer trends in Vietnam and how they will impact the future of the industry. David Carew focused on the consumer's desire for safe red meat products and sustainable practises, such as how to minimise waste and maximise value in restaurants and retail outlets.
Singapore Health and Wellness True Aussie Influencer Event:
Singapore, 4 May
MLA Singapore collaborated with World Gourmet Summit 2019 for a fulfilling event called Cooking healthy, Eating healthy. Held at The Open Farm Community, Singapore's modern community food project, MLA invited a balanced combination of media, influencers and mothers who often make the decisions for family meals. Starting the day with yoga, against the breathtaking natural greenery, the guests were then introduced to healthy red meat dishes with a cooking demonstration by Chef Oliver TJ and Chef Seki Takuma. The concept, Cooking Healthy, Eating Healthy introduced the guests to healthier choices by enjoying red meat as part of a nutritional balanced diet.
Additionally, MLA paired up with Singapore e-commerce business, The Meat Club. Amy Bell, the co-founder of The Meat Club introduced the simple and hassle-free concept of her online meat store where participants could order Australia's beef and lamb conveniently to their door. With the vivid social media attention from prominent media attendance, this event was definitely a success with a holistic reminder of 'you are what you eat' and how we should cook healthy and live a healthy lifestyle. This event with Open Farm Community was a great demonstration that consumers are looking for nutritious options when it comes to red meat purchasing. The MLA Southern Asia team look forward to organising more holistic consumer experiences, showcasing the natural goodness of True Aussie beef and lamb for consumers to enjoy.
Philippines Taste of Australian with Adam Liaw
Manila, 24-27 April
As part of the Australian Government's ASEAN 2019 Australia Now regional engagement series, MLA supported the Philippines Embassy and Austrade for the Taste of Australia with Adam Liaw week of events in Manila. Australian culinary ambassador and MasterChef winner, Adam Liaw spruiked the superior quality of Australian red meat and demonstrated how beef and lamb can fit within Filipino and international cuisine across a series of media, trade and consumer events.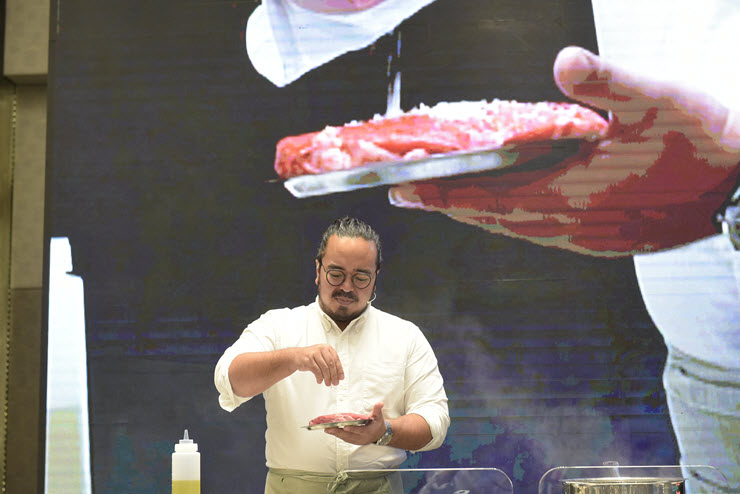 Traditionally a manufacturing market, beef primal exports to the Philippines have expanded 53% over the last two years and valuable niches have emerged for lamb in foodservice. Drawing upon these growing market opportunities, Australian beef and lamb featured across four Adam Liaw cooking demonstrations – two of which were broadcast on national TV – and were central to an Australian produce culinary competition communicated through social media channels.
US grainfed beef remains Australia's key competitor in the Philippines steak market, so messaging leveraged the core pillars of True Aussie – the ideal home, safety and pure enjoyment – as a means of differentiation. Lamb, meanwhile, remains largely unfamiliar to the average Filipino so demonstrated dishes were entrées designed to entice consumer curiosity.