Back to

News & Events
Dishing up nutrition expertise
12 December 2019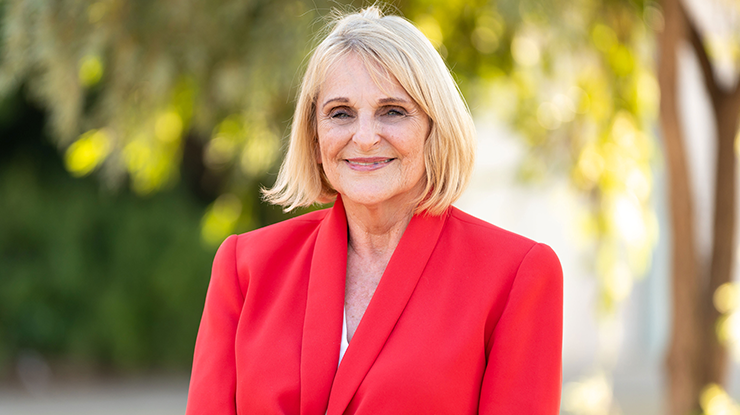 MLA Board Director and nutrition expert Professor Manny Noakes
When nutrition expert Professor Manny Noakes joined MLA's skills-based board as a Board Director in November 2018, she brought a wealth of expertise and experience with her.
Here, we talk to Manny about the common misconceptions surrounding red meat nutrition and which healthy red meat meals she recommends serving up this Christmas.
Get to know your skills-based Board
Board Director: Professor Manny Noakes
Manny Noakes has been a researcher and director in nutrition and health at CSIRO. With more than 25 years' experience, she has extensive knowledge in many fields of nutrition and health including the food regulatory system and 'functional foods', and the role of red meat in human nutrition and the environment.
Manny was instrumental in the development of the CSIRO Total Wellbeing Diet, which positions red meat as part of a healthy diet for weight control. She's currently an Adjunct Research Professor with the University of South Australia and a member of the Nutrition Society of Australia.
In addition, she's also a member of the National Committee for Nutrition for the Australian Academy of Sciences as well as being on its Expert Working Group Special Project: 'Nourishing Australia: A decadal plan for nutrition science'.
Q: You've been an MLA Board Director for just over a year now – what has been the highlight from the journey so far and what are you looking forward to in 2020?
One of the main highlights has been meeting so many MLA employees and getting to know them more. The quality of the staff and the level at which they operate is really, really impressive – as a Board Director, it makes me feel very comfortable that the future of MLA and the industry is in very good hands.
In terms of the future, there are some interesting challenges ahead for our industry – particularly when it comes to the role of red meat in society. Going forward, we need to ensure the legitimacy of red meat's environmental sustainability credentials and that the health benefits of eating beef and lamb continue to be communicated effectively. Sustainability and health benefits need to be there, as well as seen to be there by consumers.
Q: As a nutrition expert, what do you find is the most common misconception about red meat nutrition?
There can be a lot of misconceptions. One is that red meat is a health risk, and I think that belief is becoming stronger as it's magnified by marketing in the alternative protein space. This is something we need to keep an eye on, while continuing to invest in research that demonstrates red meat's health benefits and communicating these to the public.
I think there's an opportunity for us to highlight this using new and interesting messages. We know that red meat is full of iron, zinc and protein – but there's so much more to it than that. For example, not many consumers are aware that it's a source of a number of minerals and B vitamins, can help control appetite and contains long-chain omega-3 fats and carnosine, which are linked to brain health.
Q: Health and wellness is a big deal to today's consumers – what nutritious beef or lamb meals would you recommend serving up this Christmas?
Any red meat meal you put on the table will be nutritious by virtue of being red meat. It's all to do with appropriate portion sizes and balance on the plate – every dish should be accompanied by lots of veggies or a salad.
A Christmas favourite of mine is a nut-crusted rack of lamb with some lovely roasted vegetables and a side salad. You can find the recipe on MLA's Australian Lamb website.