E-retail in China – what it means for Australian red meat exports
31 October 2018
As China is a key destination for Australian red meat, understanding the market and consumer behaviours includes appreciating the important role of e-retail.
According to MLA's 2018 Global Consumer Tracker research in the context of Australia's key export markets, Chinese consumers are among the heaviest users of online retailers to purchase beef and lamb.
Of the Chinese consumers who have bought red meat online, somewhat more were likely to have purchased sheepmeat than beef via e-commerce, suggesting consumers have greater difficulty finding quality and variety of sheepmeat products from their local channels, when compared to beef.
While it's important to keep in mind that e-commerce still represents a relatively small channel for beef and lamb sales in China, it's projected to be the fastest growing channel in terms of sales value in the next several years (estimated 16% annual growth rate out to 2020).
In its early stages, e-commerce in China was dominated by sales of packaged goods, electronics and apparel. However, significant investments in cold chain storage and logistics by e-commerce companies in recent years has fuelled sales growth for fresh produce categories, including meat, in the channel.
The early years of online shopping were also dominated by consumers looking for bargains and discounts, providing an easy way to compare price from a large number of sellers. However, e-commerce platforms have begun to enhance their product ranges to include premium and high-end offers in order to improve margins and meet growing consumer demand for quality rather than just bargains.
In the meat category, e-commerce retailers previously offered mostly processed and frozen meat products but there has been a recent expansion in the range of chilled products. When asked which meat protein types they would like to buy online in the future, Chinese consumers say they would most likely consider buying chilled red meat products, followed closely by frozen red meat. Staple protein products such as pork, chicken and seafood are a lower priority, being more easily available locally from other channels.
In China's key cities, consumers mostly purchase Australian red meat from hypermarkets and supermarkets. However, of the red meat purchased online, a somewhat higher proportion is Australian than domestic. Tier one cities have the highest concentrations of affluent consumers who can more regularly afford and appreciate imported meat products, are willing to pay for convenience and where cold chain logistics are relatively more developed.
E-commerce also offers easier access to Australian product to consumers living in cities, towns and suburbs where a range of product may not yet be available at local 'bricks and mortar' stores.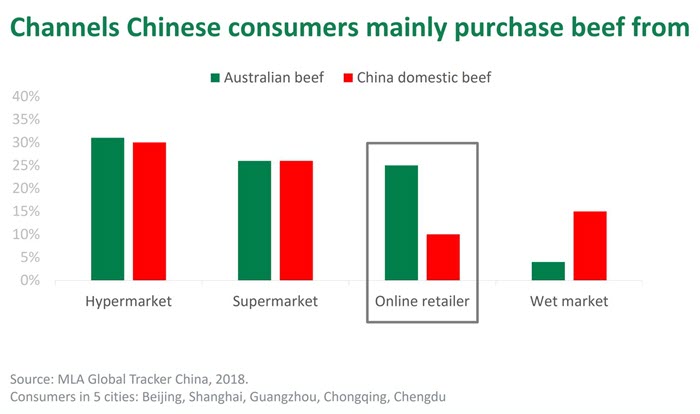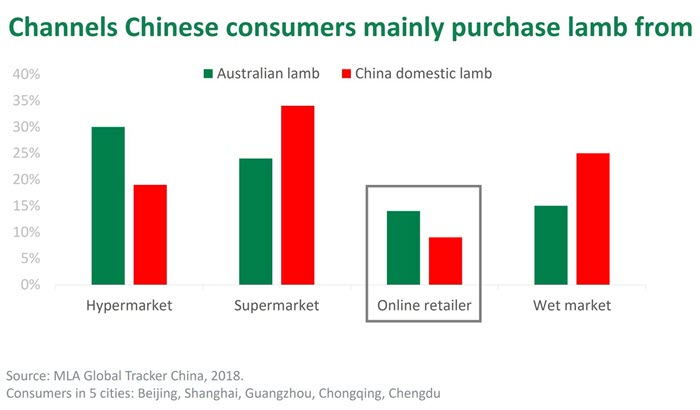 E-retail channel growth drivers
Convenience is a key driver of online shopping in China, as elsewhere. Online shopping offers to save shoppers time and energy, while having a much larger range of product choices and access to sellers online that enables 24/7 Q&A and negotiation.
Consumers have a relatively good level of trust in the channel's largest players. This is due to a combination of strong commitments made to crack down on fakes and unsafe products sold through the channel, no-questions-asked money-back guarantees and rapid problem resolution, as well as the threat of negative reviews posted by dissatisfied customers.
E-commerce sites offer consumers more information about products than is typically available at point-of-sale at 'bricks and mortar' stores. At the same time, Chinese consumers' relative lack of familiarity with beef means that shoppers have tended to be more strongly influenced by marketing claims, product images and packaging design than objective product specifications.
MLA will continue to educate the market on the quality of Australian red meat, leveraging the True Aussie brand, and provide information about how to achieve the best eating experience from a range of different cuts. As consumers become more informed, we expect e-commerce to become an increasingly important channel for premium Australian red meat exports.
Join myMLA today
One username and password for key integrity and information Systems (LPA/NVD, NLIS, MSA & LDL).
A personalised online dashboard that provides news, weather, events and R&D tools relevant to you.
Customised market information and analysis.
Already registered for myMLA?