Back to

Prices & Markets
Subscribe to The Weekly e-newsletter
For in-depth red meat market news, information and analysis.
SIGN UP
China's sheep cycle driving global markets
China is unique in being the world's largest sheepmeat producer, consumer and importer. As such, it can have a profound impact on global sheepmeat markets and trade. In fact, strong demand from China this year, coupled with tight supplies in New Zealand, have been key contributors to the record Australian trade lamb prices in recent weeks.
The country has been Australia's single largest sheepmeat export destination by volume for the past couple of years and is second, to the US, by value. Australia's sheepmeat exports to China have seen the largest ever start to the year, swelling 43% year-on-year to an all-time record of almost 55,000 tonnes swt for the January-July period.
Given the increasing prominence of China as an export market for Australia, it is important to be aware of the volatility inherent in the country's import demand. While it can be difficult to predict when a downturn in import demand is looming, the risk of this occurring at short notice should be considered in long term business planning.
The ups-and-downs of China's sheep industry
China has a two-track production structure, with a mix of large-scale farms and industrialised processing companies, and small herders with a couple of animals processing batches through local slaughterhouses.
Small herders still represent a significant proportion of producers in China and they principally add volatility to the market, by growing flocks to take advantage of high prices and exiting when prices fall or livestock-rearing conditions deteriorate.
This means that over-production is an ever-present risk and, given domestic production accounts for 95% of consumption, it can have an immediate negative impact on import demand, particularly at the commodity end of the market.
China's sheepmeat cycles over the past decade:
2007-10: new government limits of two ewes per hectare to manage over-grazing led to a drop in flock numbers and production, despite growing demand.
­2011-14: prices and margins rose rapidly, increasing 80% between January 2011 and January 2014; large and small players increased their flocks and production; competitively priced imports jumped to meet demand, particularly mutton in 2013-14; rise in fake sheepmeat incidents reported.
2015-16: demand growth slowed as consumers resisted further price rises; prices fell and the wholesale price dropped 25% between early 2015 to late 2016; the yuan was devalued in mid-August 2015; imports saw large falls as they lost competitiveness, volumes halving from March to June 2015; production rose as ewes culled and small farmers dropped out.
­Late 2016-present: supply reduced due to culled breeding base; demand sustained but consumption fell in 2017 due to high prices; 2018 prices stabilise at high level; imports increased again reaching monthly highs in 2018 not seen since early 2014.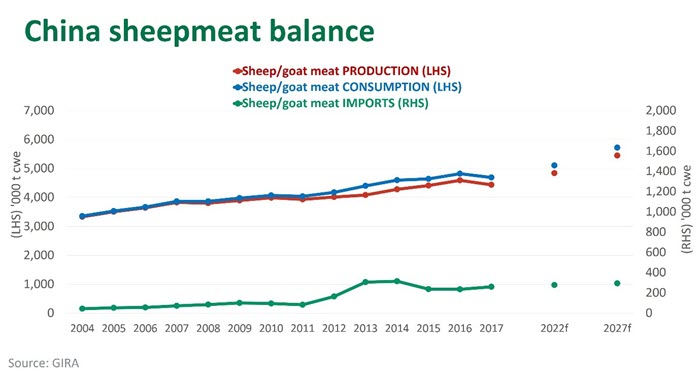 Chinese government policies on grassland preservation, environmental protection, disease control and food safety are favouring larger-scale operations – a growing trend across China's livestock industries. However, these policies are balanced with poverty reduction and economic development objectives in China's less developed provinces, with a transition occurring over a long period. Given the current high prices, the potential for import demand volatility may continue in the foreseeable future.
Production outlook
China produces one-third of the world's sheepmeat, and high prices, growing demand and government support are forecast to underpin growth over the next decade. Between 2017 and 2027, China's sheep flocks are forecast increase 1.1% on a compound annual growth rate and for production to lift 2.1% (Source: GIRA).
At the same time, high prices, drought and disease are affecting China's domestic production, and can potentially result in short-term production surges. Much of northern China, where the majority of China's sheep and goat flocks are raised, has been in intermittent drought for some years, with surface and groundwater at record lows in some places. According to the OIE, between July 2014 and 2018 China reported several outbreaks of Foot and Mouth Disease among sheep. Livestock in drought-affected areas also tend to be more vulnerable to disease.
Import demand drivers
While production is forecast to increase in coming years, so is consumption. GIRA is currently anticipating a compound annual growth rate increase in consumption of 2% from 2017 to 2027. Current estimates suggest that China's sheepmeat production will continue to fall short of meeting consumption out to 2027.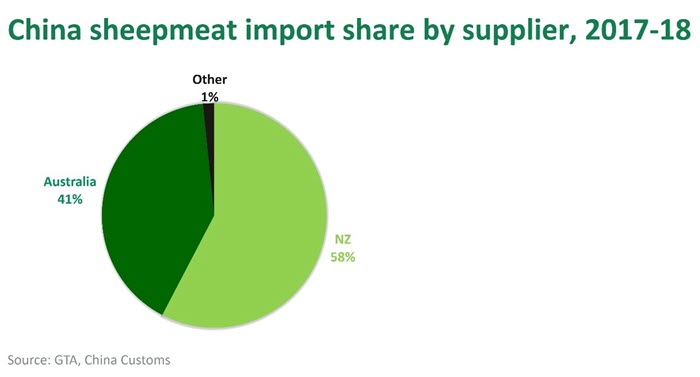 China's growing demand for a variety of premium proteins, including lamb, will be driven by significant growth in the number of wealthy urban households with high discretionary incomes.
Consumers are upgrading purchases across many product categories, including meat, which means eating larger quantities and of a wider variety. Affluent consumers are seeking higher quality, imported chilled meat products, for consumption at home and through foodservice.
While China's 2017 estimated annual per capita sheepmeat consumption is relatively low – 3.4 kg per person in China compared to 8.4 kg in Australia – this is forecast to increase to 4.0 kg by 2027, which is significant for a consumer base of around 1.4 billion (Source: GIRA).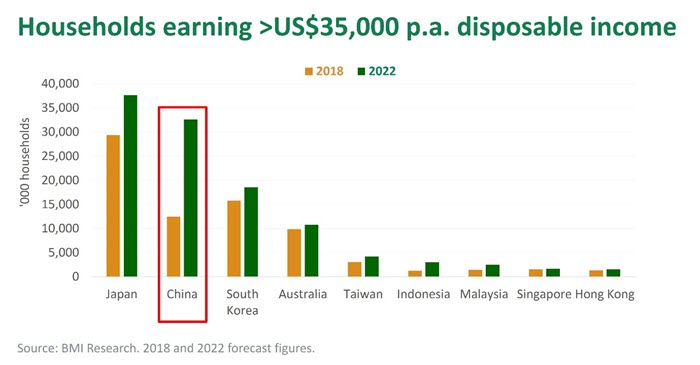 *China's sheepmeat figures include sheep and goat meat