Back to

News & Events
Measure of success in the mums
09 May 2019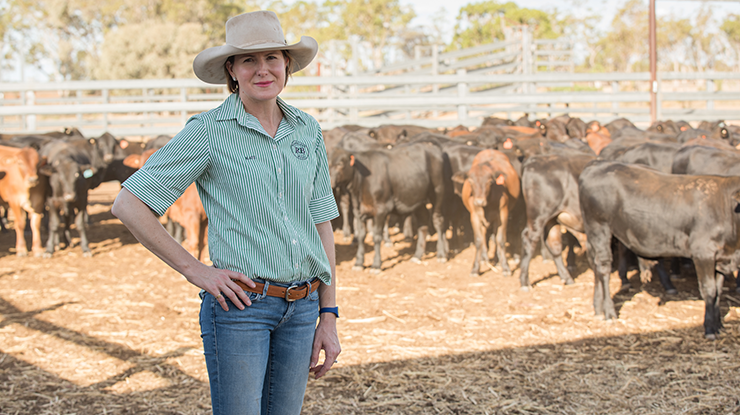 Kate Moloney
Organic beef and seedstock producers Peter and Kate Moloney know from experience there's huge variation in the profitability of breeders.
However, the couple weren't happy with just knowing that fact. They wanted to be able to measure this variation, understand its drivers and use that information to make better genetic selection decisions to maximise their yield in kilograms of beef/ha.
They wanted to know which genetic selection and management decisions would deliver the most gains.
"We wanted a better understanding of the breeder herd's performance in terms of weight of calf weaned in proportion to the cow's body weight in our extensively run, tough environment, without inputs," Kate said.
"Knowing the performance data also helps us when selecting our own bulls."
The Moloneys are part of the Rangeland Bulls collective and run a commercial enterprise turning off organically certified two‑and‑a‑half year old steers (about 600kg) for Arcadian Organic and Natural Meat Co in Toowoomba. In tougher seasons, steers are sold as feeders or to organic‑accredited finishers.
Fast‑tracking progress
In September 2017, the Moloneys started an MLA Donor Company (MDC) Producer Innovation Fast‑Track project to identify their most efficient, profitable breeders and correlate those findings with their progeny's carcase feedback data.
"Our breeders are evolving but we wanted a better understanding of what our elite cows were yielding at weaning, in terms of the weight of the weaner in proportion to the cow's body weight," Kate said.
"We felt that was the ultimate indicator of a cow's efficiency within our environment and with the resources available."
The Moloneys consider moderately framed breeders the most efficient.
"We focus on moderate frame size because the nutritional requirements of larger‑framed cows are so much greater," Kate said.
Prior to this 12‑month project, the only research Kate and Peter could find in relation to cow size versus herd size and the impact of cow size on weaner weight was from the US.
The project focused on two mobs: 250 three‑year‑old cows weaning their second calf, and a mob of 80 older cows. At weaning time, frame size, body condition, pregnancy status and weight were recorded, as well as calf weights.
They're still hoping to carry the offspring through to slaughter to assess their carcase data for the project, but Kate said that will depend on seasonal conditions.
"There's no doubt we've had a hunch that our best‑performing cows are the moderately framed cows, with the ability to lay down fat early," she said.
"However, what we really want to know is whether those efficient cows are also providing us highly market‑compliant progeny.
"There's a fallacy out there that bigger‑framed cows produce bigger calves and this must be more profitable, yet the research has shown the contrary.
"With the higher nutritional demand of bigger‑framed cows (given a set amount of resources available), not only do you have to run fewer of them, but they often wean smaller weights of offspring per hectare.
"Adding to this, when the higher maintenance requirements of a large‑framed cow are not met, the first consequence is often for them to stop ovulating."
The couple's herd is based on an Angus composite with about 30% Brahman content to ensure hardiness.
Kate said her father, Steve (who started the herd 20 years ago), put a lot of thought into their breeding objectives to arrive at a consistent type – a mostly black, polled, moderate‑framed animal with an average mature cow weight (at weaning of the calf at foot) of between 450 and 550kg. To stay in the herd, these breeders need to reconceive within the same three‑month joining period (November to January) without supplementation.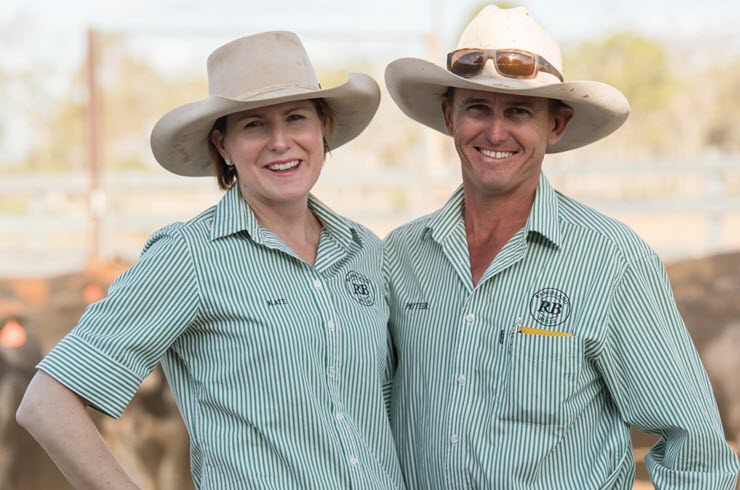 Caption: Kate and Peter Moloney

Starting young
Kate said the yearling joining program makes a considerable contribution to their beef yield/ha.
"Our heifers are conceiving as yearlings, at up to 100kg less than the industry recommendation of 360kg, and calve unassisted as two‑year‑olds," she said.
"We're now seeing conception rates in excess of 90%, compared to 60% when we started yearling joining 20 years ago. This is one of the most profitable genetic advancements within the herd. We also have the benefit of not carrying those heifers for an extra 12 months, before they become productive."
The Moloneys select the majority of their bull calves from the progeny of an elite mob of breeders that are four years and older, conceive in cycle one or two each year.
They must be of good temperament, polled, have a good coat, not be affected by flies, exhibit an early maturing pattern and be able to lay down fat.
Bull calves are weighed and scrotal measurements are taken at weaning and 12 months.
"We look for a 30cm scrotal circumference by 12 months and, within our own seedstock selection, bulls are appraised within their peer groups, off grass, for age, weight, scrotal measurements, temperament, natural resilience to any parasites, eyes, structure and pizzle. We're really looking for the bulls exhibiting early maturity and with the best ability to lay down fat in a completely natural environment," Kate said.
"With these measurements taken between April and October, our period of poorest nutrition, we're able to observe genuine genetic indicators, not just phenotypic (physical) ones."
While the project was completed in September 2018, and calf carcase data won't be available to correlate with the breeders' results until next year, the Moloneys are still inspired to continue their journey.
"I feel like this is only the beginning," Kate said.
"Thanks to what we've learned in the project, we want to continue upskilling ourselves in technology to measure not only performance indicators within our herd but to also incorporate better pasture and grazing management tools."
LESSONS LEARNED
There can be huge variation in breeder profitability.
An improved conception rate from yearling joining makes a considerable contribution to yield in kilograms of beef/ha.
Raising livestock in natural conditions without supplements enables observation of genuine indicators of profitability.