Back to

News & Events
MLA heads to Beef Australia 2021 next week
29 April 2021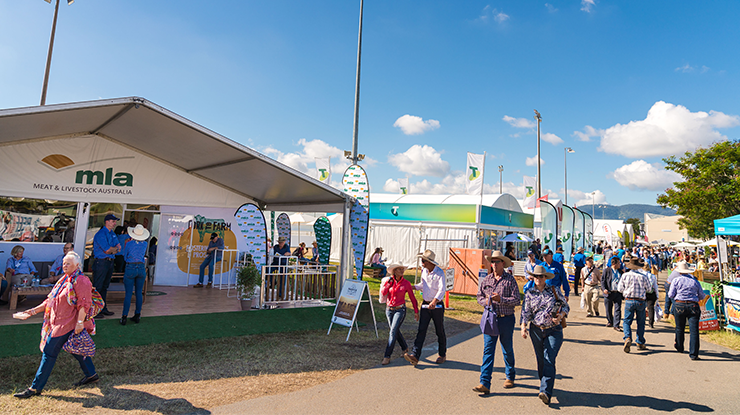 Beef Australia 2021 in Rockhampton is the biggest event on the beef calendar, and MLA is heading there next week! MLA's Beef Australia 2021 program will be delivered under the theme 'redefining resilience'. With this theme top of mind, MLA is hosting a suite of programs and activities that support a resilient and future-focused industry.
Visit the MLA trade site and be immersed in a value chain journey showcasing a selection of projects and programs being delivered by MLA and ISC such as SNP chips, calf alert devices, biometric retinal scanning, carbon calculators, livestock feed additives, advanced x-ray imaging, value add products and major marketing and business development programs. Learn more about the tools and services available to producers along with assistance with membership and service queries. MLA is located at OP182 located opposite The Pavilion.
MLA's 'Digital Farm' will showcase the latest in on-farm technology and data-driven products such as farm management dashboards and calculators, sensors, smart tags, BeefSpecs camera and more. Catch the HDT Drover WOLF autonomous vehicle being demonstrated daily at the AgTech Yards.
Head along to MLA's Redefining resilience seminar series, which will provide beef producers with the opportunity to benefit from practical, outcome-focused information captured through innovation and adoption of research outcomes. The seminars feature researchers, industry specialists and producers who will share insights and firsthand experiences about on-farm profit drivers and how to support the resilience of the red meat industry through commercial application. If you can't make it to Beef Australia, these seminars will be recorded and made available after the event.
The ANZ National Beef Carcase Competition aims to give feedback to producers about compliance of beef carcases to market specifications, lean meat yield, and predicted eating quality using the Meat Standards Australia (MSA) index. As a supporting partner to the competition, MLA is proud to host two MSA Index Awards – the winning pen of three carcases with the highest combined MSA index score, and the winning individual carcase with the highest MSA index score.
MLA provides secretarial support to the Australian Beef Sustainability Framework, who will launch their 2021 Annual Update at Beef Australia 2021 with a panel discussion on how the framework and sustainability improves market access, promotes continuous improvement and productivity, fosters relationships, and protects investment.
MLA is proud to once again be a principal partner for the nation's premier beef exhibition. If you're heading to Beef Australia, be sure to stop in and speak with MLA staff, management and the board.