Back to

News & Events
Northern beef – what's in the pipeline?
04 July 2019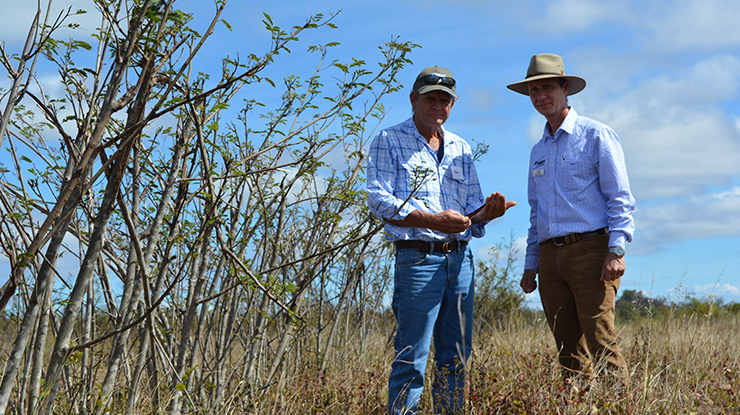 MLA's Nigel Tomkins (right) with Redlands seed supplier Peter Larsen, Leucseeds, Banana, Queensland, examining leucaena.
From mitigating methane emissions using biochar, to new leucaena varieties and calf survival projects – there's no shortage of activity in MLA's northern beef R&D portfolio.
Research and Development Project Manager for Grassfed Beef Nigel Tomkins gave an overview of what's in the pipeline (and why) at a recent BeefUp Forum held at Mareeba, Queensland.
Nigel said MLA was investing in R&D that provided valuable insights into everything from on-farm management for improved productivity to new feedbase options, improvements in animal health and boosted breeder herd performance.
"The real challenge is getting full advantage of this R&D on-farm, leading to productivity gains and cost efficiencies," Nigel said.
Leucaena high on the agenda

The recent release of Redlands, the psyllid-resistant variety of leucaena for high rainfall zones, allows more northern producers to adopt leucaena for finishing high-value beef, Nigel said.
In addition, MLA Donor Company, with the University of Queensland and DPIRD WA, are progressing R&D to investigate the potential of a sterile variety of leucaena.
"This work will contribute significantly to adoption of leucaena across the NT and WA and negotiate state legislations to allow this deep-rooted perennial legume to add value to native pastures," Nigel said.
Self-herding and better breeders
Work is also underway to demonstrate how rangeland self-herding can be used to positively influence grazing patterns of cattle. It will validate preliminary data from a grower group trial that used the practices of self-herding to manage grazing patterns and increase pregnancy rates of heifers.
Meanwhile, the 'Sweet Spot' project is identifying pathways for improving breeder herd performance through optimal pasture utilisation.
Nigel said the level of pasture utilisation required for optimal breeder productivity in northern Australia was unknown.
"There's an untapped gold mine of data on breeding herd production from sites across northern Australia," he said.
However, there's a lack of datasets from Queensland – a reflection of the fact Queensland work captures more intensively-managed operations with frequent movement of breeders between multiple paddocks.
Nevertheless, the project is continuing to mine existing data to identify pasture utilisation rates and to improve the capacity of models to predict breeder performance.
"The collated breeder performance dataset will be the first of its kind and will be a lasting legacy," Nigel said.
Calf survival focus
Calf loss is a key issue for the beef sector in the north. MLA's working with several partners to deliver new projects that identify and provide guidelines to boost calf survival.
"These projects will collectively tackle the how, when and where questions," Nigel said.
A consortium to address calf loss is now in the process of being scoped out, with R&D outcomes defined to better understand underlying causes.
Get up-to-date
The Northern Beef Research Update Conference will be from 19–22 August at the Brisbane Convention and Exhibition Centre.
The event brings together researchers, universities, state agencies and industry to showcase MLA investment in R&D over the previous three years.
"It's a great opportunity for producers to meet with researchers to discuss the most recent R&D across the north," Nigel said.