Back to

News & Events
Sam Burke's goat tacos
22 November 2018
Serves 6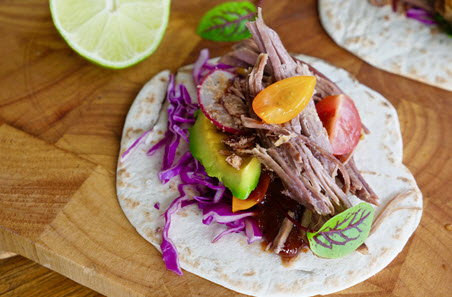 Ingredients
1½ kg goat shoulder, bone in
7 garlic cloves, peeled
2 tbsp finely chopped preserved lemon
¼ cup olive oil
1 onion, thinly sliced
1⅓ cups dry white wine
2 bay leaves
4 cup chicken stock
1 tbsp rosemary
sea salt
freshly cracked black pepper
2 tbsp chopped parsley
For the tacos
6 mini tortillas
2 ripe avocados
Seasonal salad leaves
2 red radish, sliced
8 mini heirloom tomatoes, sliced
½ bunch mint leaves, torn
½ red cabbage shredded
Crispy fried shallots
Chipotle sauce
Method
For the goat shoulder: To make the marinade, place the garlic in a mortar and pestle and pound until a creamy smooth paste forms. Add the preserved Lemon. Rosemary chopped Parsley and sea salt and stir until well combined.
Using a sharp knife, score the goat shoulder all over. Rub the marinade all over the meat, making sure you get in the crevices and under the skin if possible. Place in a shallow dish, cover tightly with plastic wrap and refrigerate overnight.
Preheat oven 200°C. Heat oil in heavy ovenproof pot over medium high heat. Add goat, bay leaves and sliced onion. Cook until well browned on all sides, turning frequently, for about 15 mins.
Place goat and bay leaves/onions in a roasting pan, then add chicken stock and white wine and wrap with foil the cook in oven at 160°C. Braise until meat is almost falling off bone, turning every hour and basting with pan juices. It takes about four hours in total.
Remove from oven, uncover and cool shoulder in pan juices slightly then refrigerate uncovered overnight.
Using a spoon, remove solid fat and discard.
Bring shoulder with pan juices to simmer.
Transfer to rimmed baking tray; cool slightly. Pull meat off bones and discard bones.
Discard bay leaves.
Taco construction
Rinse the salad mix and dry completely. Prepare cabbage, avocado, radish, heirloom tomatoes, mint leaves, fried shallots and chipotle sauce and place into serving bowls.
Warm tortillas over heated pan.
Place shredded meat in a bowl and everyone can build their own taco.
Enjoy