Back to

News & Events
Supply undulating as COVID-19 hinders global beef production
06 July 2020
Key points:
Global beef production forecast to decline 1% in 2020
Weekly US beef production has rapidly recovered, however, a large backlog of cattle now exists which will bolster beef supplies over the coming 12 months
Brazilian beef production has slowed, yet exports continue to perform well due to attractive export demand led by China
COVID-19 has already had an unprecedented and profound impact upon the global beef market, with further implications likely to carry through over the coming years. From a supply perspective, in January the USDA were forecasting no change in global beef supply in 2020. However, with meat packers around the world facing the challenge of maintaining processing capacity, this has dampened expectations for the year. Recent forecasts from Rabobank now forecast global beef production in 2020 to retract 1% on 2019.
Looking at the chart below, it is clear that key beef producing countries are at various stages of combatting the COVID-19 pandemic. While daily new cases in the US and Brazil remain high and have been rising over the last week, beef production in the US has recovered from early shocks to the supply chain and is now back to typical levels.
As witnessed in the US, as the number of new COVID-19 cases spread through workforces, maintaining a well-functioning food supply chain becomes more difficult. Leading beef exporters Brazil and India are now under much pressure, facing similar difficulties as they attempt to maintain healthy workforces and keep packing facilities operating.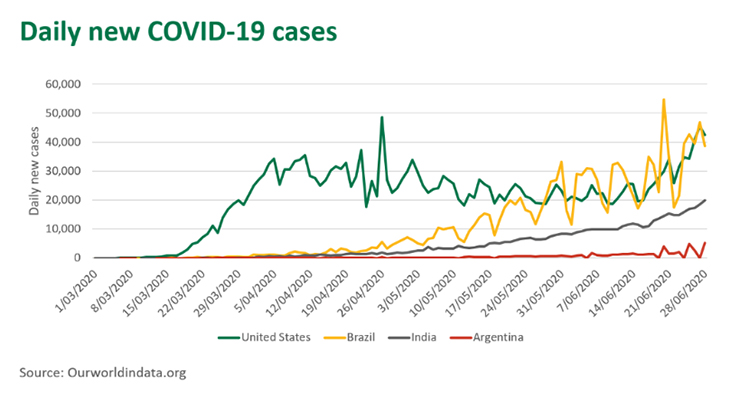 US beef production back on track
US meat packers appear to have come to grips with new COIVD-19 safety precautions, with processing capacity now back on track after a tumultuous few months. Leading up to and through the month of May, capacity cuts to US meat packing facilities pulled the handbrake on cattle slaughter. Volumes bottomed out at the start of May, with weekly beef production back 37% relative to volumes just five weeks earlier. This unprecedented swing in production has contributed to the globally unsettled trading environment and carries a number of implications for Australian beef exports.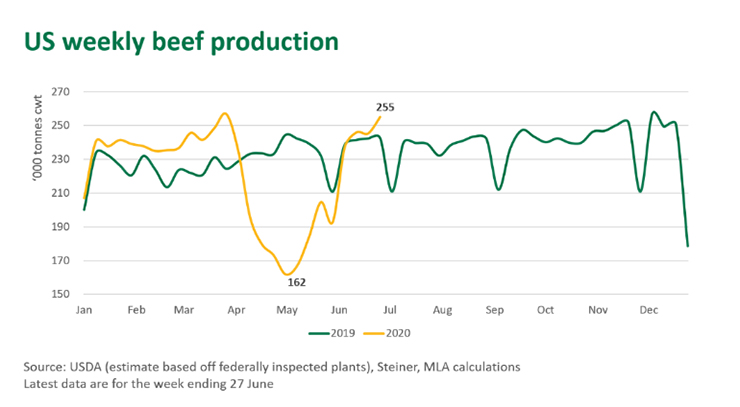 While US slaughter capacity has recovered, the pressing issue for the US is the estimated one million head of overfed cattle still on feed or those on pasture awaiting placement that should have been slaughtered over the capacity crunch. On 1 June, the estimated number of US cattle on feed for more than 150 days was 943,000 head, 41%, higher than a year ago, according to Steiner Consulting. As meat packers begin to clear the cattle backlog, beef production in the second half of 2020 and into 2021 will rebound. The USDA are forecasting beef production to lift 3.4% in 2021, with volumes predicted to reach 12.5 million tonnes cwt.
The USDA expects elevated cattle placements over the next six months, underpinning higher marketing rates next year. Heavier carcass weights will likely compound the beef production recovery in 2021.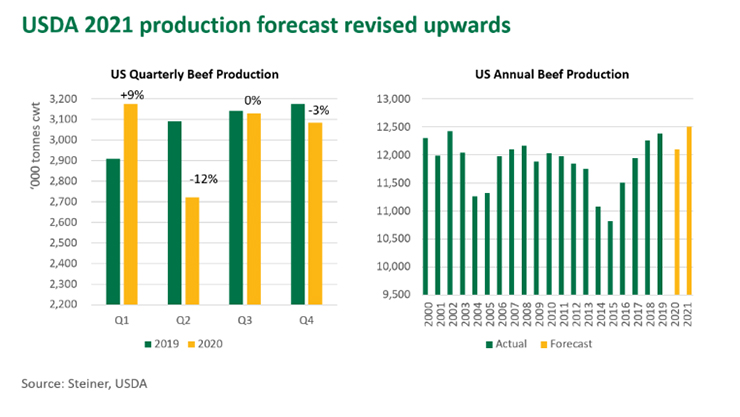 This means that while Australia may have benefited from a short-term ease in US competition across shared markets, the US will be a prominent competitor through the back end of 2020 and into 2021, likely exporting more beef to global markets than Australia. 
Brazilian export prospects remain strong despite tight slaughter levels
While COVID-19 may have closed some plants in April and May, the current slowdown in Brazilian beef production is primarily the result of a three-year herd liquidation and the subsequent reduced availability of slaughter cattle. Over the past year, Brazil has also recorded elevated levels of female cattle slaughter. Brazilian cattle slaughter in the first quarter of this year was the lowest since 2012 and was back 11% for the year-to-May. However, Brazil is currently experiencing drier than normal conditions, which will likely result in a higher number of cattle being brought forward for slaughter in the coming months.
Sao Paulo now appears to be easing COVID-19 restrictions despite case numbers continuing to rise, which may implicate processing capacity in the coming weeks. However, the Brazilian Ministries of Agriculture, Livestock and Supply announced two weeks ago that greater controls will be enforced aimed at the prevention, control and mitigation of COVID-19 transmission across the industry and in the processing of meat products.
While some Brazilian processing plants have closed due to COVID-19 outbreaks, Brazil's meat and poultry industry is not yet facing the degree of disruption seen in the US. However, things could change rapidly if the virus continues to spread, and Brazil remains on high alert. Taking into account the impact of COVID-19, Rabobank are now forecasting a 1% decrease in Brazilian beef production this year, well short of the 3.5% increase projected in December.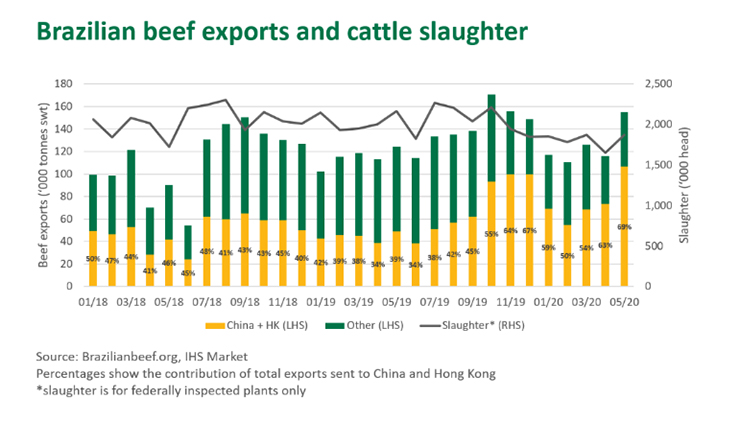 Despite production difficulties, Brazil maintains a strong presence in export markets. While Brazil may yet follow a similar supply pattern as seen in the US, the impact on trade may differ. For instance, the US has had robust domestic demand and a strong US dollar, making domestic retail channels more appealing than export markets. On the contrary, Brazilian domestic demand is weak, while the soft value of the Brazilian Real and strong demand from China has favoured exports.
Export figures show the rate of Brazilian beef exports are yet to slow, with volumes in May reaching 155,000 tonnes swt for the month. Growth to China has been extraordinary, up 180% relative to May last year. Over the year-to-April, Brazil has exported 28% of its beef production, the highest portion since 2007, due to strong export markets and weak domestic demand. As a result, the domestic market may bear the brunt of any short-term shortage due to any COVID-19 supply disruptions, while exports will likely remain strong.
Indian buffalo meat supply disrupted
COVID-19 lockdown measures resulted in supply chain disruptions across India, with animal markets and processing plants closed or running at a limited capacity. Logistical issues have also caused delays at ports, which will hamper the export of Indian Buffalo Meat.
Looking at import data across key Indian export markets, volumes were tracking 15% ahead of 2019 in the first quarter, but it is expected that volumes since then have significantly slowed. Some Indian Buffalo Meat has landed in, or is currently being transported to Indonesia, but this is primarily product processed prior to the country-wide lockdown in India.
Australia has navigated COVID-19 but supply still an issue
The low cases of COVID-19 in Australia has allowed the industry to carry on largely uninterrupted. However, supply will remain a major challenge for the industry to grapple with as the herd rebuild and limited availability of slaughter animals continues through the rest of the year.
MLA's April Cattle Industry Projections have cattle slaughter pegged to decline 19% year-on-year in 2020. Slaughter cattle supplies have been tracking lower since the beginning of May, with accumulative weekly eastern states slaughter since then back over one million head, or 16%, compared to 2019 levels.