Back to

Prices & Markets
Subscribe to The Weekly e-newsletter
For in-depth red meat market news, information and analysis.
SIGN UP
US market's rapid recovery
Key points:
Weekly US beef production has recovered in a rapid manner however a large backlog of cattle now exists which will bolster beef supplies over the coming 12 months.
Imported 90CL prices have flattened and may soften in coming weeks.
US beef exports are expected to increase, placing more competitive pressure on markets like Japan and South Korea.
The US meat packing industry has come to grips with new COIVD-19 safety precautions, and now has production back on track after a tumultuous few months. This unprecedented swing in production has contributed to the globally unsettled trading environment and carries a number of implications for Australian beef exports.
Leading up to and through the month of May, capacity cuts to US meatpacking facilities pulled the handbrake on cattle slaughter. Volumes bottomed out at the start of May, with weekly beef production back 37% relative to volumes just five weeks earlier. Processing capacity in the US has recovered to typical levels. Last week US beef production was back above year-ago levels, with a backlog of heavier fed cattle, held on feed over the capacity crunch in April-May, now flowing through kill floors.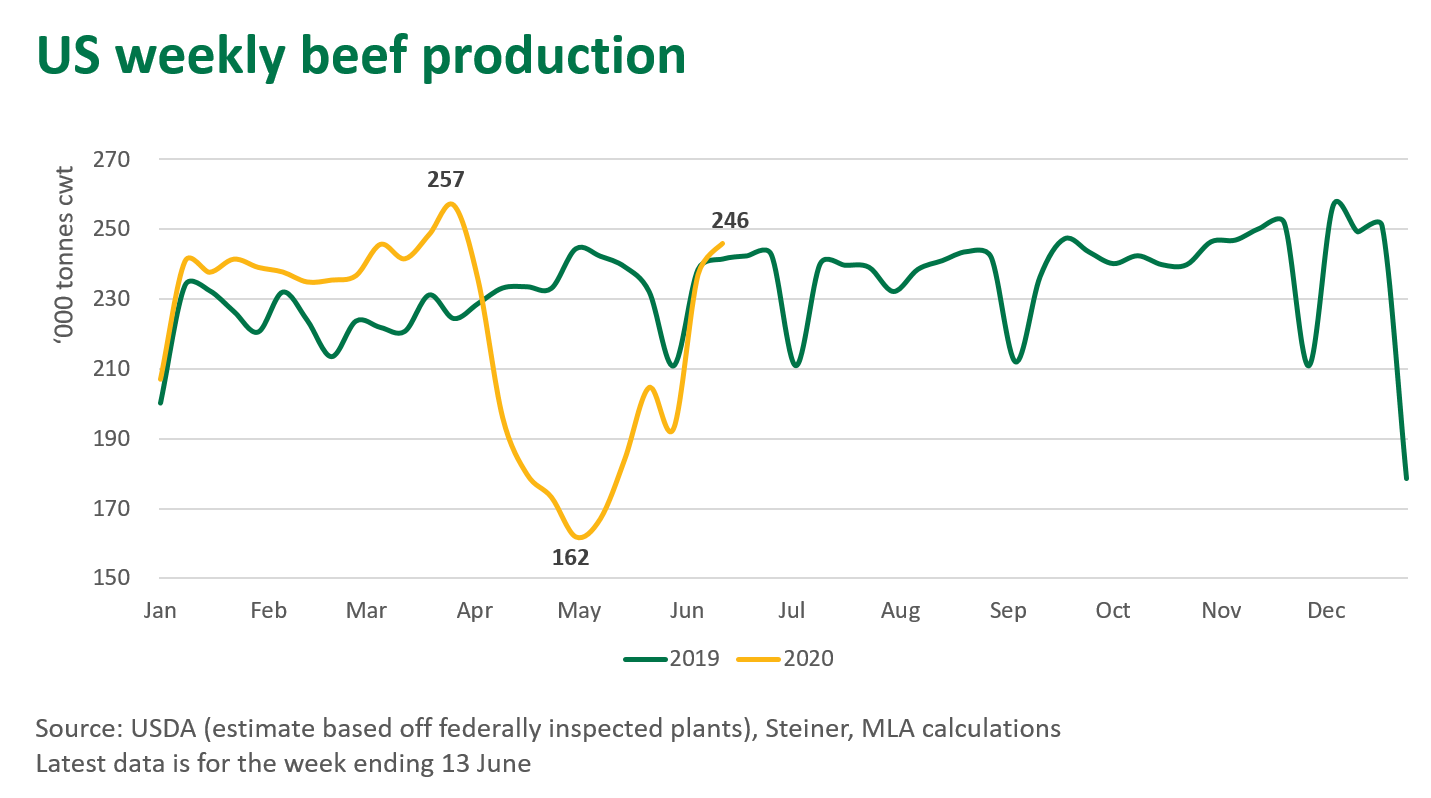 Led by the dip in production, the US choice cut-out price spiked to unprecedented levels, initiating a sense of unease within the domestic market. This was further compounded by the Memorial Day holiday near the end of May, when beef demand is usually at its highest and which marks the beginning of grilling season.
This spike in US domestic prices led to a similar, albeit not as pronounced, rise in the imported 90CL indicator. With the choice cut-out values now back to pre-crisis levels, the growth in imported values has flattened out. Consequently, imported beef market activity has already slowed, and the spike in export volumes seen to the US in May could be short-lived. While the US is currently in the midst of their grilling season, demand for beef will likely cool off near the end of August, further compounded by tight Australian supplies and improving US production.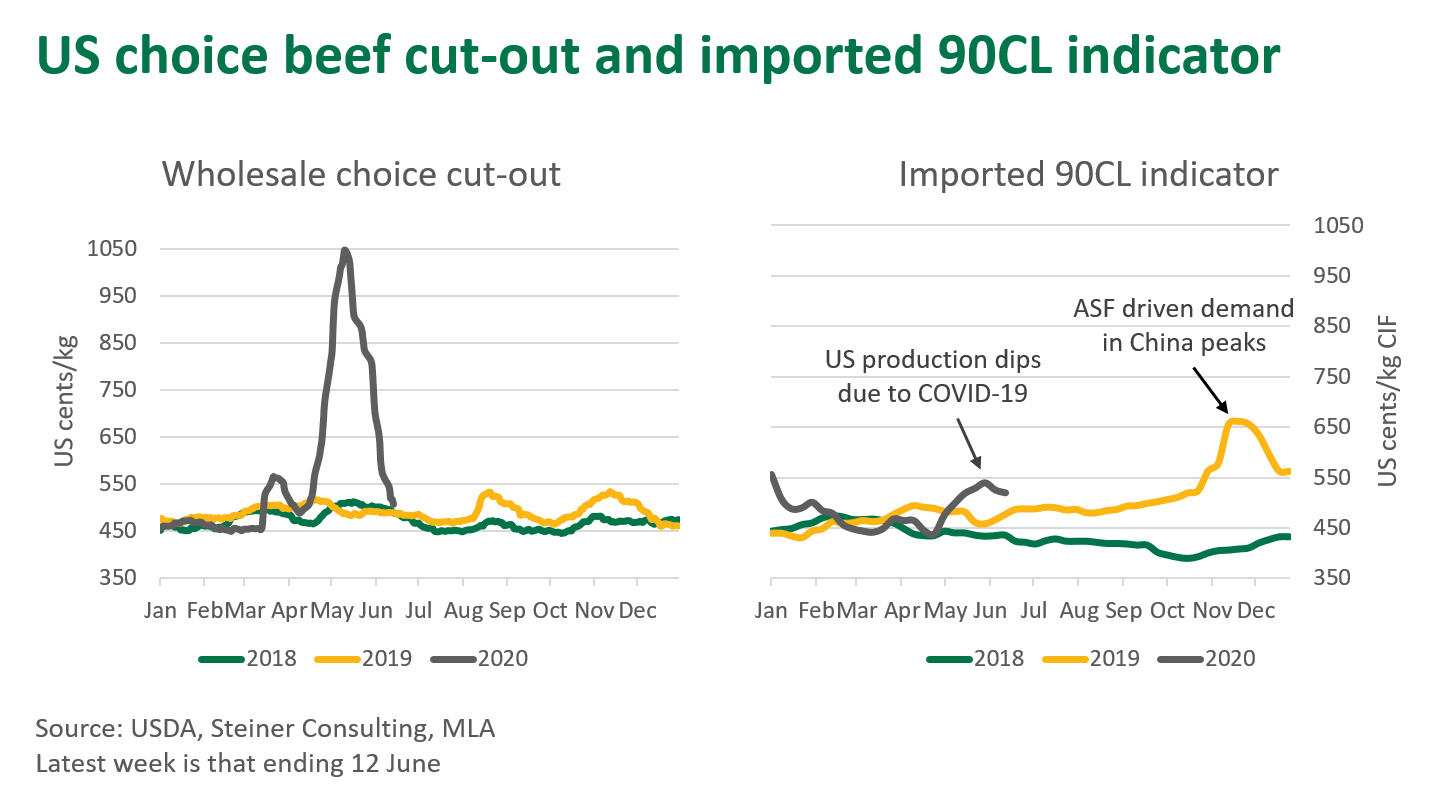 As import prices come off the boil, this may see support for the Australian cow prices ease in the coming weeks. However, there has been a clear disconnect between global cattle prices and Australian prices so far this year, as improving moisture levels drive re-stocker demand across the country. Typically, Australian cow prices mirror changes in the imported 90CL price. However, a disconnect can occur in times of major drought and as local conditions override global factors. This may mean that Australian prices could remain supported even in the event of a further decline in the US imported 90CL indicator.
US exports ease as demand from domestic market takes precedence
As US beef production was curtailed through May and domestic demand lifted, US export volumes slowed, with total exports for the four weeks ending 4 June back 37% on the same period last year (weekly exports are only for muscle cuts, as reported by USDA, and can be subject to revision).
With limited quantities of US beef flowing into Japan, reports have indicated that supermarkets increased their focus on Australian beef, conducting promotions of cuts that are commonly used in hotels and restaurants. Availability of those cuts, including tenderloins and cube rolls, improved significantly due to the foodservice downturn, giving Japanese consumers the opportunity to enjoy more Australian loin cuts at home. However, US export volumes to Japan for the year-to-April were quite strong, up 23% on 2019, largely off the back of two tariff reductions since the US-Japan trade agreement entered into force on 1 January.
South Korea reported quarantine cleared imports of US beef were just 17,000 tonnes swt in May, down 19% relative to the same month last year. As expected, improving US production has led to an increase in early June imports, as delayed orders from the previous month are fulfilled.
In Taiwan, reports indicated a short fluctuation in the availability of US supply. Beef stocks were already solid, hence only a few cautious additional orders for Australian beef were placed. Since US production has picked up again, market confidence has been restored and the short-term spike in demand for Australian beef has eased.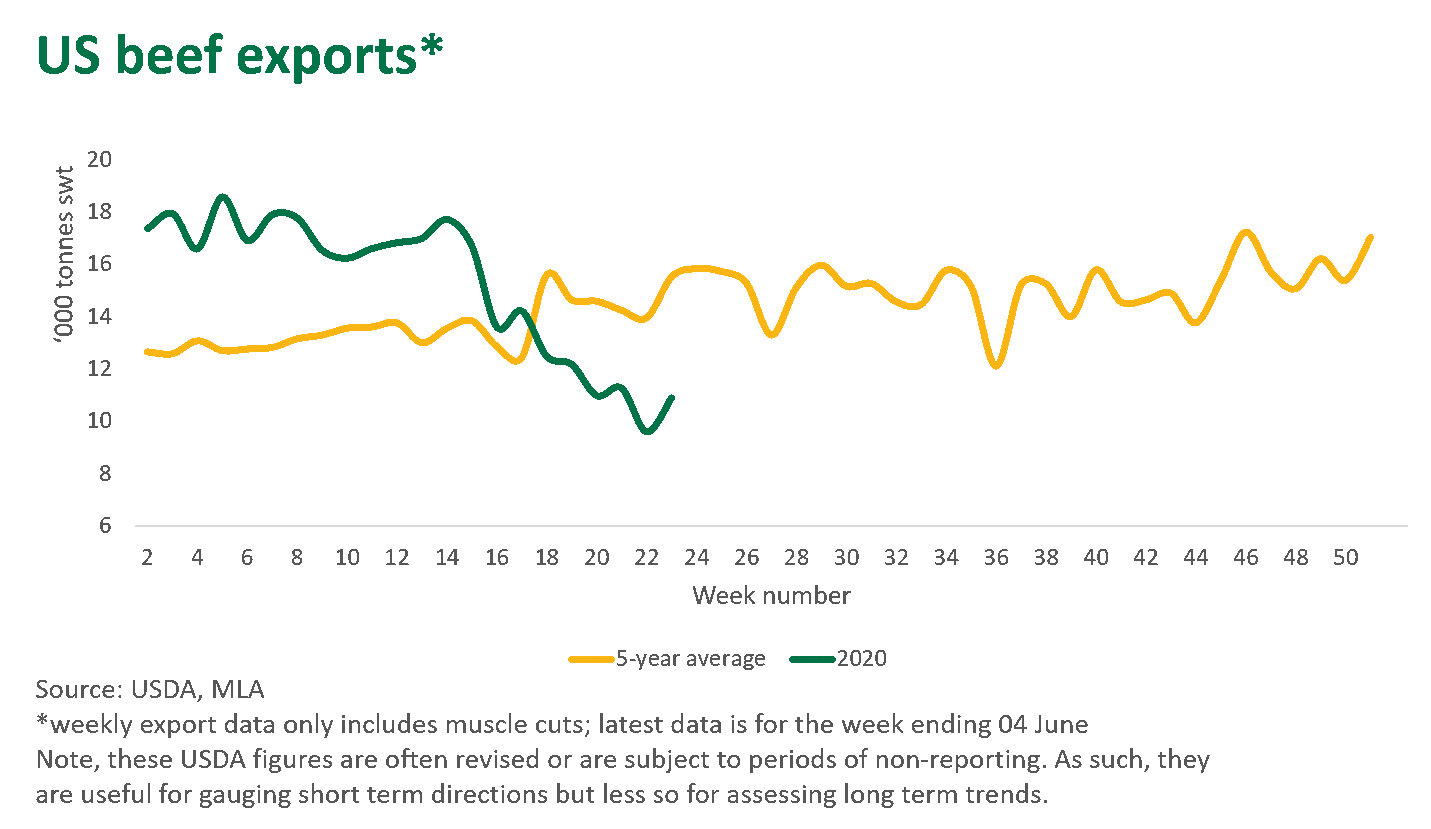 Delays in processing has left a large backlog of cattle
While slaughter capacity may have recovered, the pressing issue for the US is the estimated 1+ million head of overfed cattle still on feed and on pasture awaiting placement. This number has built up in the past two months as slaughter capacity was unable to keep up. On 1 June, the estimated number of US cattle on feed for more than 150 days was up by 943,000 head or 41% higher than a year ago (Steiner Consulting).
The USDA reported that the capacity to produce beef at pre-COVID levels may be an issue through to 2021, as slaughter capacity will depend on individual process or ability to successfully manage health protocols and social distancing. Recent USDA forecasts pitch 2020 beef production at 12.0 million tonnes cwt, back 1.8% on 2019 levels. As meat packers begin to clear the cattle backlog, this should see beef production in 2021 rebound. The USDA are forecasting a lift of 3.4% in 2021, with volumes predicted to reach 12.4 million tonnes cwt.
In the past three years, the US have typically exported 11% of their total beef production. The effect of this means that, while Australia may currently benefit from a temporary ease in competition across shared markets, the US will be a prominent competitor through the back end of 2020 and into 2021, likely exporting more beef to global markets than Australia.
Trade between the US and China is lifting, yet export volumes still remain minor
Although the US-China Phase One trade agreement is now underway, only minor volumes of beef have been shipped so far – 3,200 tonnes swt for the year-to-April a 34% increase on year-ago levels. Growth can be attributed to the waiving of trade war tariffs, with the 37% tariff previously applied to US beef dropping to 12% on a case-by-case basis.
While China undoubtedly has a huge demand for beef, it may take some time before any significant trade flow occurs between these two nations. Key barriers that remain are the high price of US beef, COVID-19 disruptions, tense political relations and a strong US dollar. Until the US begins to produce a larger surplus of beef, export volumes may remain focused towards the domestic and traditional markets.
© Meat & Livestock Australia Limited, 2020