Back to

Prices & Markets
Subscribe to The Weekly e-newsletter
For in-depth red meat market news, information and analysis.
SIGN UP
COVID-19 complicates global processing and supply
Key points:
meat packers around the world running well below typical capacity
logistic bottlenecks complicating distribution
Australian cattle prices out of sync with global movements.
As nations around the world tighten lockdown restrictions, international trade has become more complex, volatile and logistically challenging. In recent weeks COVID-19 restrictions and outbreaks have impacted processing facilities, with meat packers globally running below maximum capacity. These difficulties have been compounded by operational barriers such as port bottlenecks, refrigerated container availability, disruptions to air freight and slow customs clearance.
These factors have all complicated and disrupted red meat supply and, combined with an uncertain outlook for demand, have led to dropping cattle prices around the world. Australian prices have been driven by recent rainfall, tight cattle supplies and a lower exchange rate. With Australian exporters competing with these suppliers in many markets, it's likely to translate into pressure on domestic prices in the future.
While Australia has had a steady start to the year for red meat exports, key competitors such as New Zealand, South America and India have certainly not been immune to supply disruptions. Additionally, the US is experiencing a range of supply chain challenges covered in last week's article.
Strict lockdown measures in New Zealand limiting processing capacity and causing delays
The New Zealand government implemented level four lockdown measures four weeks ago, with only essential businesses allowed to continue operating under specific regulations. Many meat processing plants are operating on reduced hours, with social distancing, personnel restrictions and strict cleaning regimes being some of the enforced measures taken to allow plants to remain open.
These COVID-19 meat processing protocols have reduced processing capacity in plants by approximately 30% for cattle and 50% for sheep (Beef & Lamb NZ). This will create implications for producers offloading livestock, with farmers being told to expect delays of up to a week.
NZ export volumes (which account for over 95% of all beef and sheepmeat production) will undoubtedly be down on typical levels while slaughter is slowed. NZ is set to return to level three restrictions on Monday, but many of the measures brought into meat processing plants are likely to remain in place. New Zealand has been managing the spread of COVID-19 particularly well, and when restrictions ease further, processing capacity could soon recover.
A number of Brazilian meat packers shut operations as health concerns escalate
Brazil exports have performed well so far this year despite packers facing a number of logistical challenges. However, the spread of COVID-19 is now beginning to have an impact, with some processors operating at only 30% of their operating capacity (IEG Vu Agribusiness), while a number of meat packers in Brazil have suspended operations due to health concerns. The number of cases in Brazil now exceeds 40,000, and as infection rates rise this will present further challenges for processing plants.
Further social distancing measures have also led to the closure of bars and restaurants, which has reduced meatpacker interest in buying cattle with Brazilian cattle prices subsequently dropping.
Renewed China demand will provide some support for the Brazilian export industry. Brazilian exports to China reached a steady 52,000 tonnes swt in March, up 38% on February. China was particularly active last year, approving export licences to 25 Brazilian exporters, although further approval of meat packing plants has been put on hold as Chinese officials are unable to travel to make inspections, which may temporarily limit further growth.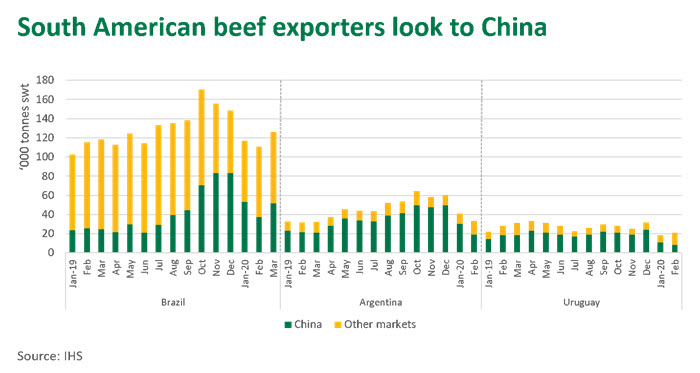 Argentina struggling to maintain carcase balance as demand from China lifts
Argentina has been in a lockdown since 20 March, with this recently extended to 26 April and with further extensions likely. Early intervention has meant that Argentina has reduced the spread of infection relatively quickly, with the number of cases currently below Australia.
However, lockdown measures have slowed beef production as a number of processors have been forced to close, impacting availability of beef for exports. Packers have reported difficulty managing carcase balance because of the skewed retail demand, which could mean that high volumes of beef will be frozen for sale later in the year (Steiner Consulting).
Argentinean beef exports have been light so far this year, relative to large volumes seen through the second half of 2019, with exports to China particularly low. February exports to China were 19,000 tonnes swt, down 37% on January volumes. While Argentine export data for March is still unavailable, import figures released by China suggest a sizeable increase in beef coming from the country. In the short term, minimal interest from other markets will likely mean Argentina's reliance on the China market will grow.
The Argentine currency, the Peso, has been in a steady decline for much of 2020, meaning they will continue to look to export markets to drive beef sales. Argentina is a key supplier of beef to Europe, but with importer demand backing away the majority of exported Argentinean beef is expected to be destined for China.
Cattle slaughter in Uruguay at the lowest level seen in 20 years
Uruguay has relatively fewer cases of COVID-19 than other nations globally and early government intervention has been effective in slowing the spread of the virus. As seen in other countries however, containment measures are still expected to cause processing delays and challenge supply chains over the coming weeks. Cattle slaughter for the year-to-April is expected to be the lowest since 1999, at 570,000 head.
India facing multiple headwinds - not just COVID-19
COVID-19 has already had a significant impact upon Indian buffalo meat (IBM) exports. IBM exports were just 50,000 tonnes swt in February, down 38% on February 2019, with exports to South-East Asia and the Middle East struggling.
Pre-COVID, IBM had already experienced a slow-down in production and exports over the past three years, but this has been compounded by the recent drop in international demand. On an international basis, India's profile as an exporter isn't as well established as other competitors, with a historical reliance on disappearing grey trade routes and recent struggles to diversify into other markets.
There are also additional challenges ahead for India including the re-election of Prime Minister Narendra Modi, who has shown resistance towards the export sector. The controversial nature of the Indian beef industry continues to grow and Hindu opposition will likely hinder the growth of production and exports in the years to come, with several policies already limiting slaughter in certain states.
Trade landscape will remain volatile in the short term
Suppliers around the globe are all struggling through the pressures of COVID-19 and it's likely to be some time before a normal operating environment resumes. Inconsistent supply and shifting demand from international markets will mean that the global competitive landscape will show elements of unpredictability for some months to come.
© Meat & Livestock Australia Limited, 2020