Back to

News & Events
What to consider before containment feeding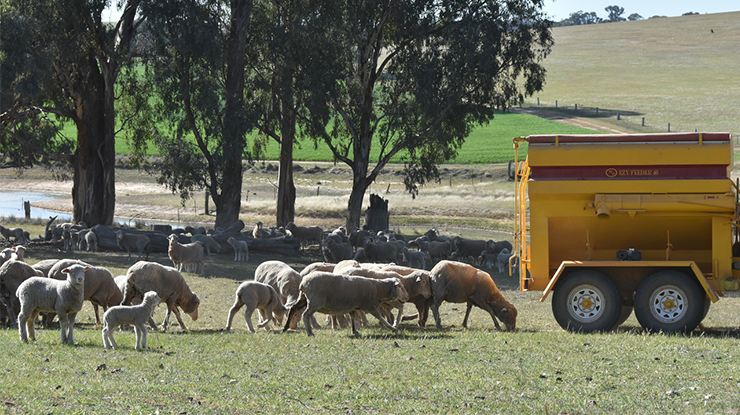 With many producers impacted by bushfires and drought looking for options to manage livestock, on-farm containment feeding has proven to be extremely valuable for reducing stress on both animals and people.
Here, Livestock Systems Scientist and University of Western Australia Adjunct Professor, Dr David Masters, shares his top tips for setting up a containment feeding system.
Why containment feed?
In areas where there's no paddock feed available, containment feeding allows pastures to recover or establish without disturbance from livestock, helping to reduce soil erosion.
"From an animal point of view, containment feeding reduces energy use by preventing hungry stock walking long distances trying to find feed and water," David said.
"It's suitable for both sheep and cattle. With the current situation where producers are managing livestock in areas impacted by bushfires, it gives you a much better ability to manage animals that are stressed or injured in the short-term."
Key considerations before set-up
The suitability of containment feeding depends on your location, rainfall, feed resources and production system.
"Most state agriculture support services have good information on stock containment relevant to specific regions, and its worthwhile checking this advice before proceeding," David said.
Producers contemplating containment feeding should factor in several considerations including feed costs, labour, and if it will alleviate some stress.
1. Feed costs:
For emergency situations, if you've got the feed to do it, there's no good reason for leaving animals out on paddocks when there's nothing out there to eat.
Weigh up daily or weekly feed costs and availability. If you're buying feed for $400–$500/tonne, then two or three months down the track, you find you've spent more on feed and labour than the animal is worth, stock reduction is a better option.
2. Labour:
Containment feeding is a daily commitment, and producers need to determine if they have the labour and resources to make that commitment.
3. Stress:
When you feel like you've got some control over what's going on, automatically you don't feel so stressed.
There are producers who use containment feeding every year because it benefits them, but it's not going to benefit or suit everybody if they don't have the time and resources to establish it.
Site selection
When it comes time to establish the containment area, David said there are a number of factors to consider:
1. Animal welfare
Containment feeding requires finding an appropriate area to fence that has access to water, suitable shade or shelter and trough space.
The site should enable easy access for people and machinery, and ideally be close to animal handling facilities.
2. Drainage
The site needs to be well-drained, ideally at the top of a gentle slope.
Ensure the site won't allow run-off to contaminate dams or waterways.
3. Stocking density
The area needs to be able to accommodate livestock at appropriate stocking densities for optimal animal welfare.
For sheep, the ideal stock number is 200–500 sheep in an area of 2,500m2 (5m2–10 m2/sheep).
4. Behavioural factors
Animals tend to behave quite differently when they're in containment areas. Most producers are going to be aware of potential problems, but avoid mating or lambing in containment feeding areas.
Sheep in particular are prone to stealing lambs once they have a lamb and can accumulate three or four lambs if they can, then they won't be able to care for them.
5. Legal
In some jurisdictions, you need permission to do containment feeding. Be sure to check the legal requirements with your state agriculture department.
Feeding tips
Once you're set up, there's also a number of feeding considerations producers should take into account when planning:
1. Quality of feed
Feed will be the largest cost, and having a medium quality feed is probably best for control of intake and ensuring access by all animals.
Grain feeding is an option, but care is required to avoid uneven intakes and possibly acidosis.
2. Nutrition
If you do go down the high grain diet path, particularly if you're using cereals, a calcium supplement, such as limestone, is advisable.
Long-term containment may mean depletion in other micronutrients, so a vitamin E supplement might be required.
Consider testing feed to manage feeding levels so you don't underfeed or overfeed.
3. Behavioural and health factors
Trough space should be adequate for the feeding system to allow the daily intake of feed and water, and to minimise bullying and shy feeders.
Having roughage available ad lib to animals helps to manage boredom and bad behaviour.
Animals will eat roughage regardless of its quality, and it will promote rumination, which is how they relax. Also, having big round or square bales in the containment area can be good for changing the line of sight, so you get less aggressive behaviour and there are places for animals to shelter and rest.
It's important to monitor animals daily and remove any that are unhealthy and give them some treatment somewhere else if possible.