Back to

Prices & Markets
Subscribe to Prices & Markets e-newsletter
For in-depth red meat market news, information and analysis.
SIGN UP
China pork shortage looms
28 March 2019
African Swine Fever (ASF) has continued to spread across China in 2019, rattling global markets. Official reports indicate significant culling has occurred – 950,000 pigs since the first outbreak – but on-the-ground reports suggest severe under-reporting. According to the Chinese Ministry of Agriculture, the estimated February sow inventory declined 5% month-on-month and was 20% below this time last year.
China is the largest producer and consumer of pork in the world and concerns are now shifting to how the meat heavyweight will cover any shortfalls later this year and into 2020. Estimates of the decline in pork production this year range from 6-30%, but much remains unclear and data is patchy given the fragmented and informal nature of much of the industry.
ASF has also crossed the southern border of China into Vietnam, where the number of outbreaks has increased exponentially since the first confirmed case on 19 February. More than 46,600 pigs have been culled across 366 outbreaks. Given the informal nature of trade and movement of goods across land borders in the region, the pork industries in Laos, Cambodia, Thailand and Malaysia remain at high risk of contracting the disease if they haven't already. Mongolia has also reported 11 outbreaks since mid-January but remains a minor producer.
Pork production in Vietnam and neighbouring countries remains important for their domestic requirements but pales in comparison to the sheer scale of China. While ASF may significantly impact the large number of smallholder farmers and disrupt local supply in Vietnam, it is unlikely to severely alter global trade. For China, this is not the case.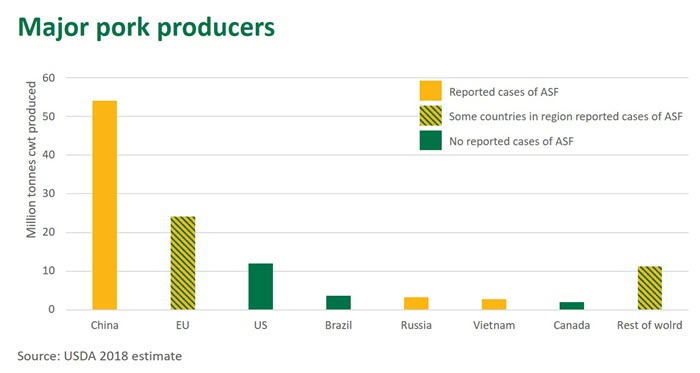 Poultry key to shortfall
According to China's Agricultural and Rural Animal Husbandry and Veterinary Bureau, national county market retail pork prices averaged 22.47 yuan/kg in 2018, ahead of chicken (19.19 yuan/kg) but behind beef (65.14 yuan/kg) and sheepmeat (62.34 yuan/kg). Hence, any direct substitution of local pork will come from imported pork or local and imported poultry. Seafood may also play a key role but, for many, switching to expensive beef and sheepmeat is simply not viable. The impending shortage and potential price rise will also likely mean China's poorest consumers may simply eat less meat.
Given poultry's ability to ramp up production quickly in response to market signals, the world poultry industry is poised to fill any production gap, provided market access. China's domestic poultry industry will also be key and reports of production expansion are already apparent.
Trade yet to reflect extent of shortage
Interestingly, however, pork and poultry trade to China or Hong Kong is yet to reflect any significant redirection of product. Direct imports of fresh and frozen pork into China declined 2% year-on-year in 2018, to 1.19 million tonnes swt. Poultry imports increased 12% in 2018 but remained in line with the five-year average, at 504,000 tonnes swt. January and February 2019 reflected some increase in both pork and poultry trade but neither lift was outside historical norms.
However, some recent signs of a market reaction are occurring. In the first week of March the USDA reported a surge in net pork cuts export sales to China. While the jump subsequently retreated to normal levels, the four-week moving average as of mid-March was up 14-fold year-on-year, albeit off a low base. Despite a 68-70% tariff on US pork currently exported to China, market sentiment remains strong and US pork futures have rallied in the last two weeks. If the supply impact of ASF turns out to be extremely severe or the US and China make a trade war peace deal, the US pork industry will be poised to supply any shortfalls.
Beef and sheepmeat trade surging
The noticeable market movers in the last 12 months have been the beef and sheepmeat trade to China. In 2018, direct Chinese beef imports exceeded one million tonnes for the first time, making it the world's largest beef market, and it maintained the mantle as the world's largest destination of imported sheepmeat. While ASF has grabbed most of the headlines, these growth trends were well underway before any outbreak in China and largely reflect growing demand from wealthy households for premium imported meat. In addition, for beef, growth also reflects greater market access for South American suppliers in recent years and their ability to build a customer base.
The surge in beef trade with China has been broad based across all major suppliers, notably Australia (China imports were up 49% in 2018 year-on-year), New Zealand (up 39%), Brazil (up 63%), Argentina (up 109%) and Uruguay (12%). Meanwhile the China imported sheepmeat market expanded 28% to a record 319,000 tonnes swt, with product from Australia and New Zealand up 28% and 29% respectively.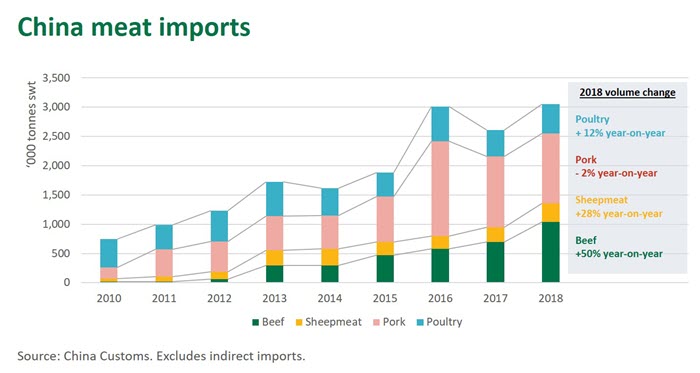 What next?
To date, ASF is yet to have a significant impact on the meat trade with China. China pork or poultry imports have not yet surged and expensive imported red meat is being driven by other forces – but ASF's potential to disrupt cannot be underestimated. If even modest forecasts in production declines come to fruition, China will require a lot of product from the global meat market – a 10% decline on 2018 levels would equate to 5.4 million tonnes carcase weight.
While pork and poultry will be the likely proteins of choice, the additional demand will have flow-on effects across proteins and provide an additional boost to already strong beef and sheepmeat demand, particularly lower value cuts and manufacturing product. As product in China cold stores is run down, and a reduced sow population and elevated culling hit production, the market may begin to show a more marked reaction as the year progresses. ASF will continue to be a critical driver of world meat markets in 2019 and 2020.